Tesla (TSLA) will announce Q4 earnings on Wednesday. 
Here's a summary of what I expect to see. As always, I start with the Q3 earnings and make adjustments from there. Most of the adjustments are based on comments made in the Q3 Update Letter.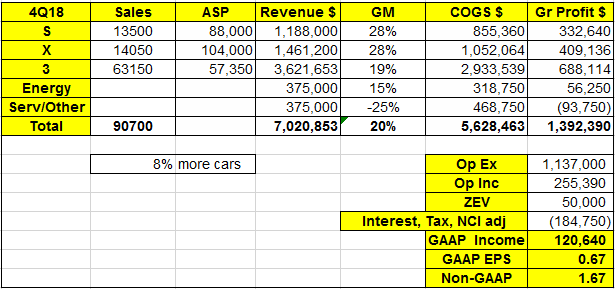 I spent some time estimating the Average Sales Prices. They include both new inventory sales and custom order. These are lower than Q3, mostly due to model mix. Revenue works out to $7B, slightly more than Q3.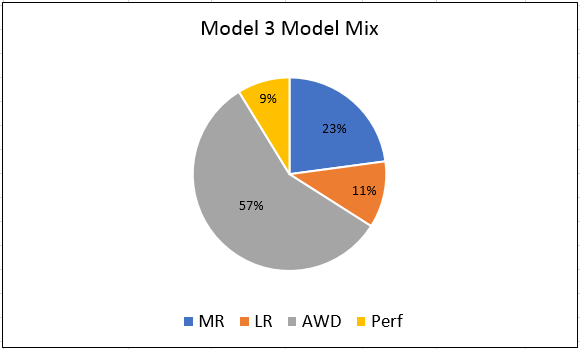 For Gross Margins, I started with Tesla's "slightly lower" guidance. But I think margins were under further pressure as end-of-year orders were less than expected. I assume that automotive margins will be down 2%. The COGS are calculated from these GM's.
Gross Profit calculates out to $1.4B, excluding ZEV credits. For a growing company that just doubled its sales in Q3, Operating Expenses should be up significantly. But Tesla guided that would "grow only slightly". I used the same OpEx that was reported in Q2.
Based on this, Operating Income works out to a healthy $250M. Add to that some ZEV credit sales (a wild guess). Other adjustments should be similar to last quarter, except for a significant reduction in NCI adjustment.
The bottom line works out to a GAAP profit of $120M, ($0.67/shr). Analysts prefer non-GAAP, usually $1.00 higher. The analyst consensus is currently at $2.22. Last quarter, I was about $1.00 more optimistic than consensus. This quarter, I'm $0.55 more pessimistic.