Simply put, the stock is close to my $130 target price and at its all time high.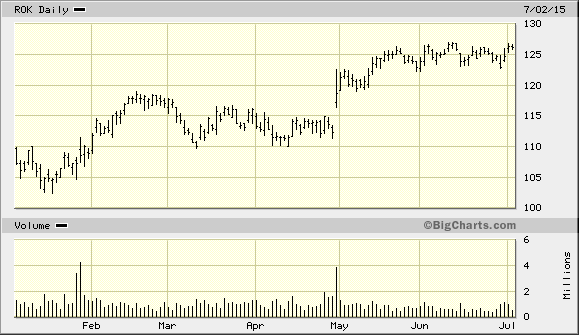 While I can make a case for 10-15% higher by stripping out excess cash most of those $$ are offshore and I would have to think some "take out" premium is in the stock owing to EMR. The stock pop in late April is company specific, the increase in stock price since then -- though modest - is something else and flies in the face of a slightly lower market and XLI ETF. Given EMR's Network Power spin off announcement and about 8,500 implied questions about whether they would do something big I believe the market has EMR/ROK on the brain...again! (It's a 15-year old thesis that flies in the face of the fact that EMR has done large deals but never a "whale" deal...nor should!).
Since I do not think it likely EMR would have the appetite or the stupidity - to write a $16 billion + check for an already well run business I think ROK has a better chance of seeing $110-115 again before it hits $145-150.
Disclosure: I/we have no positions in any stocks mentioned, and no plans to initiate any positions within the next 72 hours.