Making the Case to Buy Amazon
With their acquisition of Whole Foods, Amazon (AMZN) is positioning itself right in the pocket of consumers. Amazon is the #1 most visited website for retail, and #4 in the United States. Millions of people visit their site every day on the lookout for deals and bargains. In a world that is becoming increasingly more fast paced, Amazon is poised to take advantage of this with its Amazon Prime membership.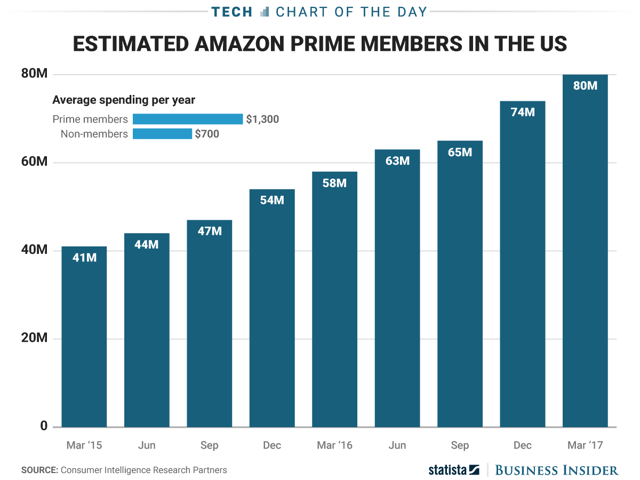 Amazon's strategy has been to enter and stay for as long as possible the mind of the consumer. They profit whenever someone remembers that they need to refill on batteries, buy a book before they go on vacation, and stock up on paper plates for that summer barbeque. Part of the reason Amazon introduced the dash button was to get consumers to keep coming back to them to purchase their items. The more integrated and reliant consumers become on Amazon, the more profitable they are. With their Whole Foods (WFM) acquisition they aim to grab another piece of consumers attention: their groceries. And they are in a good position to make it successful. Since Amazon began shipping some of its own products, it's had practice delivering goods and figuring out what needs to be tweaked to be more efficient. AmazonFresh was more of a test run for when they bought Whole Foods than a way to earn additional revenue.
The worldwide e-commerce industry topped sales of over $1.9 trillion last year. As Amazon only has $123 billion in sales, that means it has just 6% of the market share. E-Commerce sales are expected to rise to double to $4 trillion by 2020 as well, making this an area with a considerable amount of growth. Amazon is also shipping some of its products via its own staff and trucks. This move is projected to save about $1.1 billion annually. Amazon is becoming increasingly vertically integrated and is able to rely on third-parties like FedEx (FDX) and UPS (UPS) less while saving money.
Amazon has always been at the forefront of innovation. From capitalising on cloud technology with their Amazon Web Services, to being the first place that people go when they need to buy an item online, Amazon is the leader in multiple categories. The advantage that Amazon has that its competitors don't is the fact that they are so diverse. Retail, technology, and now the grocery business have all been disrupted by Amazon's presence. The retail and grocery market is a capital intensive sector. Companies ability to sell products cheaper than its competitors help it gain market share and drive out competitors. Amazon has over $15 billion of cash on hand, while Wal-Mart (WMT) has just over $6.5 billion. As Walmart is one of its closest competitors, Amazon has a huge advantage over Walmart and has the ability to drive down their prices to increase their market share. While this will decrease profits in the short-term, they will be able to cash in once they gain a considerable share in the market.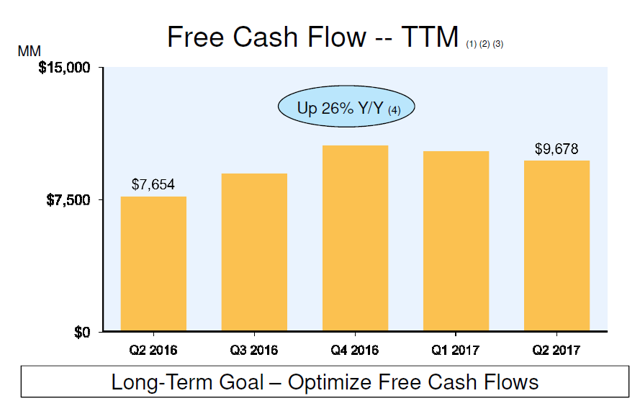 While investors may look at the drop in FCF from Q1 to Q2 as a negative sign, I don't like to view it in the short-term. I see Amazon as a long-term opportunity for growth, and hence I pay attention to the changes that occur on a yearly and longer basis. Amazon has stable earnings growth and profits from its Amazon Web Service, and that portion of its business can help support and stabilize the company while they build out their retail sector.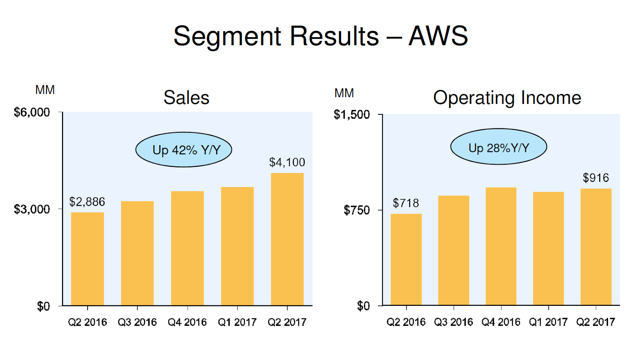 Amazon Web Services accounts for around 40% of the cloud services market share. The next three largest companies only make up 23%, including: Microsoft (MSFT), IBM, (IBM), and Google (GOOG). Cloud computing is expected to increase to $383 billion by 2020, making this industry very attractive. Amazon has shown that it still has much room to grow, with sales increasing in this area by 42% Y/Y.
Concerns about Amazon
While the potential for Amazon's growth is immense, that does not mean there aren't any causes for concern. This type of growth for such a large company is rare, and officials are beginning to take notice. David Cicilline, a US representative from Rhode Island, has sent letters to the Subcommittee on Regulatory Reform, Commercial and Antitrust Law, "urging them to look into Amazon's bid to buy Whole Foods for $13.7 billion". The concern that Amazon will impede innovation and drive out businesses is a threat to many in the industry. Control of 43% of all online sales is also a cause for concern to lawmakers. Such a high percentage of market share enables Amazon to set prices easily, although there have been no signs that they have ever tampered with them. A market cap of $479 billion and ability to absorb losses may cause potential entrants into the retail and grocery market to be persuaded against it and lead to a concentration of power.
Much of the hesitation that I've seen around people considering whether to buy Amazon is if it can actually make a profit. We've all witnessed how much revenue it can make, but if Amazon can't turn that revenue into net income then it's not much use. With this most recent earnings, we saw Amazon's net income drop 43% from $900 million to $387 million. At first glance this is a major cause for concern in any company. When looking further at the numbers, I came to realize that this drop isn't necessarily a bad thing. Instead of handing out much of their profit to their investors, Amazon is reinvesting it back into their business. Currently, that's by hiring over 50,000 people and expanding its operations. The amount of people they plan on hiring sends warning signs that Amazon may be growing too fast for it to handle. With 258,000 people employed in 2016, 50,000 is almost a 20% increase in the amount of staff on hand. Amazon should be focusing more on their cloud services where they know they can be profitable, and less on the retail side where margins are 2%.
Conclusion
Amazon has a strong business model with a huge amount of potential growth. An increase in their yearly sales across all three areas from AWS, International, and North America, is a good sign that they are continuing their expansion. The forecast for e-commerce to more than double in the next three years is a sign that online retail is still relatively small and there is much room for growth. Amazon has consistently beaten their sales every year, and I expect them to continue this trend into the future.
Disclosure: I am/we are long AMZN.