Has the sweetness of Apple gone down ?
Apple stock had a great bull run in 2012. From 400$/share in Januray 2012, to 700$/share in mid-September 2012. After hitting an all time high of 700$/share, it has recently touched a low of 500$. On Dec 31st' 2012, it ended at 532.17$/share
Let's see what the chart is trying to tell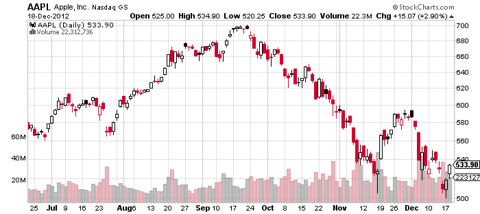 SHORT TERM Trend - DOWN
MEDIUM TERM Trend - DOWN
LONG TERM Trend - UP
Technically speaking, Apple stock is at an interesting and critical juncture.
BULLISH Scenario - (this is what is in play now)
If someone loves this stock/company & its products, then this might be a good time to enter the stock. During Dec 24th-28th' 2012 week, a low of around 506 was reached, but it could not take out 498. 498 is the stop loss. One can buy on stop at 539. Targets T1 around 560, T2 around 570.
BEARISH Scenario -
If 498 is taken out & held till end of day, expect a sharp sell off…
CONCLUSION - It's festive season. Apple might come out & give a blockbuster number telling that sales has beaten all expectations..…Bullish scenario is in play now. It's all up to the smart money. On the other hand, if bad news comes for the stock & if 498 is taken out and held, expect a sharp sell off.
- Kumar Tenkayala
Disclosure: I have no positions in any stocks mentioned, and no plans to initiate any positions within the next 72 hours. I wrote this article myself, and it expresses my own opinions. I am not receiving compensation for it. I have no business relationship with any company whose stock is mentioned in this article.