If you haven't already heard the news, Apple (NASDAQ:
AAPL
) is coming to Verizon Wireless. Did you pre-order your Verizon (NYSE:
VZ
) Iphone? Probably not. More Iphones sold in two hours than in a full day of any previous phone's launch, according to the carrier. There were so many orders for the Iphone that Verizon stopped taking orders temporarily. The phone will be available soon, "while supplies last". Verizon customers can now experience the joy of owning an Iphone. There is little doubt the Iphone is a good investment, but is Apple the company worth owning? To answer this question we compared Apple to one of its biggest rivals Google.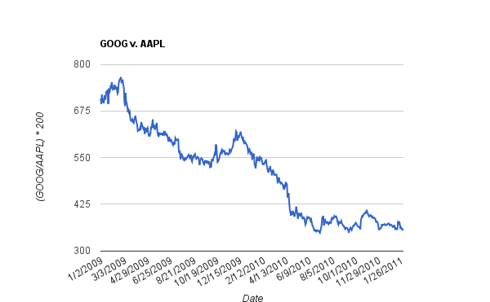 Over the last two years, since the beginning of 2009, Apple has outperformed Google. For every one dollar increase in the price of Apple, Google has increased only sixty-six cents. The performance of the two tech titans has been relatively equal over the last 7 months. With Verizon  carrying Apple products and new versions of the Iphone and Ipad coming out, we expect Apple to outperform its counterpart Google in 2011.
We have a price target of $434 on Apple. In line with industry estimates.