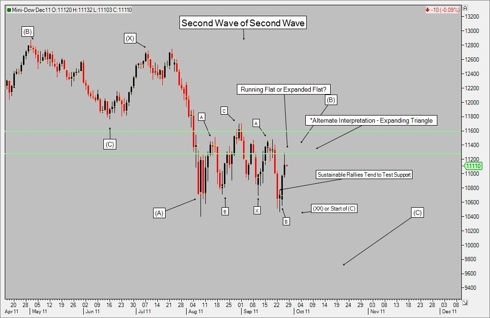 The DJIA is currently trading in a C-wave of either a running flat or an expanded flat. 
Running flats are rare and occur when the forces in the direction of the larger trend are so powerful that the pattern is skewed in that direction. Should the pattern be a running flat, the DJIA should not push much higher than yesterday's high of 11,289.
In the case of an expanding flat, which is far more common, the DJIA should trade above 11,500 before the pattern is complete.
Following the patterns completion, an XX-wave or the start of wave (NYSE:C) will occur.
SUMMARY

     The late day selling yesterday could be the start of selling that takes the average back down to the low formed a few days ago. Should be market continue to trade higher, there will be long intraday trading setups as the average moves back towards 11,400 - 11,500.