Berkshire Hathaway has grown its cash on hand substantially over the years. In 1995 Berkshire purchased the remaining 49% of Geico that it didn't own. Geico and Berkshire's other insurance subsidiaries are significant in the float that they provide Berkshire. This float along with profits from the numerous other businesses that Berkshire owns are the machines that create this cash pile. Warren Buffett and Charlie Munger have the increasingly difficult task of allocating this capital. In the recent couple of years Berkshire has been under the spot light regarding the accumulation of cash (currently at $111 Billion) that Berkshire has been unable to allocate fast enough, due to their seeking an acceptable rate of return. This cash pile brought about the question of how large is this cash hoard in relation to previous year's cash on hand. I decided it would be an intriguing analysis to compare Berkshire's cash on hand divided by its book value over the years. This analysis will show the percentage of cash on hand relative to its book value. Warren once said that he evaluates an 11 dollar investment the same as an 11 million dollar one (now days it's likely that he would have said an 11 billion dollar one). With this in mind, looking at cash on hand as a percentage gives a unique perspective on the size of the cash pile.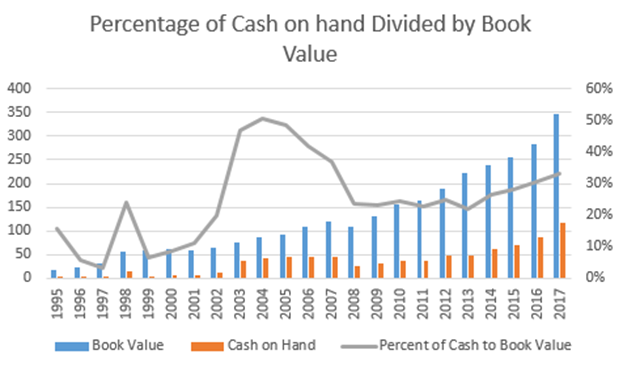 It is interesting to note that in the early 2000's leading up to 2008, cash on hand as a percentage approached 50% of Book Value. We currently sit at approximately 33% of cash to book value. On one hand, this is higher than it has been in many previous years, but it also would not be surprising to see it grow further. From my perspective, this amount of cash is in line with past years and I don't see this as a problem going forward. In the short term, the smaller rates of return on this cash might minimize short term returns. But in the long term, when this duo (Warren Buffett and Charlie Munger) find the right places for this capital, the future investments will likely provide larger than average returns.
Disclosure: I am/we are long BRK.B.