This is a description of the process through which, on 9/28/20018, I end up writing a covered call option of T 10/27/2017 40.00 C.
I start from the question. T and DIA are two of my favorite investments. I presently have some cash to invest, should I add more T and DIA to the positions I already have?
I like them both and I own them both because
They both are safe investments
They both give a good return
Neither of them is going to go down disastrously, at least for now
But there are differences.
Here is the way I evaluate these two investments.
All information I am going to quote here is from, unless noted otherwise, StreetSmart Edge of Charles Schwab as they are available on 9/29/17 before the market open.
Stock prices quoted are at the close of 9/28/2017.
Dividends
A steady dividend is important to me.
| | | |
| --- | --- | --- |
| Symbol | T | DIA |
|  Date | 9/28/2017 | 9/28/2017 |
| Closing Price |  $39.04 |  $223.60 |
| Annual Dividend | $1.96 | $4.61 |
| Dividend Yield | 5.02% | 2.06% |
When it comes to dividend, T wins hands down. These are current yields and they are not guaranteed to be kept at these rates. But, past performance of both investments indicate both will most likely to keep these dividends in the near future and may even improve upon them.
Potential Capital Appreciation
When comparing these two investments, another important factor to consider is the potential capital appreciation.
For the potential future capital appreciation, I turn to the past performance.
I got the following charts from StreetSmart Edge of Charles Schwab.
This is the price history of T between 11/12/1996 and 9/21/2017.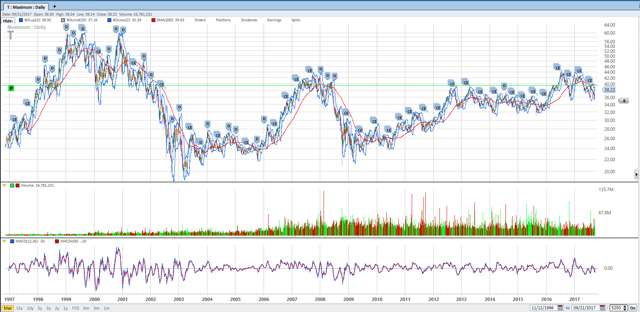 Over the last twenty years, T has a high of about 60 and a low of 20, with an average of about 40. Right now it is around 39, slightly below the average.
The stock appears to be hovering around this average and going nowhere. It has recently sunk to almost 35 and made a dramatic recovery to about 39 now. There is potential for T to go up to the 60s but that is a long shot. That would reduce its dividend yield to about 3.5%. There is also potential for it to go down to 20 with a dividend yield of about 7.5%. Where T will be in the future is uncertain. At the present, all I can assume is that it may continue to hover over 40 and maintain its dividend yield at around 5%.
On the other hand, DIA had been stagnated at around 110 for about 7 years starting from 1999. It then embarked on a steady march upward except for a sharp dip during the financial crises of 2009.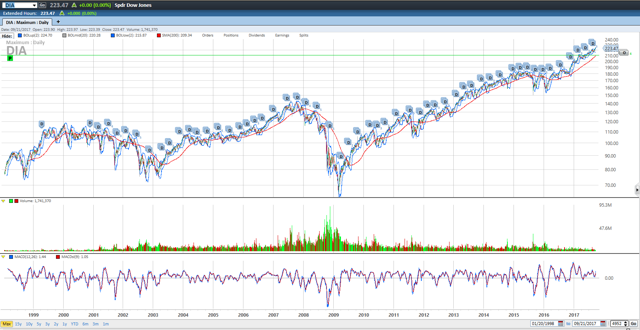 I can easily see that DIA has a better outlook for potential capital appreciation while that of T is less certain.
When I look at the performance of DJIA all the way back to about a century ago, this is what I get.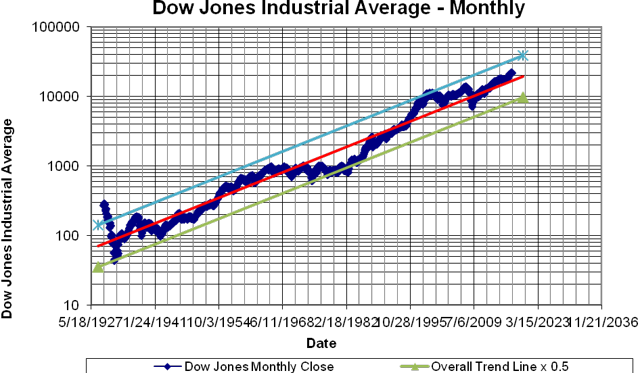 I prepared this chart from DJIA data I have been collecting from Yahoo Financial. The red line in the middle is the trend line of DJIA monthly close over these years. This trend line is about the same as the middle line of Bollinger Bands of DJIA monthly close. This trend line indicates that DJIA has been rising at an annual rate of 6.35% on average, over nearly 100 years in the past.
Since DIA emulates DJIA, I expect DIA to rise in value at about the same rate.
So, when it comes to potential capital gain, DIA wins hands down.
Here is what I would gain in holding these two investments for the next few years:
| | | |
| --- | --- | --- |
| Symbol | T | DIA |
|  Date of Evaluation | 9/28/2017 | 9/28/2017 |
| Closing Price |  $39.04 |  $223.60 |
| Annual Dividend | $1.96 | $4.61 |
| Dividend Yield | 5.02% | 2.06% |
| Potential Annual Capital Gain | 0.00% | 6.35% |
| Dividends + Potential Capital Gain, Annualized | 5.02% | 8.41% |
With the result above, I am ready to put all my cash into DIA. I may even sell some of my T and plunk the proceeds into DIA.
That may be what many people are doing today while depressing the price of T.
But, wait, not that fast.
In the table above, I assume DIA will grow at 6.35% annually from its close of $223.60 on 9/28/2017.
That growth of 6.35% is based on the trend line of DJIA in the past century.
The trend line indicates a DJIA of today to be about 17,000. The real world DJIA on 9/28/2017 is about 22,400, more than 5,400 points or 30% above the trend line.
It is a good question: Would DJIA revert to its trend line in the near future? That would be a 30% correction and that is unthinkable today. One of the many possibilities is that DJIA may linger around 22,000 until it hits the trend line in 2021 and stays around there possibly for some more years. But, this is all speculation.
Therefore, in the coming year or two, DIA may not fully realize a capital gain of 6.35%, compounded yearly, from its current value.
But, it may. The reason is that the retirement system in the U.S. today is such that almost every working man and woman is putting his or her retirement money into the stock market. They do this on their every working day. And today, the majority owner of the U.S. stock market is these working men and women.
In a separate article, I will present a casual correlation between the total retirement fund of all the people in the U.S. and the total stock market capitalization. Simply put, in the last 15 years, the total U.S. stock market capitalization (represented by Russell 3000 Total Market Cap) has risen from about $10 trillion to about $25 trillion today (U.S. Stock Market Tops $25 Trillion - Up $1.9 Trillion Since Election) and in the same time span, the U.S. total retirement assets (ICI - 401(k) Plan Research: FAQs ) have also risen from about $10 trillion to $25 trillion.
This incessant pouring of retirement money into the market, I believe, is a powerful drive behind the ever higher stock market valuation in the recent decades and, I also believe, it will continue to be so.
Therefore, I cannot ignore the possibility of DIA marching higher in the years to come from where it is today.
My conclusion is I may split my investment between T and DIA.
If I am looking into the future for 5, 10 years or more, I would definitely put my money in DIA now. For such a long time horizon, the chance of DIA climbing ever higher is a lot greater than T. DIA is at its all time high now. It is a concern. But, for a long time horizon of 5 or more years, the chance of DIA being higher than today is very good, though there may be corrections large and small in between.
However, if I am looking only for the next few years, the dividend yield of T is very attractive and it may very well continue at the present level or it may even go higher. Therefore, when my time horizon is the next few years only, I would rather invest in T for its steady and high dividend income, just in case DIA stagnates for a while around where it is now.
Thus, I may split my money between T and DIA at this time, one for the longer term and another for the shorter term. But, if I can invest in only one of them, I would choose DIA over T and simply sit out for the long term.
However, I also realize that this is not a good time to make new investment in either DIA or T. DIA has been hitting all time highs these days. I personally don't like to buy any stock when it is at its peak. I would rather wait and buy on the dips. And, even when buying on dips, on each dip I would buy only a fraction of what I intend to invest.
Recently T is on the way up on a tear. I would also wait till it makes a dip.
My conclusion is not to make any new investment at this particular time, either in T or DIA. My main reason is this: a good investment may turn into a bad one if I buy it at the wrong time. It is always a choice of between missing an imminent capital appreciation and riding down with a downturn.
Writing Call Options
Since I plan to hold onto both T and DIA for sometimes, there is one another way to enhance the benefits of holding these investments, that is writing covered call options.
When I add options to my investment, the situation gets very complicated.
I can trade in call or put option.
I can write or buy it.
I can do it either naked or covered.
I can choose an expiration date from many available.
I can choose a strike price from many available.
I narrow down my choice this way.
This is my retirement money and I have to be very careful about it and so I will only write a covered call.
My purpose of writing a call option is to earn the premium by writing it, not the capital gain that I may collect if the option is exercised and my shares are called away. Nevertheless, I shall set my strike price in such way that, if my shares are indeed called away, I should still be happy about the capital gain I would collect.
When a call option I have written gets exercised, my shares will be taken away at the expiration date which mostly will not coincide with the nearest ex-dividend date of the stock. That means I will forfeit the dividend over the time period between the ex-dividend date of the stock and the expiration date of the option. The estimate of the benefit of writing call option gets a somewhat complicated.
When I write a covered call, I receive a premium. This premium is for me to keep as long as I hold my option to the expiration date.
Choosing an option is not a simple task because there are a myriads of expiration dates and strike prices available.
After having evaluated many of the options, my final choice is to write call option of T 10/27/2017 40.00 C. In the last few days, the premium of this option has been trading around $0.30. The expiration date of this option is a little less than a month away from 9/29/2017, 28 days to be exact.
Here are the pertinent numbers I have generated in evaluating this option.
T is paying an annualized dividend of $1.96 per year which is equivalent to $0.15 for the next 28 days. This is an approximate number because the dividends vary from quarter to quarter.
When I write a call option T 10/27/2017 40.00 C with a premium of $0.30, there are two possible consequences.
If the price of T stays below $40 by its expiration date, my income per share of T over this period will be $0.45 including the dividend. It is 2 times more than the income from the dividend alone. It is also 1.15% of $39.04, the 9/28/2017 closing price of T. When annualized, it translates into an annual return of 15.04%.
On the other hand, if the price of T goes over $40 and my shares are called, I would receive a capital gain of $0.96. I will keep the premium of $0.30 but I will receive only $0.03 worth of dividend because the nearest ex-dividend date is 10/6/2017 and I would not be entitled to the dividend after that date. When I tend my shares, I will receive a total of $40.33 for each share. That is, in 28 days, I would make 3.31% over the 9/28/2017 closing price of T of $39.04. It is equivalent to more than 43% return when annualized.
My conclusion is as follows:
I would be happy to enhance my income from $0.15 to $0.45 per share over the next 28 days if the option is not exercised.
I would also be happy to make a total of $1.29 over the 9/28/2017 closing price of $39.04 over the same time period if my shares are called.
Since I will be happy with either outcome, I have written a call option 10/27/2017 40.00 C on 9/28/2017 and received $0.30 premium for each share of T.
Following that, I have not bought any share of T to cover the call option I have written. It is because (1) I have already own some T shares to cover it if it indeed gets called, and (2) I do not want to buy new shares of T at this time only to see its value make a sharp turn downward after its ex-dividend date of 10/6/2017.
I have not written call option for DIA. The rational is as follows.
The call option with the highest strike price for DIA having the same expiration date of 10/27/2017 at the close of 9/28/2018 is $227. Its midpoint premium is $0.41. If I write that call option, the two consequences are:
If the option is not called, I will gain a total of $0.76 per share of DIA of which $0.41 is the premium and $0.35 is the dividend attributable up to the option expiration date. It is a 0.34% return on $223.60, the price of DIA at the close of 9/28/2017. When annualized, it is 4.45%.
If the option is called, I will gain a total of $4.08 per share of DIA of which $3.40 is the capital appreciation, $0.27 is the dividend to the ex-dividend date of 10/20/2017, and $0.41 is the premium. It is 1.82% of $223.60, the closing price of DIA on 9/28/2017. It is equivalent to about 24% when annualized.
In both cases, writing call option on DIA is less profitable than T.
Conclusions
DIA is a good long term investment for both dividend income and capital appreciation even at the current all-time high valuation. I would add it to what I already own but only on the dip.
T is also a good near and medium term investment, mainly for its dividend income. On the long term basis, it is not as good as DIA. If I were to add it to what I own already, I also would do that only on the dip.
On 9/29/2017, the best thing I can do is to write a covered call option of T 10/27/2017 40.00 C over the T shares I already own. That is what I did.
Disclosure: I am/we are long T, DIA.
Additional disclosure: I wrote this article myself, and it expresses my own opinions. I am not receiving compensation for it (other than from Seeking Alpha). I have no business relationship with any company whose stock is mentioned in this article.