With the Federal Reserve pledging to put hundreds of billions of dollars into buying up US debt, massive forces are put into motion.  Tradeable forces, that we can probably make some money on.  It's as simple as one-two-three-four. Here's a simplistic view of how I view the recent trends.
Buying US debt sounds like a relatively harmless move, but when the agency which prints our money does the buying, it can be equivalent to an increase in our money supply.  When the money supply increases, then basic macro theory tells us that more money chases fewer goods, and therefore the price of those goods will rise - particularly certain goods which cannot be produced by labor alone. (Labor-intensive goods may not rise as much, since higher prices can lead to higher employment and therefore higher production.)  The goods which rise are commodities such as oil or metals. A particularly convenient ETF to buy in order to profit from a rise in materials prices is the UYM, ProShares Ultra Basic Materials.  This ETF follows the Dow Jones Materials Index, and is leveraged by a factor of two.  It's one of my favorite "things" ETF's to hold in times like these.
As "things" go up, "money" goes down.  The US dollar has been falling for months already, as seen by the falling US Dollar ETF UUP.  If you feel that the dollar is headed even further down, you can go long the inverse dollar fund UDN, which is up about half a percent today, and breaking out above recent highs.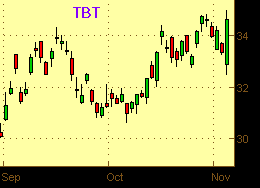 Since investing in "things" is likely to pay off better in the future, that investment competes with all other investments, especially ones such as bonds, and forces bonds to begin offering higher returns to stay competitive.  At the same time, the bond face value, whose value is proportional to the reciprocal of its yield, must fall.  An especially vulnerable target is the US Treasury bond which has been enjoying record high values recently.  Its rapid fall, observable in the TLT, has begun already.  To invest in this, consider taking a long position in the inverse fund TBT.  It jumped about 4% today.
In any effective devaluation, other currencies tend to gain.  And a "thing" valued in another currency may have double the reasons to appreciate, so foreign shares tend to move up dramatically.  One particularly incendiary fund for this situation is the EDC, Direxion Daily Emerging Markets Bull 3X fund.  It rocketed almost 9% today.
So there we have it. One two three four: UYM, UDN, TBT, and EDC.  That's where my money is. 
By Skymist
Disclosure:
long: UYM, UDN, TBT, EDC