This morning, AMGN shares jumped as it released positive "bone-drug" study results.  AMGN shares traded almost $61/share from yesterday's close of $52.23.  AMGN closed up +13.92% at $59.5. 
GOOG also unveiled more positive news on its new desktop computer operating system.  I wrote an article about GOOG's OS in the beginning of June.  At the time, GOOG was trading at less than $430.  It went to almost $450 in the next 2 days.  Now, GOOG has come all the way down to just above $400.  I think GOOG is ready to go higher again, if the overall market strengthens from here.
After the market, Alcoa (NYSE:AA) reported a 2Q loss, but, the results were better than the estimates.  AA reported a Q2 EPS of (26c) vs. consensus (38c), and a Q2 revenue of $4.2B vs. consensus $3.93B.  AA shares traded +4.02% higher in the after-hours.
The Dow closed up +14.81 points; SPX slid 1.47 points; Nasdaq added +1 point: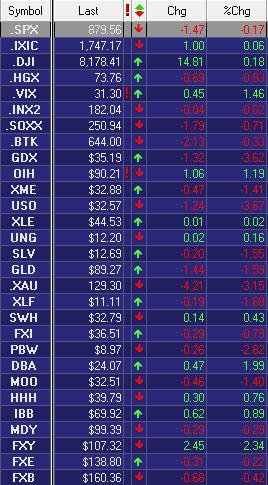 OIH (oil services) bounced +1.19%.  USO (oil) was still down, by another 3.67%.  XLF (financials) lost 1.68%.  XME (metals and mining) fell 1.41%.  GDX (gold miners) dropped further, -3.62%.  SWH (software) eked out a gain.  PBW (clean energy) slipped 2.82%.  FXI (Chinese ADRs) declined 0.79%.
SPX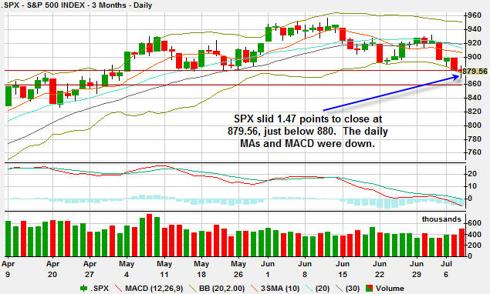 SPX slid 1.47 points to close at 879.56, just below 880.  The daily MAs and MACD were down.
Nasdaq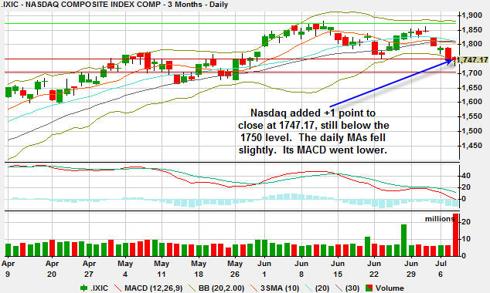 Nasdaq added +1 point to close at 1747.17, still below the 1750 level.  The daily MAs fell slightly.  Its MACD went lower.
So, the market managed a bounce just below SPX 870.  This weekend, in my Market Forecast, I mentioned that "SPX should test the 860-880 region."  Also, yesterday, we discussed VIX, and I said that "e could see it test 32 tomorrow."  These were the cues for buyers to come back in today.  VIX went to 33 and closed at 31.3.  SPX closed just below 880.  With AA reporting better-than-expected earnings, we might see buyers going back into the commodity sectors.  If the buying is strong, we may even see some squeezing, since the shorts have been piling in on the mining stocks.  XME (metals and mining ETF) had lost about 25% from the height in early June. 
SPX 880 could now be a resistance.  So, we'll need to see some strong upwards momentum in the overall market before we can say the recent retracement is over.  To be sure, SPX needs to go back above 920, which is still a little distance away.  Oil has also come down fast in the past few sessions.  Energy stocks are still in focus as "global warming" is a hot topic at the G8 summit.  Clean energy stocks have also come down in a hurry.  So, we'll also be watching for buyers to start come back in. 
Good night and HappyTrading! ™