The market opened higher on lower jobless claims.  Also, AA's earnings from last night seemed to help the commodity sectors.  Mining stocks were stronger today.  FCX advanced +3.53% and X was up +2.92%.  AA jumped higher at the open to above $10/share, but, ended the day in the red by 23 cents.  Fertilizers, which have come down quite a bit since June, saw some buyers today.  POT gained +3.21% while MOS garnered +5.14%.  Energy stocks also bounced, with APA leading the pack, up +4.48%.  Financials did their part to help keeping the market in the green. 
After yesterday's news on its computer operating system, I mentioned that "GOOG is ready to go higher again, if the overall market strengthens from here."  GOOG added almost +2% today and was up more than $10 intraday.  We cashed out some profits on our GOOG calls for a +37% gain.  These options were purchased yesterday when the market turned to go higher. 
July 08, 2009
12:41 | HappyTrading GOOG ($402.90) Bought to Open GOPGD Jul 420 calls, at $7.50
July 09, 2009
09:49 | HappyTrading GOOG ($413.00) Sold to Close GOPGD Jul 420 calls, at $10.30 +37%
The Dow finished up +4.76 points; SPX added +3.12 points; Nasdaq gained +5.38 points: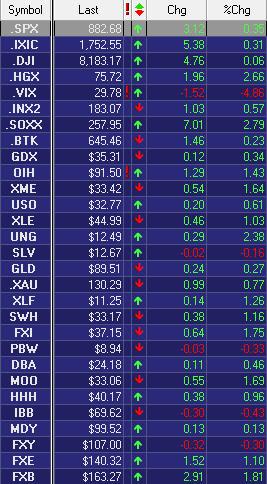 SOXX (semiconductors) led the techs with a +2.79% gain.  Commodity sectors were mostly higher:  OIH (oil services) +1.43%; XME (metals and mining) +1.64%; XLE (energy) +1.03%; MOO (agriculture) +1.69%.  XLF (financials) was up +1.26%.  FXI (Chinese ADRs) rose +1.75%.
SPX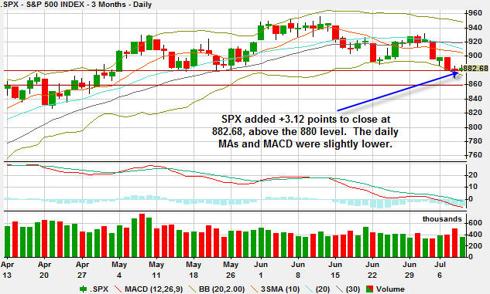 SPX added +3.12 points to close at 882.68, above the 880 level.  The daily MAs and MACD were slightly lower.
Nasdaq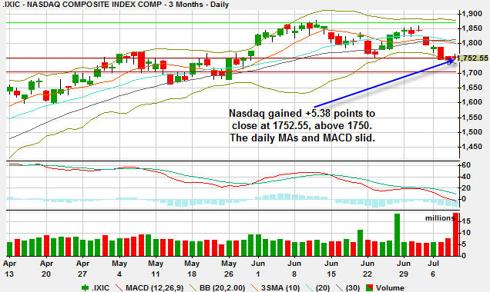 Nasdaq gained +5.38 points to close at 1752.55, above 1750.  The daily MAs and MACD slid.
The market went a little higher today to close above critical support levels: SPX 880 and Nasdaq 1750.  VIX came back down to just below 30.  The market seemed to have stopped the bleeding, at least temporarily.  We'll have to see if the market can follow through with more gains tomorrow.  The danger to fall back down is certainly still there.  Energy and financial sectors are still the key sectors for the overall market.  We'll watch to see if these sectors can continue to push higher.
Good night and HappyTrading! ™