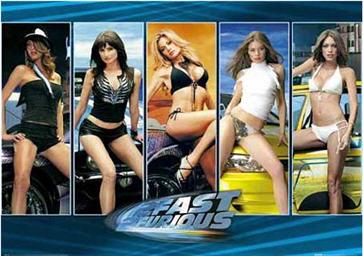 This morning, financials stocks were strong right of the bat and led the market higher all day.  GS received an upgrade from an influential banking analyst, Meredith Whitney, a day before it reports earnings (GS reports tomorrow morning).  GS jumped +5.34% for the day.  Other financials were strong as well:  BAC +9.34%; WFC +8.44%; JPM +7.33%; STT +6.57%; HIG +7.51%; AIG +24.11% (!!); PRU +9.34%.
In the Trading Room, we made timely moves on both the downside and the longside plays.  We cashed out our POT puts near day highs in the morning and got into plays on the longside:
July 13, 2009 7:10 AM
good morning!
POT puts
certainly good; those 90 puts that we played on Friday are almost $10! I also picked up some Aug puts, cashing out now...
VIX
hourly chart new bearish formation
July 13, 2009 7:28 AM
VIX
coming down; here comes a little rally... watch your downside plays...
BIDU/GOOG
still like them if the market runs...
July 13, 2009 7:35 AM
STT/STI
regional backs could get pretty crazy if GS reports well...
We locked in some quick profits before the market close:
July 13, 2009
12:52 | HappyTrading STT ($46.45) Sold to Close SPJGR Jul 44 calls, at $2.80 +47%
08:30 | HappyTrading STT ($45.00) Bought to Open SPJGR Jul 44 calls, at $1.90
08:23 | HappyTrading BIDU ($287.65) Sold to Close BDUGY Jul 290 calls, at $5.50 +34%
07:30 | HappyTrading BIDU ($283.80) Bought to Open BDUGY Jul 290 calls, at $4.10
The Dow was up +185.16 points; SPX jumped +21.92 points; Nasdaq gained +37.18 points: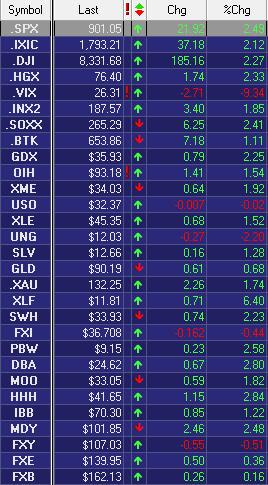 XLF (financials) jumped a whopping +6.4%!!  SOXX (semiconductors) added +2.41%, leading the techs.  GDX (gold miners) bounced +2.25%.  USO (oil) closed flat while OIH (oil services) added +1.54%.  GLD (gold) and SLV (silver) both traded higher.  MOO (agriculture) rebounded +1.82%.  FXI (Chinese ADRs) slid 0.44%.
SPX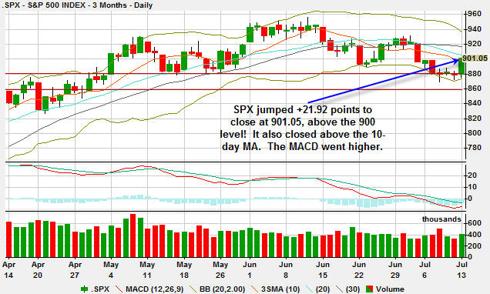 SPX jumped +21.92 points to close at 901.05, above the 900 level!  It also closed above the 10-day MA.  The MACD went higher.
Nasdaq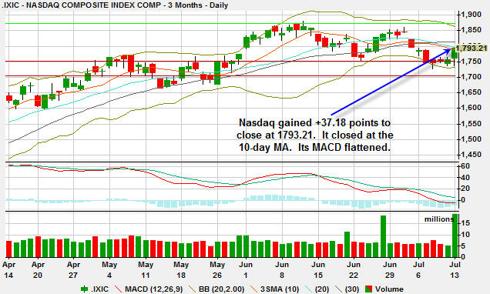 Nasdaq gained +37.18 points to close at 1793.21.  It closed at the 10-day MA.  Its MACD flattened.
Today was a "surprise attack" by the bulls, thanks to Meredith Whiteney, who apparently just switched camp.  It is encouraging to see SPX closing above that 900 level.  Both SPX and Nasdaq are now at their 10-day MA.  VIX closed at 26.31, down 9.34%!  SKF (financials ultrashort ETF) and SRS (real estate ultrashort ETF) were both down also, 11.05% and 8.04%, respectively.  The buy volumes in the financial stocks were high today.  XLF (financials long ETF) traded more than 225 million shares today, highest volume in more than a month.  This bodes well for GS's earnings tomorrow.  As mentioned last week, SPX will have to clear above 920 to turn bullish.  We also have INTC earnings tomorrow after the market, which could move the techs.  If GS does indeed come in with superb earnings in the morning, we should get ready to take some more profits as the market already ran up "fast-and-furiously" today!
Good night and HappyTrading! ™