The market spent most of the day trading flat.  But, in the late afternoon, there was a surge of buying just before IBM and GOOG's earnings reports.  This morning, JPM reported a 36 percent jump in second quarter profits, but, its shares traded flat.  On the other hand, GS pushed higher in the afternoon, and we locked in more profits:
July 16, 2009
10:59 | HappyTrading GS ($156.30) Sold to Close GPYHJ Aug 150 calls, at $10.85 +29%
Techs were really strong.  Data storage stocks jumped: STEC +15.22% and SNDK +9.07%.  Miners continued to rebound:  FCX +5.72%, X +4.17%, +5.19%, MEE +7.13% (all 4 stocks were mentioned yesterday).  Credit card also added gains: AXP +3.89%, V +2.81%, MA +3.42%.  In the Trading Room, we played MA 170 calls since yesterday:
Quarryman July 16, 2009 12:14 PM
I tip my hat to Happy.
162% gain on the MA trade. In at 3.40 and out at $8.90 just now!!
[It was a FULL position, too--i.e. a full mortgage payment on the farm for August!]
Thanks, Quarryman
HappyTrading July 16, 2009 12:19 PM
MA
$180; those 170 calls from yesterday were 5-baggers!!
(Click here to see the comments made on this trade in our Trading Room since yesterday!)
After the market, both GOOG and IBM reported good earnings.  GOOG's report beat the estimates, while IBM beat the estimates and raised their guidance!  GOOG shares traded down 3.3% and IBM shares were up +1.79% in the after-hours trading.
The Dow finished up +95.61 points; SPX added +8.06 points; Nasdaq gained +22.13 points: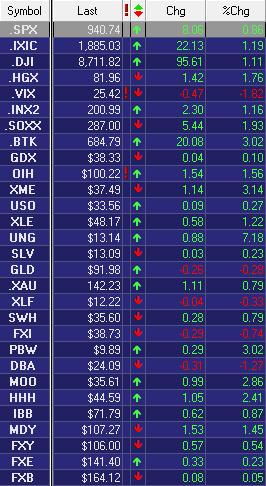 BTK (biotechs) added +3.02% to lead the techs.  XME (metals and mining) gained +3.14%.  UNG (natural gas) bounced +7.18% and XLE (energy) garnered +1.22%.  XLF (financials) closed slightly lower.  FXI (Chinese ADRs) slid less than 1%.
SPX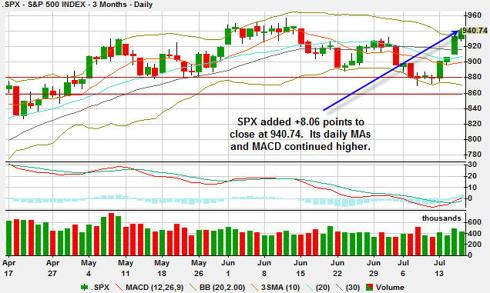 SPX added +8.06 points to close at 940.74.  Its daily MAs and MACD continued higher.
Nasdaq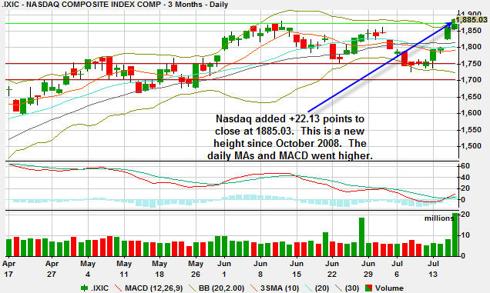 Nasdaq added +22.13 points to close at 1885.03.  This is a new high since October 2008.  The daily MAs and MACD went up.
The market continued to be strong, although VIX closed above 25 yet again.  Nasdaq pushed beyond its recent high today and closed above 1880, a level that it has not seen since October 2008!  Both SPX and Nasdaq are on their respective daily upper BB now.  Their MACDs are curving up.  These are bullish signs.  The market just keeps on pushing higher.  When will it take a breather?  GOOG is down $14 after the market.  Will GOOG bring some selling pressure to the market tomorrow?  We also have GE and BAC reporting earnings tomorrow.  In addition, it is the last trading day before options expiration.  There will likely be lots of "push and pulling" going on.