After hearing that CIT managed to secure a financing deal, the market opened higher.  Commodity sectors led the charge (see Sector Watch from last night's article).  Miners were especially strong:  FCX added +2.7% (earnings tomorrow morning); X jumped +5.51%; BTU was up +5.04% (upgrade today); RTP hopped $6.5!  Credit card companies also traded higher:  V +4.71%; MA +0.88%; AXP +3.07% (earnings Thursday after market).
This morning, HGSI announced its drug candidate Benlysta reduced the symptoms of lupus in a late stage clinical trial, and was more effective than a placebo.  Its shares almost quadrupled today, flying up +276.81%, closing at $12.51 from Friday's close of $3.32!!  After the market, TXN reported earnings that beat the estimates.  Its shares slid 1.48% in after-hours trading.  LM turned a Q1 profit and saw its shares rise more than +6%.  JDAS reported earnings that nearly tripled!!  Its shares flew more than +23% higher!
The Dow was up +104.21 points; SPX added +10.75 points; Nasdaq gained +22.68 points: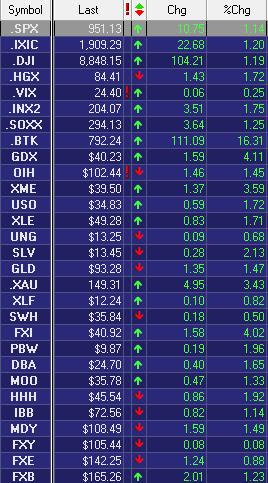 WOW!  ALL GREEN!!  XME (metals and mining) added +3.59% while GDX (gold miners) was up +4.11%.  BTK (biotechs) jumped +16.31% (thanks to HGSI!).  USO (oil) rose +1.72% and OIH (oil services) garnered +1.45%.  Both SLV (silver) and GLD (gold) were up.  FXI (Chinese ADRs) advanced +4.02%.
SPX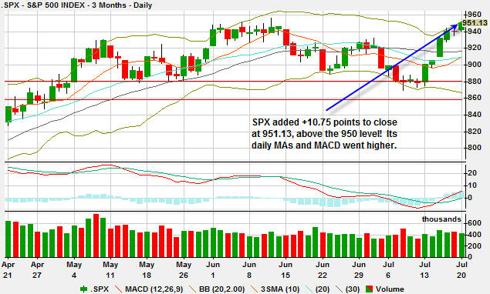 SPX added +10.75 points to close at 951.13, above the 950 level!  Its daily MAs and MACD went up.
Nasdaq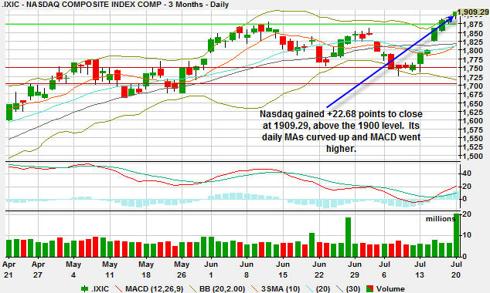 Nasdaq gained +22.68 points to close at 1909.29, above the 1900 level.  Its daily MAs curved up and MACD went higher.
The market continued to push higher.  Both SPX and Nasdaq closed above important levels (ie. SPX 950 and Nasdaq 1900).  Their daily MAs haved turned up and MACDs are going higher.  Mining stocks have been really strong.  This weekend, in my Market Forecast, I mentioned gold, copper, and coal miners.  They all traded higher today.  FCX reports tomorrow morning.  If it reports well, these stock have room to go higher still.  BTU, MEE, CNX, CLF, and PCU are just a few names that are still going strong!  Also, don't forget, AAPL and YHOO report after the market tomorrow.
Good night and HappyTrading! ™