The market was obviously nervous today ahead of AAPL and YHOO earnings.  After opening higher in the morning, the market drifted into the red.  AAPL traded down to just below $150/share.  But, soon after lunch, buyers came in again, and the market was able to finish higher.  Biotechs continued to be strong today.  HGSI jumped another +10.63% on top of yesterday's +270% gain!  SPPI finished +12.27% higher.  GENZ (reporting tomorrow morning) added +3.86%.  CELG (reporting Thursday morning) and AMGN (reporting next Monday after market) both closed in the green.  Solar stocks were particularly strong (mentioned in the Sector Watch this weekend), as China offered big solar subsidy: YGE +13.86%; TSL +9.66%; STP +9.94%; FSLR +5.97%.  We got into FSLR yesterday and cashed out a nice +39% overnight profit:
July 21, 2009
09:02 | HappyTrading FSLR ($156.60) Sold to Close HJQHK Aug 155 calls, at $12.50 +39%
July 20, 2009
06:41 | HappyTrading FSLR ($148.50) Bought to Open HJQHK Aug 155 calls, at $9.00
These FSLR August 155 calls went as high as $13 and closed at $12.  TSL, STP, and YGE have been pretty strong.  This was really the first day that FSLR made any substantial gains since the market started to rally.  FSLR could easily go higher.  SPWRA is reporting earnings on Thursday, and, can provide another catalyst for this sector.
After the market, YHOO reported earnings of 10 cents per share vs. an average estimate of 8 cents per share.  The report failed to inspire investors in after-hours, in which YHOO traded down 3%.  However, AAPL did excite buyers to jump back in with a +15% rise on its 3Q profit!  AAPL said it earned $1.35/share which easily beat the analyst' estimate of $1.17/share.  AAPL said that it sold more than 5.2 million iPhones in the quarter, more than seven times what it sold in the 2008 quarter!  AAPL shares jumped $6.73 to trade above $158/share.  At $160, there's a resistance for AAPL.  If AAPL clears that $160 level, I think it'll be on its way to $180 within the next quarter!
The Dow finished up +67.79 points; SPX added +3.45 points; Nasdaq gained +6.91 points: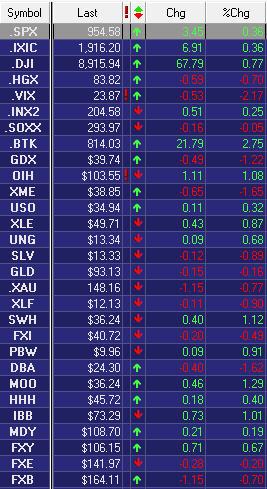 XME (metals and mining) took a breather and gave back 1.65%.  GDX (gold miners) was also lower.  XLE (energy) managed to keep some gains.  BTK (biotech) added +2.75%.  XLF (financials) was on the weak side, slipping 0.9%.  MOO (agriculture) advanced +1.29%.  FXI (Chinese ADRs) slid 0.49%.
SPX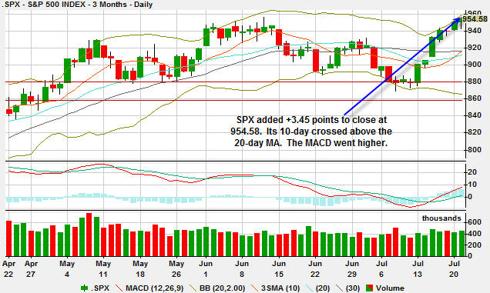 SPX added +3.45 points to close at 954.58.  Its 10-day MA crossed above the 20-day MA.  The MACD went higher.
Nasdaq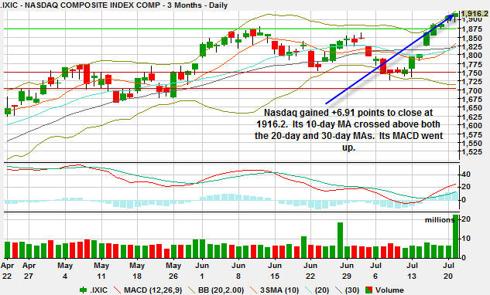 Nasdaq gained +6.91 points to close at 1916.2.  Its 10-day MA crossed above both the 20-day and 30-day MAs.  Its MACD went up.
The market just continues to plow higher.  VIX closed below 24 for the first time since October 2008.  Nasdaq is almost establishing a new bullish formation in its daily MAs on the daily chart (I think we'll probably see it happen tomorrow).  SPX sustained intraday weakness and managed to close above 950, again.  If SPX 960 is broken, we could be seeing SPX 1000 soon!!  We have more key earnings reports coming tomorrow with MS and WFC before the market opens and QCOM reports after the market.
Good night and HappyTrading! ™