Financials were weak to start as MS posted a $1.2 billion quarterly loss and WFC, although reporting better-than-expected results, spooked investors with continuing loan problems.  MS ended the day flat and WFC lost 3.55%.  Financials got stronger during the day.  GS closed in the green as it redeemed the outstanding warrants the US government received through the TARP program for $1.1 billion.  The government earned an annualized return of 23 percent from Goldman Sachs. 
After the market, QCOM beat its earnings estimates, but, the outlook failed to inspire the investors.  EBAY shares rose nearly +5% as its quarterly report showed improvement in its business.  VMW reported results that were slightly better than the consensus (by 1 cent); however, its shares traded more than +7% higher in after-hours on upbeat forecast.  ISRG delivered a 2Q profit that rose +22% at $1.62/share, which easily surpassed the expectation of $1.25/share.  ISRG shares surged more than +17% after market, trading at nearly $200/share, from today's close of $169.79!!
EDU, which reported yesterday, and turned higher fast after lunch.  We picked up some Aug 65 calls yesterday and were able to lock in some profits at an overnight +54%:
July 22, 2009
09:37 | HappyTrading EDU ($67.60) Sold to Close EDUHM Aug 65 calls, at $4.30 +54%
July 21, 2009
11:16 | HappyTrading EDU ($65.30) Bought to Open EDUHM Aug 65 calls, at $2.80
These options closed at $4 and traded as high as $4.3.  We got the day high again!!  EDU is testing the resistance at between $67.5 and $68.  If it can break above $68, EDU can easily sail into the $70s.
Commodity sectors took a respite today.  Most mining and energy stocks were slightly lower, which seemed to be enough to keep the Dow and SPX slightly in the red.  SPX tested the 960 level intraday, but, was not able to rise above.  The Dow closed down 34.68 points; SPX slid 0.51 points; Nasdaq added +10.18 points: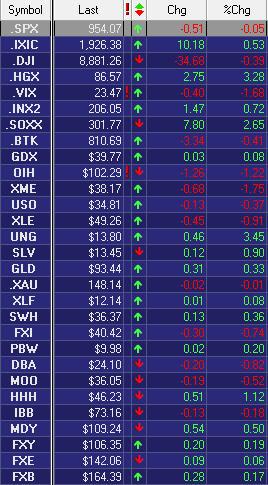 XME (metals and mining) lost 1.75%, which GDX (gold miners) stayed flat.  USO (oil) slid 0.37% and OIH (oil services) slipped 1.22%.   UNG (natural gas) added +3.45%.  XLE (energy) was on the weak side.  SOXX (seminconductors) led the techs with a +2.65% gain.  XLF (financials) managed to finish flat.  FXI (Chinese ADRs) lost less than 1%.
SPX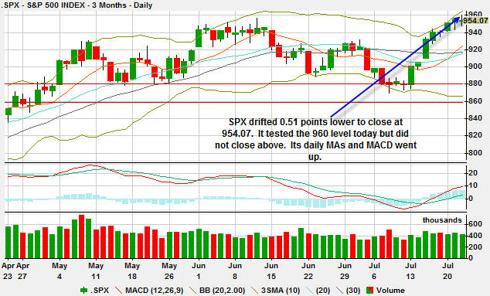 SPX drifted 0.51 points lower to close at 954.07.  It tested the 960 level, but did not close above. 
Nasdaq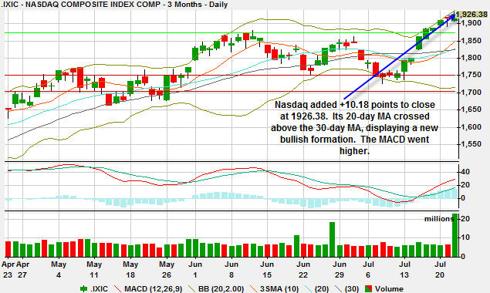 Nasdaq added +10.18 points to close at 1926.38.  Its 20-day MA crossed above the 30-day MA, displaying a new bullish formation.  The MACD went higher.
The market stayed strong despite unfavorable news from WFC and MS.  Nasdaq added another +10 points and SPX tested the 960 level.  Although things seem to continue to go higher, some recent leaders, especially in the tech sectors, are getting toppy.  Tomorrow, we have more earnings from key tech companies.  MSFT, BIDU, and AMZN are due to report after the market.  AMZN announced today that it will acquire an online shoe store, Zappos, for more than $900 million.  Speaking of shoes, DECK will also be reporting after the market tomorrow.  DECK has been trading higher with the broader market recently.  The $75 level is a resistance.  If that level is broken, DECK should go back up into the $80s.
Good night and HappyTrading! ™