Last weekend, in my Market Forecast, I wrote:
"For the new week, a new leg up may finally start as the market indices penetrate above the recent trading ranges.  SPX 950 is still the key level to break.  The market is toppy and may need to trade sideways to slightly slower on Monday.  After the market on Monday, TXN reports.  On Tuesday, we have both AAPL and YHOO reporting in after-hours.  These should help to decide whether the market can push beyond the recent trading ranges.  If these earnings are as good as what IBM and INTC had already demonstrated, we could see SPX testing 1,000 and Nasdaq testing 2,000 soon!"
Indeed, the market pushed higher and broke above the recent trading range.  The market kept its altitude early in the week.  On Monday, Tuesday, and Wednesday, stocks pushed SPX above the 950 level, but, were not yet able to break away.  AAPL delivered blowout earnings with the best "non-holiday-season" quarter ever, selling more than 5.2 million iPhones!  On Thursday, the market jumped on favorable home sales and unemployment numbers, and SPX finally sailed higher.  On Friday, the market held up even after disappointing earnings from MSFT.
In our Sector Watch last weekend, we specifically looked at the clean energy sector, PBW, in which we discussed SPWRA and FSLR.  SPWRA delivered "surprisingly good" results and saw its shares jump nearly +30%!!  FSLR also responded positively.  In fact, the whole solar sector charged higher on Friday!
For the week, the Dow finished up +349.3 points; SPX added +38.88 points; and Nasdaq jumped +79.35 points.  SPX is now only 20 points away from 1,000!  Let's see where the market indices stand after Friday's close:
SPX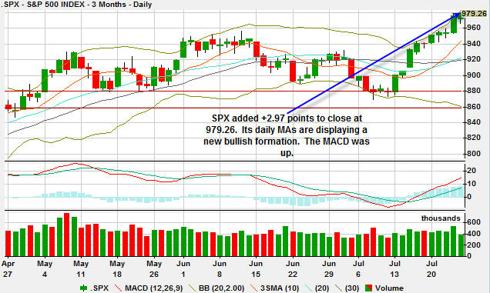 On Friday, SPX added +2.97 points to close at 979.26.  Its daily MAs are displaying a new bullish formation.  The MACD was up.
Nasdaq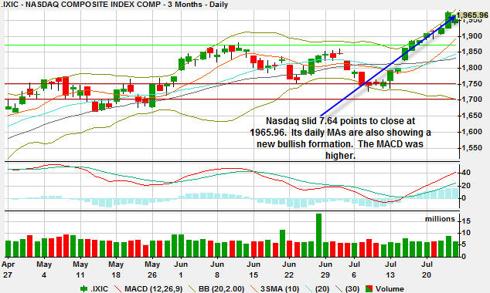 Nadsaq slid 7.64 points to close at 1965.96.  Is daily MAs are also showing a new bullish formation.  The MACD was higher.
The market certainly has broken out of the recent trading range.  Both SPX and Nasdaq are showing new bullish formations in their daily MAs.  Most Asian markets have also pushed above their recent trading ranges.  For the new week...

To read the rest of of this article, please subscribe to HappyTrading "Premium Articles" by going to the Premium Services (click here) page.  If you are already a subscriber, please click here: Market Forecast 7/27/09.