All shippers are down today. Unfortunately we are in for a slide, it would appear. I keep a personal spread-sheet style shippers index which shows a decline today of 2.8%, which is a big decline for this normally placid group. I unloaded a lot of my shipper positions yesterday, to attempt better timing. With the shippers going down, I am getting more in the mood to seek bargains.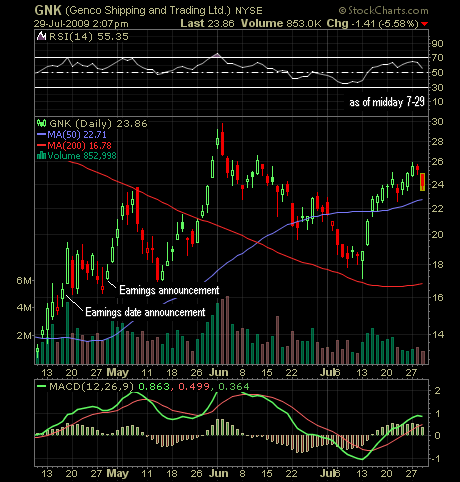 Today the stock is GNK, which announces earnings after the close. The stock has had two recent upgrades both suggesting a target price close to 30. It is solidly above its 200 day average, and is just ahead of its 50 day too. Today it fell back, now under $24. This is the stock which I bought calls at 18 and made quite a bit of money as it moved up toward 27, but I sold out near the top when I saw the "Green Bar of Death" in DRYS.
So what's up with today's drop? Profit taking? Fear of the profit numbers? To answer that, I looked at GNK's chart from the last earnings date on 4-29. Like ESEA, it rose as soon as the earnings date was published, but it sold off the day of the earnings, only to do a very generous pop after earnings and show us all a nice weeklong rally, going up 35%! This was during a time when BDI was not nearly as high, about 1800, but today it is up at 3500. Shippers made more money in the last quarter.
First call expects GNK to earn $1.14. Last time, under worse conditions, GNK earned $1.32, and beat the estimates. The extent to which BDI will cause GNK to increase their earnings this time depends on how many new charters they obtained at higher rates this quarter, and how many old and profitable charters they ended. It is a mix of gains and losses. But in general, 14 of GNK's 32 ships are smaller handy-size ones, which usually rotate their charters faster, so the company is fairly well positioned to take some advantage of higher rates, affecting the top line (revenue). Also, the company has had another quarter to improve their cost control and make other adaptations, affecting the bottom line (earnings). I know that this is the crudest possible kind of analysis, but it will have to serve.
The market is not especially kind right now. But I think some of the scared speculators have left GNK already, spooked by the market, leaving a fairly stable position for the stock. If it beats estimates, it might not go down in the kind of sell-on-news reaction we have seen too often lately.
So given the above, I feel like taking the long side on this trade. I am going to go back in on the position by buying GNKHA, the Aug 24 call, for $1.65. And I just did. So the trade is on now. Wish me luck. Join me if you dare.