Last weekend, in my Market Forecast, I said,
"For the new week, although market still looks strong, it is also toppy.  After 2 weeks of rallying, it is starting to look sluggish.  SPX 980 is posing some resistance.  We could see some profit-taking and consolidation here before testing SPX 1000.  SPX 950 now should be a support.  As long as the profit-taking does not take the market below SPX 950, the bullish fomations will hold.  The market can certainly use a few days of rest to let off some steam.  Financials still has not broken out of its recent trading range and could be one of the keys in determine whether the market can take some breathing without losing its altitude."
Things pretty much happened exactly as described above.  From Monday through Wednesday, the market consolidated and traded in a tight range.  Every time the market slipped, we saw buyers come in to buy the dips.  While commodity sectors took some quick falls early in the week, financials and techs stayed strong, propping up the market.  On Thursday, the market received better-than-expected jobs data and stocks jumped again!  Nasdaq penetrated above 2000 and SPX came close to 1000!  Profit-taking soon kicked in after a surge on Thursday morning.  On Friday, the market again paused as investors digested the GDP data.
For the week, the Dow finished up +78.37 points; SPX added +8.22 points; and Nasdaq gained +12.54 points.  Both oil and gold were weak to start, but, finished strongly.  Oil actually closed higher for the week.  XLF (financials ETF) closed just above the $13 level, which could make things very interesting next week.  We'll take a look at these in the Sector Watch.  Let's see where the market stands after Friday's close:
SPX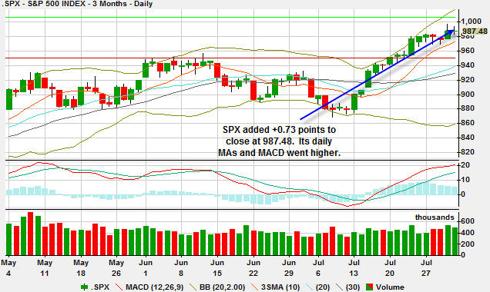 SPX added +0.73 points to close at 987.48.  Its daily MAs and MACD went higher.
Nasdaq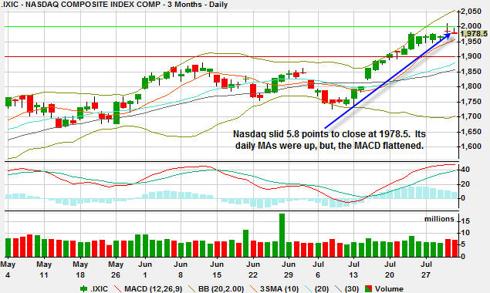 Nasdaq slid 5.8 points to close at 1978.5.  It daily MAs were up, but, the MACD flattened.
Since early July, the market has been pushing higher.  The little breaks that it took here and there didn't really lose any altitude at all.  Nasdaq went above 2000 last week, but, did not close above.  SPX nearly touched 1000.  Technicals are toppy, but, the market keeps looking strong.  For the new week...
To read the rest of of this article, please subscribe to HappyTrading "Premium Articles" by going to the Premium Services (click here) page.  If you are already a subscriber, please click here: Market Forecast 8/3/09.