The market started on a down beat today.  But, it quickly reversed its direction.  More favorable economic data helped to draw sidelined money into the market, including better-than-expected consumer spending and pending home sales.  Biotechs were strong with AMGN adding another $1.53.  Casino stocks jumped today.  Both WYNN and LVS added about +8.5%.  MGM hopped almost +9%.  WMS, a slot machine maker, reported a 4Q profit that rose +31%, sending its shares flying up +12.46%!
The Dow finished up +33.63 points; SPX added +3.02 points; Nasdaq gained +2.7 points: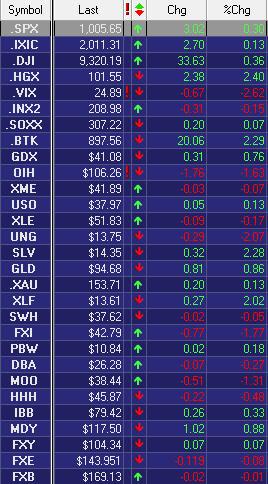 BTK (biotechs) added +2.29%.  XLF (financials) gained +2.02% while HGX (housing) rose +2.4%.  Commodity sectors took a breather and closed slightly in the red.  USO (oil), however, made it back into the green.  GLD (gold) and SLV (silver) both made some gains.  FXI (Chinese ADRs) fell 1.77%.
SPX added +3.02 points to close at 1005.65.  Nasdaq gained +2.7 points to close at 2011.31.  Since both indices were only slightly higher and the charts were little changed, we'll look at the charts another day.  Like I said yesterday, "There is still a lot of money on the sideline, and, now it seems to be getting anxious.  Every time the market stalls and locks in some profits, more new money jumps in."  It happened again today.  The market opened lower and more buyers jumped in!  The market did look sluggish in the late afternoon, but, just before the close, the market ramped up to the close.  It seems that the market is waiting for some new catalyst to either push it on a new leg up or to finally take a quick drop, even if it's just for a day to let off some steam.  Tomorrow, we have crude inventories in the morning, which could drive the energy/commodity sectors.  After the market close, CSCO is reporting its earnings, which will likely be a mover for the techs.  On the financials side, PRU will present its earnings.
Good night and HappyTrading! ™