Today, the market was strong from the beginning.  Financials rose again after 2 days of profit-taking: GS +2.85%, COF +3.14%, PRU +4.49%.  This morning, Toll Brothers (NYSE:TOL) reported a rise in signed contracts in new homes in 4 years, sending TOL stocks up more than +14%.  Other home builders also rallied: BZH +9.32%, KBH +2.87%, PHM +4.38%.  Casino stocks also made solid gains.  WYNN jumped +7.36%.  LVS gained almost +6%.
Most investors expected the Fed to leave the interest rates unchanged, and they were right!  Not only did the Fed keep the rates near 0%, it also stated that the economy appeared to be "leveling out", a considerable upgrade from the meeting in June.  As usual, the market saw some volatile trading after the Fed statement was released.  But, in the end, the market was able to keep most of its gains.
The Dow finished up +120.16 points; SPX added +11.46 points; Nasdaq gained +28.99 points:


XLF (financials) added +2.03% while HGX (housing) jumped +3.63%.  Techs were mostly up, with SWH (software) gaining +2.27%.  Commodity sectors were mostly higher: OIH (oil services) +1.62%, XME (metals and mining) +1.41%, XLE (energy) +1.07%.  FXI (Chinese ADRs) glided up +0.41%.
SPX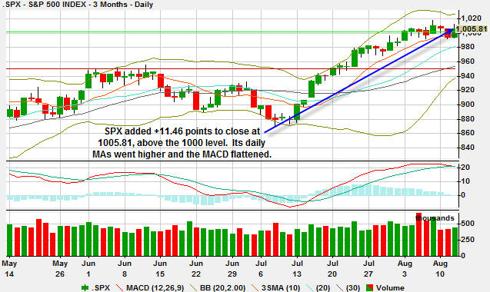 SPX added +11.46 points to close at 1005.81, above the 1000 level.  Its daily MAs went higher and the MACD flattened.
Nasdaq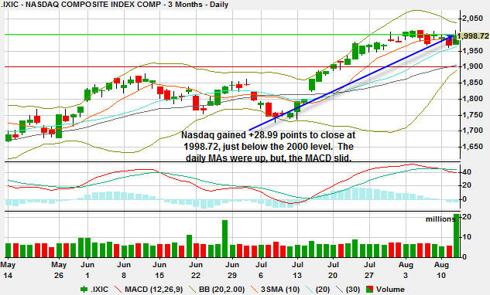 Nasdaq gained +28.99 points to close at 1998.72, just below the 1000 level.  The daily MAs were up, but, the MACD slid.
Once again, SPX closed above the 1000 level.  Also its daily upper BB just opened up, hinting for more upwards movements.  Nasdaq was not able to close above 2000, its recent resistance.  But, it did manage to close above its daily MAs.  After 2 days of profit-taking, the market is looking more bullish again.  The Fed statement this time is certainly more positive.  However, the market was not able to break above the recent highs just yet.  Although financials and techs continue to keep the market up, I think we'll need to see the commodity sectors push higher in order for the broader market to break above the recent resistance levels. 
In the recent months, the commodity sectors have been really sensitive to the movement of the dollar, in a "inversely-related" fashion.  In the past few days, the dollar strengthened as better economic data came in.  Thus, the commodity sectors have slipped.  We'll continue to monitor this delicate relationship between the dollar and the commodity sectors.
Good night and HappyTrading! ™