In last week's Market Forecast, I said,
"For this week, with SPX and Nasdaq back above their key levels (SPX 900 and Nasdaq 1700), things are looking bullish again!  Most sectors participated in today's rally, which is a good sign.  With VIX heading back into the 20s, this rally looks to have more legs to run higher."
After Monday's run up, the market struggled to go higher.  On both Tuesday and Wednesday, the market climbed higher early but closed in the red.  VIX briefly sank below 27 on Wednesday and started climbing.  On Thursday, the market finally gave in to more profit-taking.  SPX tested 880 and bounced back.  Friday saw more choppy trading and the market ended flat.  We positioned ourselves mostly in cash and still scored very nice trades (click here to see last week's trades).
Believe it or not, the market still eked out a small gain last week.  The Dow ended up +8.68 points; SPX added +4.12 points; Nasdaq gained +11.87 points.  However, this rally does look to be in jeopardy.  Let's see how the market indices look after Friday's close:
SPX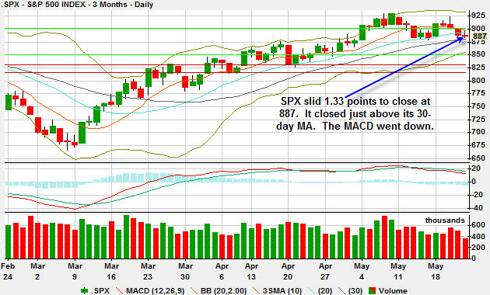 On Friday, SPX slid 1.33 points to close at 887.  It closed just above its 30-day MA.  The MACD went down.
Nasdaq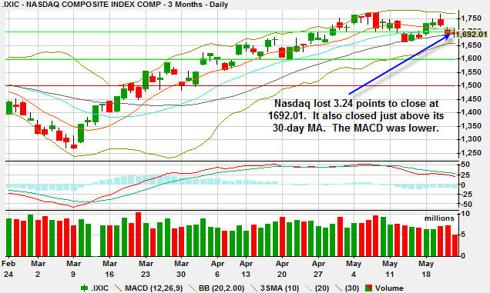 Nasdaq lost 3.24 points to close at 1692.01.  It also closed just above its 30-day MA.  The MACD was lower.
Both SPX and Nasdaq barely stayed above the 30-day MA.  VIX went below 30 early in the week, but, managed to close above that level, at 32.63.  After sinking to new lows early in the week, ultrashort ETFs, such as SRS (real estate) and SKF (financials), saw some buying on Wednesday; but, they still finished the week lower.  For the new week, things could get more interesting...
To read the rest of of this article, please subscribe to HappyTrading "Premium Articles" by going to the Premium Services (click here) page.  If you are already a subscriber, please click here: Market Forecast 5/25/09.