The market powered higher in the morning, but, could not hold the altitude.  Bonds sold off again as concerns about the mounting government debt increased.  TLT, the 20-year Treasury Bond ETF, nearly touched $90 today, dropping from above $97 just 3 days ago!  Yesterday's tech leaders (GOOG, AAPL, and RIMM) were still strong.  GOOG traded above $411 today, allowing us to cash out on our call plays for a nice +39% gain:
May 26, 2009
07:43 | HappyTrading GOOG ($402.00) Bought to Open GOPFT Jun 400 calls, at $12.60
May 27, 2009
08:48 | HappyTrading GOOG ($410.50) Sold to Close GOPFT Jun 400 calls, at $17.50 +39%
GOOG closed at $405.56 just $1.2 higher from yesterday's close.  Those June 400 calls traded as high as $18.2 and closed at $13.7.  In this volatile environment, locking in profits quickly is prudent.  AAPL shot up to almost $135/share in the morning, but, closed at $133.05, up +1.75%.  RIMM rose to $78.63 and closed at $77.29, up just $0.54.
Financials were mixed in the morning with GS trading above $145/share.  In the afternoon, most financial stocks fell back into the red.  GS closed at $140.01, down 1.44%.  WFC dropped 6.12%, and PNC fell 4.95%.
The Dow ended down 173.47 points; SPX slipped 17.27 points; Nasdaq lost 19.35 points: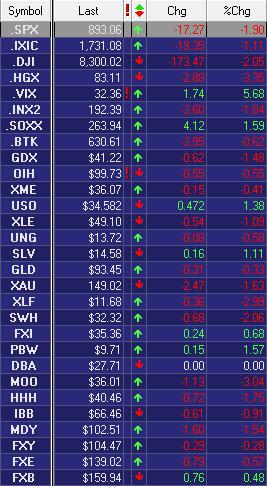 SOXX (semiconductors) maintained a +1.59% gain.  USO (oil) was +1.38% higher.  Most commodity sectors ended lower: XME (metals and mining) -0.41%, GDX (gold miners) -1.48%, XLE (energy) -1.09%.  XLF (financials) dropped nearly 3% while HGX (housing) fell 3.35%.  PBW (clean energy) added +1.57%.  FXI (Chinese ADRs) eked out a +0.68% win.
SPX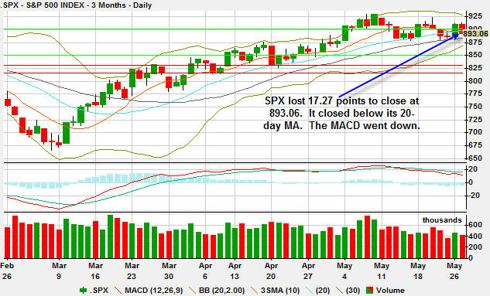 SPX lost 17.27 points to close at 893.06, below the 900 level.  It also closed below its 20-day MA.  The MACD went down.
Nasdaq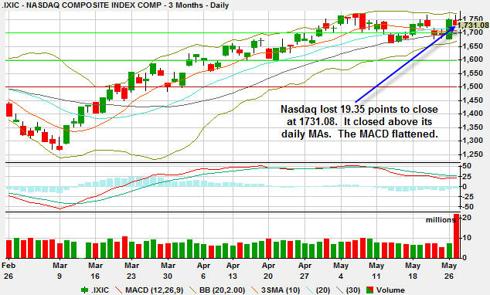 Nasdaq lost 19.35 points to close at 1731.08.  It closed above its daily MAs.  The MACD flattened.
Yesterday, we mentioned that this market is still stuck in a range.  Well, today, just when the market looked ready to push higher, it turned lower again!  We also discussed watching the daily MACD on the market indices.  SPX's MACD went lower again, while Nasdaq's MACD flattened.  So, no new bullish crossovers yet!  This weekend, in my Market Forecast, I also pointed out the support levels for both SPX and Nasdaq, which are SPX 875 and Nasdaq 1650.  Those will be important levels to watch if the market slides further tomorrow.
Good night and HappyTrading! ™