The market continued where it left off last Friday and continued higher today!  Right out of the gate, better-than-expected economic data, including manufacturing, consumer spending and construction spending, encouraged investors to work more sidelined money back into the stock market.  Techs were especially strong, led by the semicondutors (mentioned last night in my Sector Watch).  Internet stocks also showed strength, with BIDU catapulting +8.41% and AMZN "squeezing" up +6.49%!  Miners also contributed in a big way:  X +8.04%, FCX +6.78%, and ATI +9.04%!  Oil services rose higher again, with DO adding +5.83%, allowing us to cash out our remaining position at +158% gain:
07:03 | HappyTrading DO ($87.84) Sold to Close DOFF Jun 80 calls, at $8.50 +158%
We also took profits on BNI and ISRG:
08:43 | HappyTrading ISRG ($153.00) Sold to Close AXQFJ Jun 150 calls, at $8.20 +39%
08:27 | HappyTrading BNI ($76.00) Sold to Close BNIFN Jun 70 calls, at $6.50 +71%
These trades were opened on Thursday and Friday last week:
May 29, 2009
12:29 | HappyTrading BNI ($72.25) Bought to Open BNIFN Jun 70 calls, at $3.80
07:10 | HappyTrading ISRG ($148.30) Bought to Open AXQFJ Jun 150 calls, at $5.90
May 28, 2009
08:07 | HappyTrading DO ($80.30) Bought to Open DOFF Jun 80 calls, at $3.30
The Dow closed up +221.11 points; SPX added +23.73 points; and, Nasdaq jumped +54.35 points: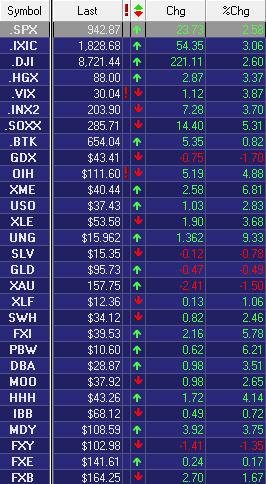 As mentioned earlier, SOXX (semiconductors) led the techs with a +5.31% gain.  USO (oil) added +2.83% while OIH (oil services) gained +4.88%.  XME (metals and mining) rose +6.81%.  XLE (energy) glided up +3.68%.  GLD (gold) and SLV (silver) were both in the red.  PBW (clean energy) rallied +6.21%.  FXI (Chinese ADRs) advanced +5.78%.
SPX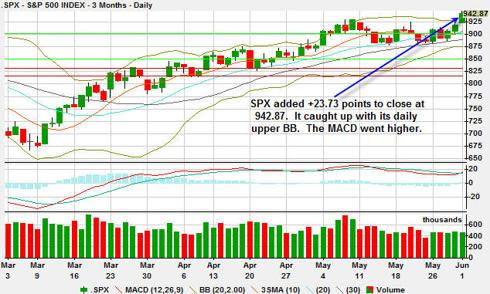 SPX added +23.73 points to close at 942.87.  It caught up with its daily upper BB.  The MACD went higher.
Nasdaq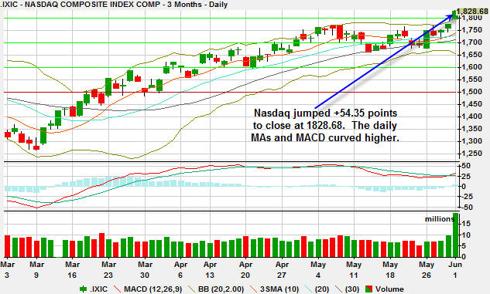 Nasdaq jumped +54.35 points to close at 1828.68.  The daily MAs and MACD curved up!
In my Market Forecast last night, I mentioned that, this week, "SPX should look too push above 950, although it may see some resistance around that level.  Nasdaq can easily punch through 1800..."  SPX got as high as 947.77 today and Nasdaq finished above 1800.  Both indices closed above their respective daily upper BBs (Bollinger Bands).  Their MACDs are showing new bullish crossovers, which we have discussed recently.  Also, new bullish fomations are established in the daily MAs.  The market rallied hard and backed off a bit near the close.  VIX, surprisingly, closed a bit higher and above 30.  But, nothing to be too alarmed about as last Friday's drop in VIX was frantic.  SRS (real estate ultrashort ETF) closed below $20 on a new leg down and SKF (financial ultrashort ETF) barely kept above $40.  I think the market's new leg up is just starting.  We may see some morning volatility tomorrow, but, I think this new leg up should continue higher.  Nevertheless, we played things safe and cashed out on the big gains.  We're holding mostly cash and will wait to see how the market looks tomorrow.
Good night and HappyTrading! ™