Last weekend, in my Market Forecast, I wrote:
"For the new week, the market looks strong and ready to break higher.  SPX should look to push above 950, although it may see some resistance around that level.  Nasdaq can easily punch through 1800, above which 1900 is the next resistance."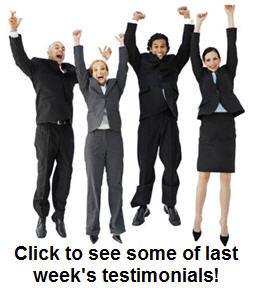 Indeed, SPX tested the 950 level and Nasdaq closed the week above 1800!  On Monday, better manufacturing, consumer spending, and construction spending data encouraged the bulls to push hard to squeeze the the market higher.  SPX stopped just shy of 950 while Nasdaq charged above 1800.  On Tuesday, the market traded sideways after Monday's big rally.  Profit-taking took the overall market lower, but, GOOG looked ready to break high on news of its Android operating system.  On Thursday, better unemployment data brought the buyers back in and drove the market back up.  On Friday, the market jumped just above SPX 950 early in the morning.  But, as I had warned in the Market Forecast and on Thursday evening, SPX 950 saw some resistance.  We cashed out our profits early on Friday and wrapped up another fantastic week!
In last weekend's Sector Watch, I also specifically talked about the biotech sector.  I said, "As you can see, BTK has been trading in a tight range for the past 2 months.  On Friday last week, it finally showed signs that it could be ready to go higher."  In addition, I saw gave several candidates that were likely to breakout higher.  The biotechs had a huge week and BTK closed at the top of its recent trading range.
Every weekend, in my Market Forecast and Sector Watch article, I try to give our members an idea of what to expect in the coming week by summarizing likely scenarios in a paragraph or too.  I also often specify important levels to pay attention to in the market indices.  In the Sector Watch section, besides looking at dominant factors that may affect the stock market (such as oil, dollar, and gold), I also discuss sectors that may be ready to move in a big way.  These discussions often come with trading ideas.  This is where I let my readers know ahead of time where I may be focusing in the coming week.  The full content of this weekly article is only accessible in by a subscription to HappyTrading's Premium Articles.
For the week, the Dow was up +262.8 points; SPX added +20.95 points; Nasdaq jumped +75.09 points.  But, on Friday, after reaching 950, profit-taking took SPX back to 940 for the close.  Let's see where the market indices stand after Friday's close:
SPX (click the image to enlarge)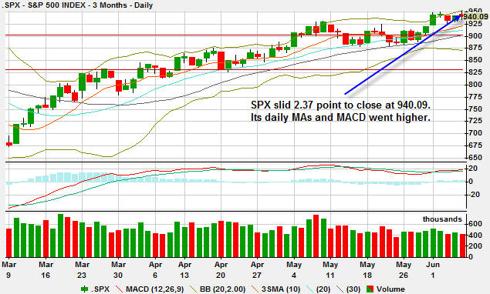 On Friday, SPX slide 2.37 points to close at 940.09.  Its daily MAs and MACD went higher.
Nasdaq (click the image to enlarge)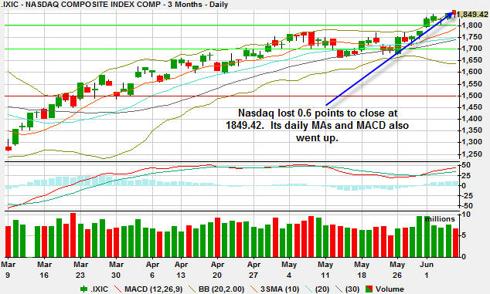 Nasdaq lost just 0.6 points to close at 1849.42.  Its daily MAs and MACD also went up.
SPX tested 950 last week, but was not able to close above.  Nasdaq jumped above 1800 and did not look back.  VIX closed the week just below 30.  SKF (financial ultrashort ETF) barely hung on to $40, while SRS (real estate ultrashort ETC) bounced off of $17.  At the time of this writing, Asian markets are mixed, Nikkei (Japan) attempting to break out higher.  For the new week...
To read the rest of of this article, please subscribe to HappyTrading "Premium Articles" by going to the Premium Services (click here) page.  If you are already a subscriber, please click here: Market Forecast 6/8/09.