On Tuesday, in my evening article, I said,
"If VIX breaks down below 28, I think we'll see SPX above 950.  [...]  USO (oil) still seems strong, as the dollar looks weak again.  Energy sectors could help the market push higher."
Today, VIX broke down all the way to below 27.  SPX jumped to a 6-month high of 956.23!  Nasdaq also made its new 6-month high at almost 1880.  Oil continued to push higher.  Crude closed above $72/barrel.  USO hit a new 6-month high of $40.  Indeed, the energy sectors helped push the market up.  SLB led the oil services with a +4.91% gain, rising as high as $63.78 and closing at $62.18, up $2.91.  APA was up +1.91%; DVN added +4.09%; and, OXY rose +1.96%.  Miners also showed strength: FCX +0.88%, X +4.24%, ATI +2.39%, and CCJ +1.36%.
The Dow was up +31.90 points; SPX added +5.74 points; Nasdaq gained +9.29 points: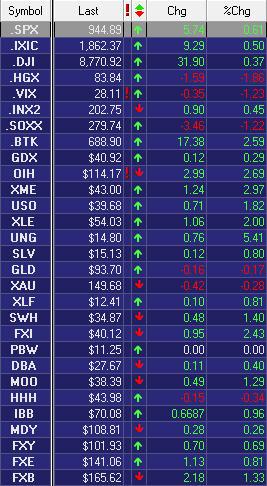 Most sectors were up.  SOXX (semiconductors) retraced 1.22%, though.  USO (oil) added +1.82%, while OIH (oil services) gained +2.69%.  XME (metals and mining) rose +2.97%.  XLE (energy) advanced +2%.  UNG (natural gas) jumped +5.41%.  GLD (gold) was slighting down.  FXI (Chinese ADRs) climbed +2.43% higher.
SPX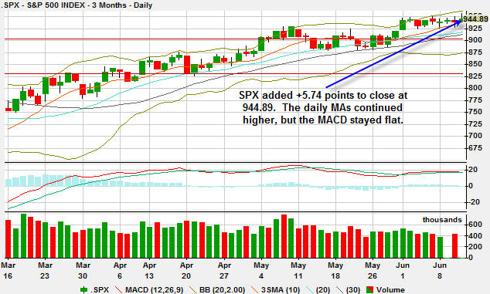 SPX added +5.74 points to close at 944.89.  The daily MAs continued higher, but the MACD stayed flat.
Nasdaq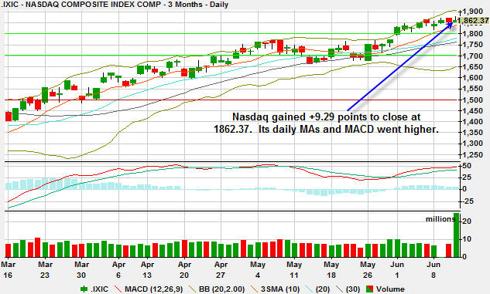 Nasdaq gained +9.29 points to close at 1862.37.  Its daily MAs and MACD were up.
Although both SPX and Nasdaq both hit their 6-month high, the market did not close strongly.  This is the second time in one week that SPX penetrated the 950 level.  But, still, the market did not gear up enough momentum to clear that level.  Soon after hitting SPX 956.23, the market started to slide.  BAC led the financials up, getting an upgrade in the morning.  BAC finished the day up +8.26%.  But, most of the other financial stocks could not keep their gains.  After sinking below $39, SKF (financial ultrashort ETF) came back to close above $40.  VIX also came back and closed above that 28 level.  Things are getting toppy and it seems like investors are now quick to lock in profits.  SPX has spent the past 2 weeks fighting with the 950 level, and, is still unable to clear it.  So, even though, the market closed up today, it is not yet clear if the market can push through this resistance at SPX 950.  If SPX does not break above this level tomorrow to close out the week strong, the market may finally run out of steam.
Good night and HappyTrading! ™