After Monday's big drop, the market opened higher today.  It fluctuated for about 3 hours, then, the selling pressure continued.  Most sectors were higher in the morning, but, they pretty much all turned red before the close.  Some of the big down-movers include:  FSLR -3.88%; RTP -5.07%; CEO -5.42%. 
One of our members, skymist, wrote an article this weekend alerting the the possibility of FSLR shares falling more.  Solar stocks actually started the day strongly, but, slid lower as the broader market fell.  FSLR was especially weak.  It fell almost $7, closing just above $172.  The June 175 puts attracted some extra attention with about 1500 contracts traded.  It opened at $2.6/contract this morning and closed at $6!
The Dow closed down 107.46 points (just above 8500); SPX dropped 11.75 points (below 915); Nasdaq fell 20.20 points (just below 1800):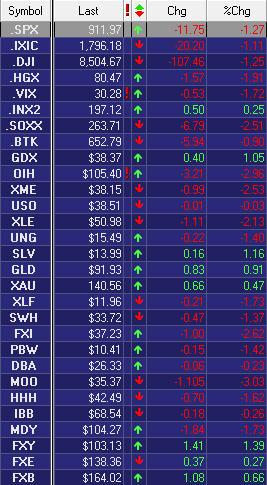 SOXX (semiconductors) led the techs lower, falling 2.51%.  Commodity sectors were weak:  XME (metals and mining) -2.53%; OIH (oil services) -2.96%; XLE (energy) -2.13%.  GLD (gold) and SLV (silver), however, closed higher.  FXI (Chinese ADRs) dropped 2.62%.
SPX (click the image to enlarge)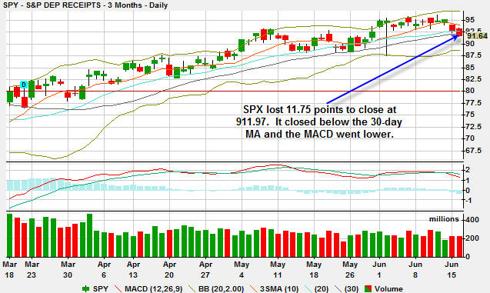 SPX lost 11.75 points to close at 911.97.  It closed below the 30-day MA and the MACD went lower.  (note: I'm using the chart from SPY, the ETF, because SPX was not displaying the correct quote from my data service.)
Nasdaq (click the image to enlarge)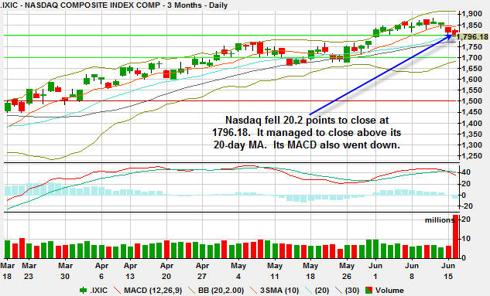 Nasdaq fell 20.2 points to close at 1796.18.  It managed to close above its 20-day MA.  Its MACD also went down.
The market has been looking toppy for a couple of weeks now.  It finally let off some steam!  SPX 950 was a solid resistance.  We have been staying mostly in cash so far this week, as the market has been volatile.  VIX jumped and closed above 32 (my data source is showing an inaccurate quote; click here to see quote on Yahoo).  SRS and SKF continued to push higher.  SRS is now back above $20!  SKF closed just above $43.  These ultrashort ETFs are starting to look a little more bullish.  The important levels to watch are SPX 915 and Nasdaq 1800.  The market took a 2-day drop and things are still looking weak.  If the market cannot hold SPX 915, the indices may start turning bearish.  We'll look to trade the downside if SPX 915 breaks down.
Good night and HappyTrading! ™