After the big drop on Monday, the market has been very volatile.  The overall sentiment has been negative.  Today, the market started out strong and was able to keep most of the gains.  Financials and health care stocks were among the stronger sectors.  For the health care sector, MRK added +3.55%; WLP jumped +5.38%; and, ESRX added +3.91%.  Financials finally pulled up a little after falling for 3 straight days:  HIG +6.96%, GS +2.4%, BAC +4.88%, PNC +4.05%.
The Dow was up +58.42 points; SPX added +7.66 points; Nasdaq slid 0.34 points: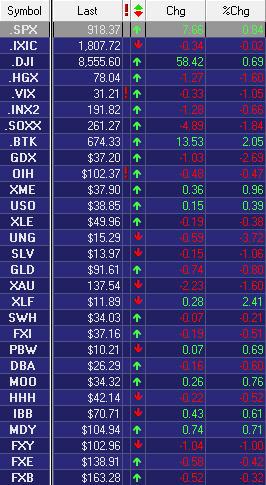 SOXX (semiconductors) fell 1.84%, as most tech stocks were on the weak side.  BTK (biotechs), however, added +2.05%.  GLD (gold) and SLV (silver) were both in the red; and, GDX (gold miners) dropped 2.69%.  XME (metals and mining), on the other hand, bounced +0.96%.  XLF (financials) recovered +2.41%, but, HGX (housing) was still down.  FXI (Chinese ADRs) slipped 0.51%.
SPX (using SPY chart)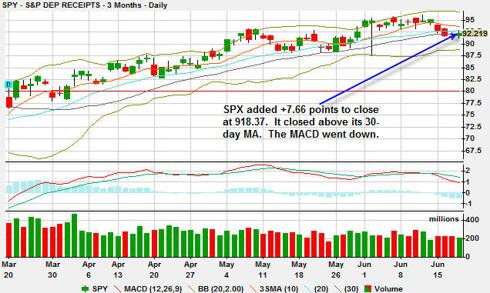 SPX added +7.66 points to close at 918.37.  It closed above its 30-day MA.  The MACD went down.
Nasdaq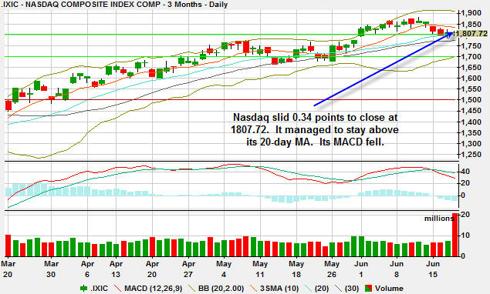 Nasdaq slid 0.34 points to close at 1807.72.  It managed to stay above its 20-day MA.  Its MACD fell.
This week, we have so far seen a lot of mixed, not to mention volatile, trading on the market.  Biotech and health care sectors are attracting buyers, while commodity and financial sectors have been weak.  Financials bounced a bit today, but, gold and gold miners fell lower.  Agriculture stocks tumbled hard yesterday, wiping out gains from the past month.  Semiconductors led the techs higher yesterday, only to lead the same groups down today.  VIX has recovered from below 28 to now above 31, which technically lends a reason for the volatililty. 
The stock market has rallied for the past 3 months, and, many sectors have gotten saturated with buyers for the near-term.  As profit-taking gets started, shorts have begun jumping back in.  But, the shorts are not so bold this time around, for most of them are perhaps still licking their wounds from the past 3 months.  Further, there is still much sidelined money that is waiting to come in to play.  As a result, bulls and bears are fighting it out at SPX's 30-day MA.  A little push either up or down could persuade the other side to give in.  Until then, it may be prudent to just stay mostly in cash and trade lightly.
Good night and HappyTrading! ™
ps, see RIMM's earnings report!