After another big drop on Monday, the market wobbled around the flatline today.  Commodity sectors saw good bounces as the dollar sank again.  Fertilizers and miners kept the market up:  POT +5.51%, MOS +3.74%, GOLD +4.53%, MEE +5.56%, CNX +4.6%, FCX +4.43%, JOYG +6.83%.  Financials stocks also enjoyed mild strength.  Techs were a little weaker with AAPL falling $3.36.
In the evening, ORCL shares climbed +2.67% higher after reporting a better-than-expected quarter.  The company said it earned 46 cents per share, topping the 44-cent average estimate by the analysts.  Sales did fall lower, but, they came in better than the estimates as well.
The Dow closed down 16.1 points; SPX added +2.06 points; Nasdaq slid 1.27 points: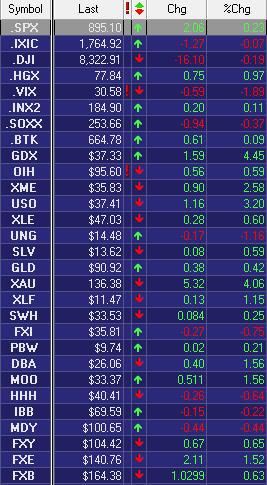 GDX (gold miners) added +4.45% and XME (metals and mining) gained +2.58%.  USO (oil) was up +3.2% while UNG (natural gas) slid 1.16%.  Tech sectors were mostly flat.  XLF (financials) managed a small gain.  MOO (agriculture) bounced +1.56%.  FXI (Chinese ADRs) slid less than 1%.
SPX


SPX added +2.06 points to close at 895.1.  It managed to stay above its daily lower BB, for now.  10-day MA curved below the 20-day MA.
Nasdaq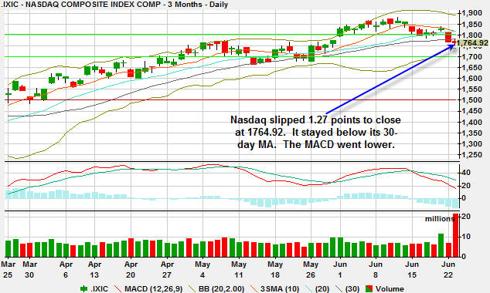 Nasdaq slipped 1.27 points to close at 1764.92.  It stayed below its 30-day MA.  The MACD went lower.
The market barely prevented sliding lower today, helped by the bounce in commodity sectors.  However, the market indices are starting to turn bearish.  SPX's 10-day MA has curved below the 20-day MA and Nasdaq stayed below its 30-day MA.  The MACD on both indices went lower.  The weakness in the dollar is propping up the commodities, which offset the selling pressure on the stock market today.  Tomorrow, we'll hear from the Feds, not only on the rates, but, perhaps more importantly on their economic statements.  Uncertainties and weaker-than-expected comments on the economy could easily knock the market down another notch. 
Good night and HappyTrading! ™