Toronto based Jourdan Resources (OTC:OTC:JODRF) (TSXV:JOR) is a company that I have steadily been building a position in since the beginning of the year. Until recent, I have been 100% focused on understanding the supply side of the market with a keen interest in Argentina. On the other side, I have been working to develop markets for stationary energy storage systems while keeping a close eye on the emerging electric vehicle market. The energy evolution has brought the clean energy and stationary storage market has crossed paths with the electric vehicle industry as they share a long list of synergies that will assist to expedite the development of the both markets. In the past year, the lithium mining market has seen a significant number of strategic transactions were end users such as automotive, battery and material manufactures, and investment firms have entered the market through acquisitions, off-take agreements and strategic investments. The Chinese have been the most bold at making moves in the business.
Jourdan Resources is my first venture into the lithium hard-rock space. Since opening a position, shares in the company have moved from $.05/ share to a high of $.09/ share, representing an 80% increase. Shares in the company have retracted back down to the $.07/ share level which I believe is still a strong buying opportunity (See: . Jourdan – A Strategically Positioned, Canadian Lithium Company With Significant Upside Potential)
My role as a contributor to the lithium investing market is to provide insight and clarify and risk around emerging trends, primarily on the demand side of the business. I am a professional in the clean tech and renewable energy industries who has successfully developed and executed scalable business and sales strategies for nascent products in the US and Canada. Over the past 12 years, I has worked with various early and mid-stage clean technology companies with a focus on stationary energy storage technologies for residential and commercial applications. It is not often that I give stock recommendations to the general public. To date, there are less than a handful of companies that I have publically recommended including: Orocobre Lithium (OTC:OTCPK:OROCF), Advantage Lithium (OTC:OTCQX:AVLIF), and NeoLithium (OTC:OTCQX:NTTHF). Orocobre and Advantage Lithium (See: Advantage Lithium – Initiating A Strong Buy Recommendation) have both done incredibly well since suggesting to investors to acquire shares in the company. NeoLithium (See: NeoLithium – Why I Recently Took  A Position)was a recent recommendation that has drifted lower due to unjustified negative news in the lithium market.  However, I expect NeoLithium to rise as the industry bounces back and they continue to de-risk their project.
Today, I feel comfortable adding Jourdan Resources to the list of companies that I have publically recommended to investors at $.07/ share. Here are the three reasons why:
On March 1 2018, the company announced a two prong capital raising effort which will see up to $2million invested into the company. The current share structure of the company remains tight with a total of 35million shares which will be expanded upon the recently announced financing deal. The proceeds from the capital should be used to advance the drilling activity with the goal to further define the lithium mineralization pattern of the spodumene-bearing pegmatite dykes from the North American Lithium property which is actively being extracted, processed and shipped to China for integration into the Chinese battery supply chain.
The financing includes up to 16million flow-through units at a price of $.075 per flow through unit, consisting of one common share of the company to be issued on a flow through basis and one half of one share purchase warrant. Additional, up to 12.5 million non-flow through units will be issued at a price of $.06 per unit, consisting of one share and one warrant. Each warranty provides the holder to purchase one share at $.10 per share at any time within 24 months from the date of issuance.
Location, location, location
North American Lithium is owned by Jien Nickel Industry, a Chinese investment company focused on reorganization of quality assets in the mining, mining processing, smelting, refining, and chemical markets. The company's flagship asset is a Quebec-based, open-pit, hard-rock lithium mine and processing plant that began the commissioning process in 2017. The company's strategy is to restart the hydro-metallurgical plant at the lithium mine to become an integrated producer of lithium chemicals, including lithium carbonate. It was reported in 2017 that the company required an investment between $150 and $200 million over a 12-18 month period.
In the summer of 2017, the company begun to mine hard rock that was processed at their Quebec facility with the spodumene concentrate exported to Chinese processors. From there, the lithium chemicals are sold to battery-material companies.  The company is now positioning to draw the necessary capital to build out a lithium carbonate processing facility in Quebec. In late 2017, the company announced that the proposed Reverse Take Over listing process was cancelled. Based on favorable trends in the lithium industry, it is my expectation that Jien Nickel Industry will continue to relist its shares on a major North American stock exchange.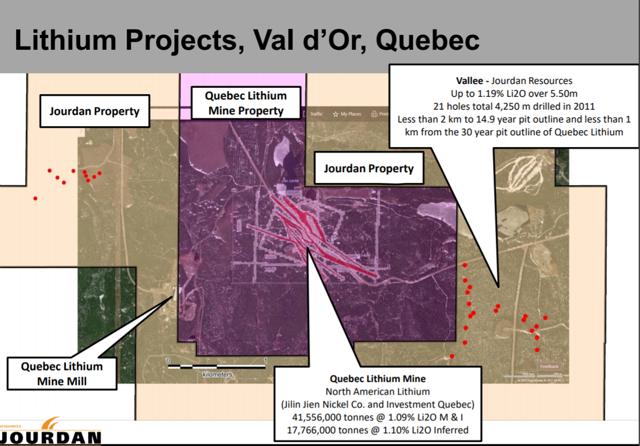 Recent and historical exploration work completed
Jourdan Resources (OTC: OTC:JODRF) is working the Vallee property that lies adjacent to the North American Lithium project, and which continues on its east side. Jourdan currently controls more than 9,500 ha in the Lacorne district near Val d'Or, which is an active mining region in Quebec. The Vallee project was drilled in 2011, with 21 holes amounting to over 4.250m returning up to 1.19% Li20 over 5.5m, which is likely the extension from the North American Lithium ore body. The 2011 drilling program intersected the pegmatite dyke that extends from North American Lithium's property. The drill results intersected included a high-grade intersection of 2.68% Li20 over .85m.
A focus on expanding the North American Lithium deposit
Throughout 2017, the company continued to define its natural-resource asset. This activity delivered additional positive results into October. Throughout the summer of 2017, the Company relogged and sampled previously untested drill cores. The compilation and interpretation, relogging, sampling and surface investigation of the Vallee Lithium property resulted in the identification of significant lithium mineralization that is contiguous with and due east of the Quebec Lithium Mine owed by North American Lithium.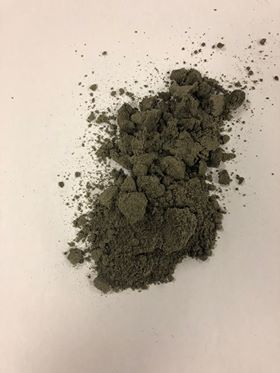 Spodumene concentrate from the North American Lithium property
In addition, the company reported results from a 1500-metre drill program completed on the Preissac-Lacorne Lithium Portfolio, which has been optioned from Alix Resources, Inc. and one other claim that is owned by Jourdan. Once again, the focus was on expanding and further defining the continuous ore body that defines the North American Lithium deposit. The drill program was centered at 1.5km northwest of the adjacent Quebec Lithium Mine, which is owned and operated by North American Lithium. The results were positive, with several holes reported to have multiple and widespread mineralized zones up to 140 metres apart within the same drill hole, indicating a broad zone of spodumene bearing pegmatite dykes exists in the area.  Drilling covered a strike length of 750 metres of spodumene- bearing pegmatite dykes.
In summary, the company is moving to raise several million dollars which will allow the company to significantly advance its exploration program. This should provide a steady news flow to investors ensuring that the company is well aligned as momentum continues to grow in Quebec. The recent and historical work already suggests that the mineralization from the North American Lithium property continues onto Jourdan's side of the property. Lastly, the Chinese connection at North American Lithium is a material change of events for the company. Jourdan Resources has strategically positioned itself around the world's next lithium producer at a time when quality lithium projects are becoming rare. Although it is difficult to speculate on share price appreciation with 35 million shares outstanding (pre-financing) the company has a total market capitalization of around $2.45 million. There are companies in Argentina that I have followed such as Argentina Lithium and NRG Metals who have had limited successes with their exploration campaigns but have recently been floating with market capitalizations of around $50million.  There are even more extreme cases such as seen with Far Resources who achieved a market capitalization of $100million by drilling a property in Manitoba, a region which has no track record of producing lithium.
With all microcap companies it is important to note there is a long list of risks involved with Jourdan Resources including the company's ability to: raise capital, meet financial obligations, market itself to the investment community, create trading liquidity and successfully further define its resources. However, with a market capitalization of less than $5million, the risks are significantly off-set by the opportunity. For investors who are looking to gain exposure to megatrends in the Canadian hard rock industry and understand the associated risks of microcap investing, Jourdan Resources is a company that should be sitting in your portfolio.
If you enjoyed this article than be sure to receive future material by clicking on the "Follow" tab at the top of this page or on my profile at: here and follow on Twitter https://twitter.com/liviofilice
Disclosure: I am/we are long JODRF, AVLIF, OROCF.