Based on recent reports, Tesla (TSLA) has broken through its production target of 2,000 Model 3 units per week and is moving towards its 5,000 units per week target. The company's recent letter to shareholders states that once they have achieved their 5,000 units per week target in the second quarter of 2018, they will be move to increase production to 10,000 units per week.
In 2017, the company produced for delivery in the USA a total of 27,000 Model S units and 21,000 Model X units, while in Q1 2018 the company already produced over 8,000 Model 3 units. This is a clear indication that the company is increasing its overall output of electric vehicles. In mid-2017, the company announced that over 500,000 Model 3 units had been pre-ordered by customers. Pre-order numbers tend to decrease if manufacturers miss the initial deliveries but will rise as finished goods are delivered to end customers (as consumer confidence either increases or decreases). Assuming that the pre-order figures remain within range of the 2017 announced figures, the company has at least 1 to 2 years of production orders ahead, based on its goal of increasing the manufacturing build-out for the Model 3 to 5,000 units per week.
In addition, Tesla is working on semi-trucks and a variety of energy storage products including a range of residential, commercial and utility scale products. The company's Gigafactory started to produce battery cells in early 2017, with the goal of achieving 35GHh/ year. Based on guidance delivered by the company, in the first half of the year they could achieve 24,000 Model 3 units produced in Q2 plus the 8,000 units delivered in Q1. The second half of the year could see the company achieve a run rate of 5,000 units per week or 130,000 Model 3 units, for a combined annual production of around 160,000 Model 3 units. Although this scenario is purely based on the company's guidance to the market, it is a far cry from what was actually built and delivered in Q1 and the company continues to miss production targets.
Advanced exploration and early-stage producers to benefit
It is also apparent that new lithium demand is required in the immediate future with a ramp-up well beyond 2025, as more electric vehicles enter the market. From an investment standpoint, there are opportunities to play growth in the next few years by investing in late-stage lithium exploration companies who are well positioned to bring new volume into the market, or to identify early-stage producers who can invest in facility expansion in the immediate future to meet emerging demand.
Australian hard-rock plays including Altura (OTCPK:ALTAF), Tawana (OTCPK:TWNAF) and Pilbara (OTCPK:PILBF) are all prepared to bring some new commodity to market while Nemaska (OTCQX:NMKEF), a Canadian based lithium Chemicals Company is in the final stage of raising over $500 million in new capital to build out Phase two of its lithium facility in Quebec. In Argentina, Orocobre(OTCPK:OROCF) is at the front of the industry as it is moving too quickly expand its production facility while Advantage Lithium (OTCQX:AVLIF), a junior lithium exploration company prepares to release an updated natural resource estimate. Lithium Americas (OTC:LAC) continues to make progress at its lithium brine asset which is expected to bring new volume into the market in 2020. Realistically, these are the only advanced lithium exploration and early stage producers who will materially benefit from an increase in demand in the near-term.  Of course, over the mid and long term there will be room for additional high-quality lithium projects to find their way to market.
It is in my opinion that based on recent strategic investment from Asian battery and material companies that the current and on-going interest will be with players that have a high-quality asset, coupled with the necessary financial backing and strategic relationships in the market. All of the above listed companies meet or exceed this criteria. Therefore as real lithium demand continues to rise with the increase in new energy vehicle production, these companies are best positioned to bring meet the growing demand.
Tesla Aims to increase Model X Production; could produce upwards of 20GWh of batteries
Using the company guidance as a general direction, the 160,000 vehicles plus Model X and Model S units exceeded 100,000 units produced in 2017. The potential upside to Tesla's total production, not including energy storage products, could amount to over 250,000 units. With an average storage capacity of 80KWh per vehicle, the total battery storage requirement would amount to 20GWh of capacity, which is less than the 35GWh production target. Based on 35GWh of production capacity, with an average of 80KWh of battery capacity per vehicle, there could be enough battery production to supply approximately 450,000 vehicles.
Management at Tesla has already indicated that the total production capacity at the Gigafactory could hit 150GWh, enough to supply 1.5million electric vehicles based on current battery requirements per vehicle. If the company is able to ramp-up production at the Gigafactory to 35GWh per year, then there would be no bottleneck on the supply of batteries. In fact, the company would have excess battery manufacturing capacity, which is likely why it is moving aggressively into home, commercial, and utility-scale energy storage systems and introducing additional vehicles.
A 250,000 electric vehicle target for 2018 would require approximately 20GWh of battery production translating into approximately 16,000T of lithium carbonate equivalent. The full first phase of the Gigafactory could supply enough battery systems for approximately 450,000 vehicles, requiring approximately 30,000 T of lithium carbonate equivalent. In 2017, total global lithium carbonate demand was pegged at around 220,000T, which indicates that if the company hits it's stated manufacturing objectives for 2018, its demand would amount to around 7% of global consumption in 2017.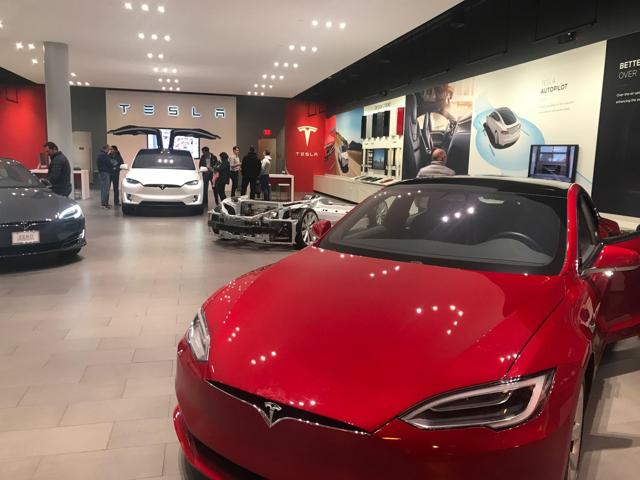 Author supplied – Tesla showroom in Santa Monica, California – April 2018 Looking forward, if the company is successful in continuing to ramp-up electric vehicle production and the comments around the potential expansion of the Gigafactory are true, then the company will have enough battery production to supply over 1.5million electric vehicles on an annual basis. Total lithium carbonate required to supply the Gigafactory would amount to over 95,000 T LCE, representing over 40% of all global lithium supply in 2017.
All of the above being said, my knowledge of Tesla and automotive manufacturing processes is limited to determining realistic objectives for the company to achieve in 2018 and beyond. This is all purely speculative, but it clearly illustrates what the potential demand scenario for lithium chemicals may become at various difference production levels. It also shows how quickly demand for batteries and lithium chemicals can increase as most of the barriers for a wide-scale mass adaption are overcome. Barriers for mass deployment of a new energy technology include: product accessibility, consumer awareness and education, supporting infrastructure (EV charging networks), and product financing, along with product servicing and maintenance. None of these items is any longer a barrier to wide-scale deployment of electric vehicles. In fact, based on Tesla's pre-order commitments, the auto industry could sell millions of electric vehicles today, if it brought the right product at the right price to the mass consumer market.
Tesla has successfully developed the market for new energy vehicles and other supporting energy technologies, such as EV charging infrastructure, integrated solar rooftop modules and various stationary battery power products.
Author's note: If you enjoyed this article than be sure to receive future material by clicking on the "Follow" tab at the top of this page or on my profile.
Disclosure: I am/we are long OROCF, AVLIF.