In early March 2018, CATL, the largest Chinese lithium battery manufacturer, announced a $66 million investment into North American Lithium, whic h is the only Canadian lithium miner that is actively delivering meaningful volumes of spodumene concentrate into the global market. For those unfamiliar with CATL, based on the recently filed documents supporting the company's IPO, the market valuation is around $20 billion and they are presently undertaking a battery manufacturing expansion effort that will see annual production move from 7 GWh to 50GWh. The oversubscribed IPO has since been completed and share prices have more than doubled in the first weeks of trading on a Chinese stock exchange.
The investment by CATL into North American Lithium further cements my investment thesis: invest in late-stage lithium exploration and early-stage production companies along with companies that offer some form of strategic value, such as a well-positioned land package or end-user relationship. Companies that I track which meet these criteria include Advantage Lithium, NeoLithium (OTCQX:NTTHF), Lithium Americas (OTC:LAC), Orocobre, Millennial Lithium (OTCQX:MLNLF), Nemaska (OTCQX:NMKEF), and Jourdan Resources (OTC:JODRF).
In the summer of 2017, North American Lithium announced the successful resumption of its mill activities, which will allow for spodumene concentrate to be shipped to the Chinese market. The company also confirmed that the material being extracted and processed was meeting quality standards that allow for its integration into the rapidly growing lithium battery market. This was a significant milestone, as the company reported that it would need around $150 million over a 12-18 month period to shift from concentrate to carbonate production.
North American Lithium Company was purchased after its former operator, Canada Lithium, failed to raise additional capital to complete the buildout and ramp-up of the facility. As a result of court proceedings, Jien Nickel Industry, a Chinese investment company, emerged as the new asset owners. Jien Nickel Industry is focused on the reorganization of quality assets in the mining, mining processing, smelting, refining, and chemical markets.
It is now clear that the Chinese connection between Jien Nickel Industry and CATL has been a driver in reenergizing the lithium asset in Quebec. Less than 1 year after its initial shipments to China, the company has been able to attract a sizable amount of capital by one of the most significant lithium battery manufacturers in China.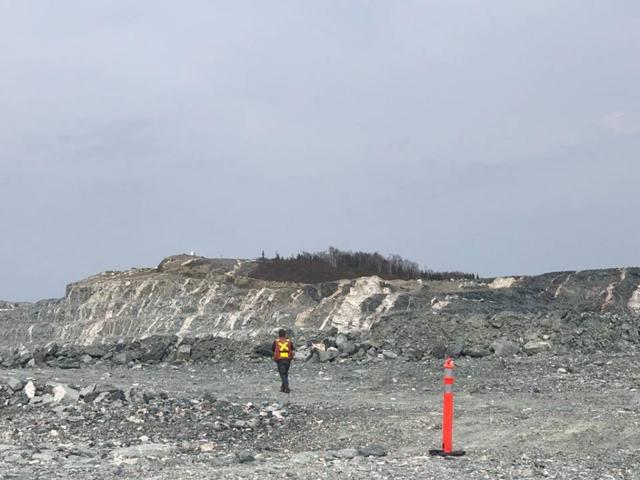 Author supplied Photo – Quebec Lithium open pit (June 2018)
On February 21, I reported on the opportunity for Canadian lithium hard-rock players to emerge into the global spotlight (See: Lithium Investing: An Emerging Opportunity For Canadian Hard-Rock Miners). The macroeconomic trend is that Asian end-users such as automotive, battery, and material manufacturers, as well as investment companies, are racing to secure long-term supply of the white material. However, there is a lack of advanced-quality lithium projects that will actually come to market over the next half decade. The industry has been polluted with misinformation from investment firms that are not aligned with the industry, and which clearly do not have a pulse on the market. If the market was heading into an oversupply scenario, then end-users would not be concerned with the long-term availability of lithium chemicals. In fact, Asian end-users are racing to enter agreements with companies that are currently producing lithium or are developing advanced-stage projects.
For investors, there are several key take-away points that further solidify my investment thesis of focusing on advanced-stage explorers, early-stage lithium producers, or strategic plays. These are:
Globally speaking, there is a lack of high-quality, advanced-stage lithium projects that are expected to come to market over the next half decade. There is a short-list of Australian hard-rock producers and a handful of Argentine brine projects that will make their way to market.
The investment by CATL into North American Lithium stands as confirmation of this view. Although there is much speculation within the industry around European end-users moving to secure supply, those end-users have fallen far behind when compared with the Chinese.
In order to meet the Chinese new energy vehicle mandates, the Europeans must secure battery cell or module supply from companies such as CATL. However, in the longer term it is still imperative that both European and North American automotive companies take an active role in shaping the supply chain.
At some point, either the European automotive players or the investment community will move to secure supply, which will ensure that financing becomes available for the short-list of high-quality lithium projects in Canada and Argentina.
The investment into Quebec highlights the region as a serious player in the global lithium supply chain.
In my opinion, extraction and shipment of ore or spodumene concentrate is a low-value business practice that constitutes only a short-term opportunity. This assessment is reflected in the strategy outlined by both Nemaska Lithium and North America Lithium, which is to move to higher-value added products such as lithium carbonate and lithium hydroxide. Quebec will now play an important role in supporting the build-out of the Chinese electric vehicle industry. Further, both NortVolt and Tesla Motors (TSLA) have both recently made headlines for signing long-term contracts for the supply of lithium hydroxide. 
As we have witnessed over the past few months, many of the early-stage lithium exploration companies have been wiped out. It is my opinion that a large portion of these companies jumped onto the lithium bandwagon because it was an easy story to sell to retail investors. However, despite all of the noise in the industry there is significant opportunity to identify investments that will benefit from these strong underlying macroeconomic themes.
Jourdan Resources – A speculative play surrounding CATL's Quebec lithium facility
Toronto based Jourdan Resources is microcap company that has done a fantastic job at quietly building up a strong and strategic land package next to CATL. Shares in the company have a primary listing on the Toronto Stock Exchange under ticker symbol "JOR". Based on financial reports filed on May 30 th, the company held a geographically concentrated portfolio of lithium properties including: Rome Lithium Property, Vallee Lithium Project, Baillarge Lithium Project, Baillarge North Property and Preissac – Lacorne Lithium Portfolio.
From a strategic investment perspective, North American Lithium's mill straddles the property boundary between the Preissac-Lacorne Lithium Portfolio and North American Lithium's Quebec Mine Property.
Capital injection to advance exploration program
In Q1 2018, the company announced that it will seek investor support to raise another round of capital to fund ongoing exploration activity at their group of properties as listed above. On June 12, the company announced that the first tranche of financing was completed. This included a non-brokered private placement by issuing 12.3 million units of the corporation at $.06/share; and a flow through placement of 8.8 million common shares of the company at $.075/share, for aggregate gross process of $1.4 million. The non-brokered private placement issuance included one share and one share purchase warrant. Each warrant will entitle the holder to acquire one share at an exercise price of $.10/ share within 24 months from issuance closing date.
It is in my opinion that this capital will allow the company to:
Complete another round of drilling at select targets expanding the known lithium zones. Exact targets have not been disclosed by the company.
Complete a bulk sampling program and spodumene concentrate production to illustrate the viability to convert the ore into usable industrial and battery grade lithium chemicals.
Fund the company over the near term and maintain the balance sheet.
Tight share structure - Assist with share price elevation
Prior to the current financing, the company only had around 35 million shares outstanding plus a large number of warrants which expired at the beginning of April 2018 (see table below). Based on recent trading prices, the company had a market capitalization of around $2.1million. Of course the share structure will increase to 70 million based on the recent financing but is still very well structured. In the event that the company is able to deliver positive results from the upcoming exploration activities then the tight share structure could assist with a rise in shareprice.

Recent and historical exploration work completed
Jourdan Resources ( OTC:JODRF) is working the Vallee property that lies adjacent to the North American Lithium project, and which continues on its east side. Jourdan currently controls more than 9,500 ha in the Lacorne district near Val d'Or, which is an active mining region in Quebec. The Vallee project was drilled in 2011, with 21 holes amounting to over 4.250m returning up to 1.19% Li20 over 5.5m, which is likely the extension from the North American Lithium ore body. The 2011 drilling program intersected the pegmatite dyke that extends from North American Lithium's property. The drill results intersected included a high-grade intersection of 2.68% Li20 over .85m.
A focus on expanding the North American Lithium deposit
Throughout 2017, the company continued to define its natural-resource asset. This activity delivered additional positive results into October. Throughout the summer of 2017, the Company relogged and sampled previously untested drill cores. The compilation and interpretation, relogging, sampling and surface investigation of the Vallee Lithium property resulted in the identification of significant lithium mineralization that is contiguous with and due east of the Quebec Lithium Mine owed by North American Lithium.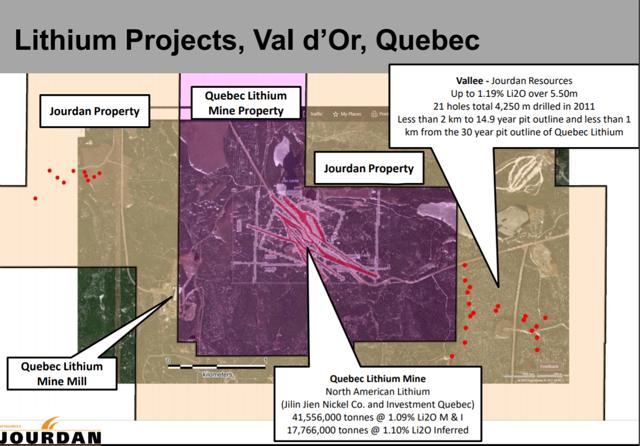 Jourdan Resource property map showing close proximity to CATL (Quebec Lithium)
In addition, the company reported results from a 1500-metre drill program completed on the Preissac-Lacorne Lithium Portfolio, which has been optioned from Alix Resources, Inc. and one other claim that is owned by Jourdan. Once again, the focus was on expanding and further defining the continuous ore body that defines the North American Lithium deposit. The drill program was centered at 1.5km northwest of the adjacent Quebec Lithium Mine, which is owned and operated by North American Lithium. The results were positive, with several holes reported to have multiple and widespread mineralized zones up to 140 metres apart within the same drill hole, indicating a broad zone of spodumene bearing pegmatite dykes exists in the area. Drilling covered a strike length of 750 metres of spodumene- bearing pegmatite dykes.
Although there is good indication that a strong lithium deposit exists on Jourdan's side of the fence, the key motivation for an investment in the company is its close proximity to a lithium-producing facility owned by Chinese interests at a time when Europeans are looking to secure supply. Risks include the company's requirement to raise additional capital, which will lead to shareholder dilution, but this initiative is well warranted considering the strong momentum within the industry.
Beyond the completion of its exploration efforts, the company may seek to utilize or acquire an existing mill in the region, enter a tolling agreement with another local producer, and export material for final processing in China. In addition, the company could seek out a strategic alternative (including a merger with another regional exploration company), become an acquisition target for North American Lithium, or simply sell the project to a foreign mining or chemical company looking for a low-cost entry into the market.
Risk, speculation and opportunity
With all microcap companies it is important to note there is a long list of risks involved with Jourdan Resources including the company's ability to: raise capital beyond the current funding efforts and to stay ahead of its requirements, meet financial obligations both short and long term, successfully market itself to the investment community, create trading liquidity to attract and sustain investment, successfully further define its resources and a strategic path forward.
From a macroeconomic level, Nemaska and CATL are both investing significant amounts of capital into the Quebec lithium industry but any change in direction or failure to successfully develop their assets could have a material negative impact future investments in the region.
However, with a market capitalization of less than $5million, the risks are significantly off-set by the opportunity. At present shares in the company have been trading around $.06/share which I believe is an attractive point of entry for both investors looking for near-term gains and mid-term exposure to the booming Quebec lithium industry. For investors who are looking to gain exposure to megatrends in the Canadian hard rock industry and understand the associated risks of microcap investing, Jourdan Resources is a company that should be sitting in your portfolio.
If you enjoyed this article, then be sure to receive future material by clicking on the "Follow" tab at the top of this page or on my profile here. Please also "Follow" on Twitter here.
Disclosure: I am/we are long AVLIF, OROCF, JODRF.