In my debut article, I decided to turn my attention to an IPO that might have snuck under the radar during the monster IPO week with juggernauts such as GM and BAH going public as well. While it did receive a brief shout out on "Mad Money" (with Cramer giving it his "Buy" approval), that seems to be it as far as media coverage goes- and the bloggers and analysts seem to be quiet as well. In my mind, Bitauto Holdings seems like a very intriguing company, one that poses an extremely high upside to any investor willing to take a risk on an Chinese internet company that has posted a net loss of 122 million in the first nine months of 2010. This is mostly due to the change of value in it's convertible bond, which has less to do with the business itself than it is a technical issue from converting some of it's bonds into a fixed number of shares. That may stand to be a red flag for some, but where there is risk and doubt, there is also tremendous opportunity, and after scouring over the company's 100+ page SEC filing upon its public offering, I found a lot that I liked about the company.
The Basics

First and foremost, lets see what BITA does. They have three primary sources of revenue, the first being their website bitauto.com. Accounting for 62.8% of their revenue, it is an automobile website that through subscriptions with new automobile dealers, enables users to browse, research, and view lists of prices and promotional information on new cars. Dealers pay for this subscription service in order to have their listings, promotions, and sales posted to a large number of viewers in hopes of attracting business. How large is this number of viewers? How about 76.4 million unique viewers, which may not seem impressive until you consider that number is 90% more than their closest competitor.
Their second largest source of revenue comes from their Digital Marketing Solutions service, which according to their press release, "provides automakers with one-stop digital marketing solutions, including website creation and maintenance, online public relations, online marketing campaigns and advertising agent services." This is an exceptional service provided by the company, one that accounts for exactly 1/3 of their latest revenue reports. According to iResearch, only 7.4% of China's total automobile advertising was designated to online advertising in 2009. This was a significant growth from the mere 3.3% spent in 2005, but still far from the expected 10.9% in 2013, according to the same research study.
Their third and smallest source of revenue is one that I feel has the most growth attributable to it, and this is their ucar.cn website. This business "provides listing services to used automobile dealers that enable them to display used automobile inventory information on ucar.cn and also provides advertising services to used automobile dealers and automakers with certified pre-owned automobile programs." This of course is a huge attribute, one that will be most likely prosper from the future balancing of new and used cars being bought and sold in China, one that highly favors new cars in today's market. Considering that ucar.cn currently only accounts for roughly 4% of total revenue, there is a lot of upside here, and BitAuto has been pumping money into developing this site the last couple years in order to maintain their already significant market share in the online used-automobile industry.
The Management
Mr. Bin Li, the founder of the company has more than 10 years in the Chinese Internet industry, while also currently serving as the vice-chairman of the China Automobile Dealers Association. This connection to a huge network of automobile dealers proves to be an essential competitive advantage for the company over it's other competitors.  Such a strong bond between an association of car dealers to a website that specifically relies on the business of those dealers is a big deal. As vice-chairman of the CADA, Mr. Bin has a direct channel to not only market his company, but also communicate with his potential customers on how exactly the internet industry (aka bitauto/ucar) can help them grow their business.
The president of the company, Mr. Jingning Shao has quite an impressive resume himself. His last gig before making the move to bitauto was general manager of business operations for Sina, a Chinese online media company that has rewarded shareholders with a 140% return since it's IPO in 2005. Specifically, during his implementation of GM of Business Operations for Sina in 2007, the company posted significant gains, along the lines of 57% in his first year on the job.
The CFO of the company, Mr. Xuan Zhang, has over 10 years experience in accounting and finance, holding previous jobs with Ernst & Young and PricewaterhouseCoopers LLP. This proves significant in my eyes, because as many of us know, the accounting principles used by many Chinese companies has led to numerous downfalls. An example of one of these accounting errors is that of Duoyuan Global Water and Duoyuan Printing, both of whom shared the same accounting department, and both suffering serious losses to the stock (-69% and -59% YTD) after news of shaky accounting was announced. Now Mr. Zhang's previous jobs do not guarantee anything, but with experience of being employed by multiple big-four firms, we can at least expect that the CFO knows the consequences of what happens when a firm has poor accounting practices.
The Growth
Research indicates that as a percent of total car sales in China, new cars account for 80.7% while used cars only account for 19.3%. The chart below shows the percent of New Car and Used Car sales as a percent of total in other countries such as the U.S.A and Japan. We can expect that over time, China's percentage will most likely correct itself to fall in line closer to Japan or the United States.
New/Used Automobile Sales as Percent of Total Sales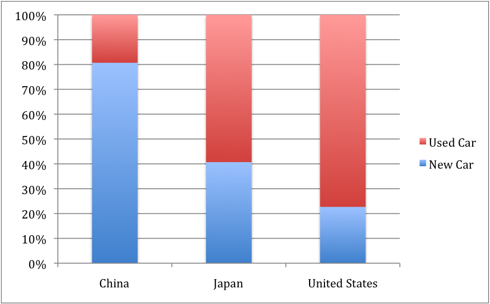 As stated in the report, "The used automobile market in China is still at an early stage of development, but is expected to grow quickly at a CAGR of 31.9% to reach 10.0 million units in 2013, according to CADA, driven by an overall increase of automobiles in the market and shorter average automobile holding periods, among other factors." This bodes well for ucar.cn, which like its big brother BitAuto, has a significant lead on the rest of the pack, posting an impressive 7.1 million unique viewers in the third quarter of 2010. This seems small in comparison to bitauto's unique viewer count, except for the fact that they ucar.cn still posts 21% more viewers than their closest competitor. Not exactly the 90% that bitauto boasts, but still am impressive lead that the company expects to build on, as they have increased their spending on R&D each of the last three years.
We can also not look past the fact that there are A LOT of cars to be produced and bought in China in the near future, and the chart below expresses just how few automobiles exists in China when compared to the population.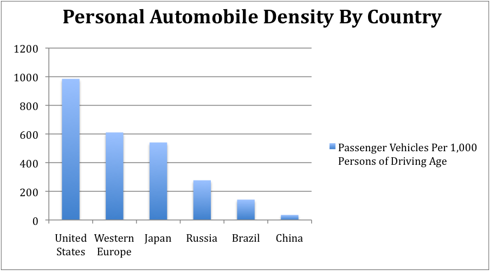 According to J.D. Power, the number of passenger vehicles per 1,000 persons of driving age is only 35. Even if we take into account all constraints that are holding this number to be extremely low, I would expect that this number can easily reach 50-75 vehicles per 1,000 persons, which would double the current rate but still be roughly 10% of the density of the group's mean rate.
Combine the growth in general car sales with the growth of Internet, and BITA seems to be prospering from more than one catalyst in China. Internet usage in China is expected to grow from 480 million in 2010 to 664 million in 2013 for a CAGR of 14.7%.  With over 75% of Internet users referring to the Internet to browse information on China's automobile market, we can expect a high number of new viewers to be added into the market in the next couple of years, many of whom will most likely end up on bitauto or ucar.
Conclusion
Whether it is new car sales or old car sales, the automobile industry is bound to grow, and as the Internet leader in car sales and information, BITA is set for tremendous gains in the years to come. We have seen how much Baidu has prospered from being the clear and cut leader of Chinese Internet search, and from what the numbers tell, BITA is solidifying itself as an industry leader in online automobile anything in China. As many of you know, the formula of (Industry Leader) +(High Growth Industry) x (Emerging Market)=$$$ to be made, and BIDU is the perfect example of that. All the pieces seem to be in place for BITA to make a nice run in the next year or so (pending no major market downfall), and I for one am positioning myself for a nice "ride" into the profits.
Disclosure:
Long BITA