This is my first company profile in a long time. I am not one to make excuses, but this past year has been a busy one for me. It took a company like Naspers to get me excited enough to take some time to provide an in-depth, somewhat offbeat, analysis of a company's future potential. So what was it about this South African multimedia conglomerate that got me so riled up?
First and foremost, I like sleepers. Who doesn't? It's always fun to root for the underdogs. Naspers is traded on the Johannesburg Stock Exchange under the symbol NPN. It has been listed on the exchange since 1994 and has been an incorporated media company since 1915. They are traded as American Depository Receipts in America under the symbol NPSNY. Because it is not listed on a major US stock exchange, Naspers has gone under the radar for quite some time now. The volume on the Pink and OTC markets is minute. If you are going to buy this, it is an investment- this not an equity that you regularly trade. Maybe that is why the media and online blogs have been hush about the "WAYS TO PLAY THE FACEBOOK IPO!!" The two firms getting all the press- GSVC and SVVC have a SLIVER of the number of shares that Naspers has. Does Naspers have a bigger market cap? Yes. I am not saying that NPSNY is a more direct play on the Facebook IPO than the aforementioned firms. I am merely stating that the number of shares Naspers has (roughly 37 million) is much larger than the number of shares GSVC (350,000) and SVVC (600,000) have. There are others who own FB shares as well- T. Rowe Price and Goldman Sachs being two well known on Wall St. I am also not saying I do not like these other investment vehicles- but I will explain how they pale in comparison to the investment opportunity that Naspers is offering right now.
So before I present my bull case completely, lets just briefly run over a summary of the multinational media conglomerate. Below you will find an image of their holdings, what percentage they own, and where they are located. If you want a more detailed analysis you can play around on their company profile section on their webpage http://www.naspers.com , but to save you some time I copied and pasted a blip from their Business Overview:
"The group's principal operations are in internet platforms (focusing on commerce, communities, content, communication and games), pay-television and the provision of related technologies and print media (including publishing, distribution and printing of magazines, newspapers and books). Most of Naspers's businesses hold leading market positions.
The group's most significant operations are located in emerging markets. This includes South Africa and the rest of Sub-Saharan Africa, China, Latin America, Central and Eastern Europe, Russia and India."
The only difference that you won't find in that picture is the somewhat recent transaction Naspers made with Digital Sky Technologies and it's co-founder / CEO Yuri Milner, which gave Naspers a 28.7% stake in Digital Sky Technology in exchange for $338m in cash and Nasper's share of 39.3% stake in Mail.ru for which DST was also a co-owner. Upon completing the transaction, DST owned 99.9% of Mail.ru and Naspers had a 28.7% stake in DST. Recent Developments have widened the gap between DST and Mail.ru which has made them entirely separate entities. Yuri Milner- the common link in all of this- has stepped down as Chairman of the Board of Mail.ru as it plans to IPO in Russia, and has decided to focus solely on DST to prevent any conflicts of interest. The previously mentioned TechCrunch article will provide some more insight into the recent departure of Mr. Milner from Mail.ru. This is a bullish development for NPSNY as they were able to dump their shares of Mail.ru (along with some cash) in exchange for a large stake in DST. What makes this so special?
Those who have been following the Facebook IPO closely know that Digital Sky Technologies was one of FB's earliest and largest investors. You can read up on what ingenious steps they made to do so (it involves scooping up millions of shares from employees way back in 2009/2010, as well as teaming up with the great Goldman Sachs in a $1.5 billion dollar round), but in the end, Digital Sky was able to amass a whopping 10% stake of Facebook shares outstanding. The number has officially come in at 5.5% according to Facebook's S-1 disclosure, in which large shareholders were forced to show their hand before the world's most anticipated IPO takes place. With the number of FB shares outstanding around 2.358 billion, this means the number of shares owned by DST should be roughly (2.238bn x 5.5%) 129.7m shares. With that as a rough estimate, we can expect the number of shares allotted to Naspers stake to be around 37,221,030 (approx. 1.6% of total Facebook shares outstanding). Ok so Naspers owns a sliver of Facebook… what is the big deal, why choose them as an investment?
With a market cap of roughly $22 billion, Naspers stake in Facebook is only expected to be worth roughly $1.6 billion at a $100bn valuation. That is nowhere near enough to justify investing in Naspers, right? Initially, that is the correct assumption. At a $22bn dollar market cap that is only around 7% percent of the total. However, I believe that with the low number of FB shares float for the IPO (<10%) combined with the hype that everyone and their grandfather wants to own a share, we can see the valuation jump from $42/share ($100bn) to $63/share ($150bn) to $84/share ($200bn) in a very short time period. DST has agreed that they are in it for the long haul or at least they will not dump shares within 18 months of IPO date. That, however, does not restrict your ability to buy and sell Naspers at whatever time you please. I believe retail investors are going to look at the share price in a much different way than many finance academics have. Many novice investors will look at it as, "Facebook is only $60 a share and Apple is $600?! Mr. Broker, I want 100 shares pronto!" It is going to be the perfect storm. As you will see, my analytical breakdown shows how quickly Naspers' value of FB shares will rise as a percentage of their current market cap based on the price/valuation FB shares trade at. At $63/share it jumps to 11% of their market cap, at $84 a share its up to 14%, and at $95 a share it is up to 16% of NPSNY's current market cap. This alone is not reason to buy NPSNY.
There is a small detail that has been left out up until now, and that is the other loaded cannon NPSNY is sitting on…a whopping 34% stake in Chinese Internet powerhouse Tencent Holdings. If you haven't heard of Tencent, you most likely have not expressed much interest in the Chinese Internet sector within the last five years. With a market cap of roughly $50 billion, they are the largest, most used Internet portal in China. A blip from their Business Overview page describes them as a company that provides:
"value-added Internet, mobile and telecom services and online advertising under the strategic goal of providing users with "one-stop online lifestyle services". Tencent's leading Internet platforms in China - QQ (QQ Instant Messenger), QQ.com, QQ Games, Qzone, 3g.QQ.com, SoSo, PaiPai and Tenpay - have brought together China's largest Internet community, to meet the various needs of Internet users including communication, information, entertainment, e-commerce and others. As of Sep 30, 2011, the active QQ users accounts for QQ IM amounted to 711.7 million while its peak concurrent users reached 145.4 million."
With a market cap as large as Baidu, you would think Tencent would gain more coverage with financial blogs and media in the US. Alas, the geographic market bias once again leads domestic investors astray, with almost no coverage thanks to it's listing on the Hong Kong exchange and it's listing in the US only as an ADR under the ticker TCEHY. They have experienced extraordinary growth in China over the last few years and Naspers is the beneficiary of their success thanks to an investment in Tencent way back in 2001, giving them a 45% stake for a mere $32 million! Although it is now down to "only" 34%, that initial investment of a few million dollars is now worth more than $17 billion dollars, accounting for almost ¾ of Naspers' entire market cap. That means that the rest of their business entities that they own in South Africa, Brazil, China, India, and numerous other emerging markets (along with their stake in Digital Sky Technologies) account for the rest, only 25% of their market cap.
This is not an article meant to describe the exact business models of Facebook and Tencent and provide a specific bull case for either of them. It is also not intended to go into any great detail on the rest of their business entities, many of which I am also bullish on. The reader should do ample due diligence on not only the aforementioned businesses but the rest of Digital Sky Technologies' investment portfolio, for which Naspers owns a 28.7% stake in. I cannot do all the work for the reader. However, this analysis is only meant to show the potential value in only two of Naspers' investments. I do believe that as Facebook stock soars to the moon, and their valuation goes through the roof, investors will look for alternative investments within the social/mobile space. I think Tencent will be a major beneficiary of the growing macro-hybrid trend of "Social /Mobile /Internet /Media" and could see a strong upwards move in their stock price/market cap. As a 34% holder, Naspers is also a major beneficiary of Tencent's success. The chart below (via Bloomberg.com) has tracked how closely Naspers and Tencent have traded with one another over the past five years. You will see that the US Tencent and Naspers ADRs have been nearly identical in their movement. The dark orange is Naspers movement on the Johannesburg Exchange- slightly underperforming its US counterpart most likely due a scarcity premium on the ADR shares.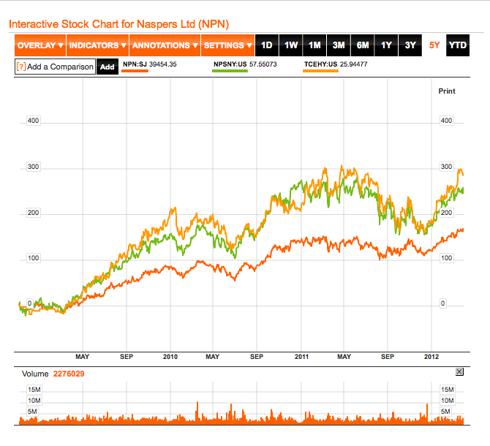 You will notice the trending direction has been UP. These stocks may have been under reported in the US, but those who own them have definitely taken notice over the years. This next chart below (also via Bloomberg.com) has shown that in the last three months, Tencent has appreciated significantly more than Naspers has in both US and Johannesburg exchanges- signifying a potential arbitrage opportunity in the short term as well: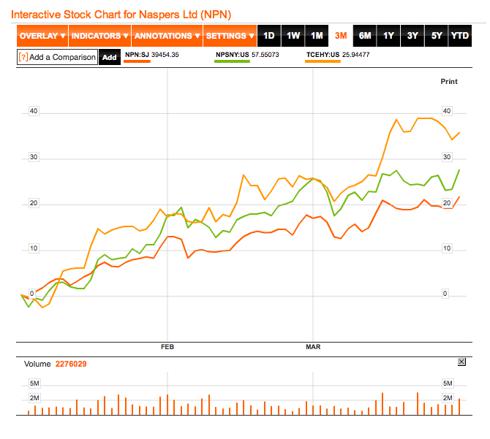 The last piece of data I will show in this write up is table I made that sums the value of Naspers' holdings in Tencent and Facebook and then divides that value by its present day market cap. You will see that even with a bearish scenario: Tencent market cap remains the unchanged from present day & Facebook IPO does not appreciate at all and remains at $100bn… you are still left with 85% of Naspers' present day market cap. This does not include the rest of its business subsidiaries all over the world, or even the $1 billion USD on its balance sheet. Then, we still haven't thought about the potential value of the rest of DST's investment portfolio, including one of my favorites- online music disruptor Spotify Inc. (the Pandora killer!! Sorry, Rocco) It is up to the reader to do some homework and see what they can come up with as a value for the rest of this portfolio. I will say that it won't keep investors up at night once they realize there are a number of combinations of FB & Tencent market caps that would make the rest of the holdings FREE.

I shaded some possible scenarios within the table. Shaded in red are some bearish scenarios I could find which included:
Facebook shares trading at only $53 (25% appreciation from IPO price)
Tencent valued at a $50bn market cap (implying a 0% appreciation from today's price)
With that scenario listed above, the implied value would be 87% of today's market cap (at time of the model NPSNY market cap was 22.4bn). Where things get really interesting is when the bull case is presented… Shaded in light green are some scenarios that I find to be highly likely, including:
Facebook stock @ $74.22 (implying $175bn market cap)
Tencent valuation at $65bn (implying 30% appreciation in shares)
The specific above scenario gives you a value 114% higher than current market cap, implying a 24% gain on top of getting the rest of their holdings + $1bn cash for free. That means that you are paying for Facebook and Tencent and get the rest for nothing. And if we stretch out and look forward to some scenarios with an extremely optimistic bull view, we have the values shaded in dark green. These include:
Facebook stock @ $95.42 (implying $225 billion market cap)
Tencent valuation at $75bn (implying 50% appreciation in shares)
A scenario like this would make for a value of holding equivalent to 133% of the current market cap, on top of the $1bn cash and the rest of their portfolio (both business entities owned by NPSNY as well as DST). I will note that I like many of their holdings in emerging markets- it is a great way to play the growth of the middle class in the BRICs as well as South and Sub-Saharan Africa.
In the end, it comes down to the due diligence of the investor and their personal beliefs about what macro trends they want to invest in and where. I am personally very impressed with Naspers portfolio and believe they have been a "dark horse" for far too long. It's time for the retail investor to wake up and get exposed to one of the biggest macro trends in the next 50 years: the growth of the Internet in emerging markets. It's also nice to get a small chunk of Facebook as an added bonus, without being directly subjected to the "Black Friday Mania" that is about to hit Wall Street when this sucker IPOs. There are more direct ways to play the Facebook IPO- GSVC and SVVC being two popular ones. Yet, they do not offer the same diverse portfolio that NPSNY offers, as well as lacking any play on the emerging markets. Plus, who wants to invest in a company that works on the same model as a hedge fund? Read the 10-k of GSVC and you will learn that investors are paying a 2% fee for all AUM on top of a 20% fee of any realized gains. Michael Moe owns a measly 100 shares of the actual stock itself. His payday comes from inflating his AUM, and making some money on IPOs. After learning this, I sold my shares of GSVC and have no current positions. On top of it all, Naspers is to my knowledge, the only publicly traded company that offers a direct play on the future success of DST and its holdings. This is something I believe will take some time to play out, but the end result will reward investors in a spectacular fashion. Best of luck investing and I hope you have enjoyed my analysis.
Disclosure: I have no positions in any stocks mentioned, and no plans to initiate any positions within the next 72 hours.
Additional disclosure: I am long shares of Naspers via their ADR under the ticker NPSNY