Like all tech stocks, Apple (NASDAQ:AAPL), BlackBerry (BBRY) and Nokia (NYSE:NOK) are more volatile than the market. If you are risk adverse, then you probably hold the S&P 500 ETF (NYSEARCA:SPY). If you want to exceed the market rate of return and do better than the index, I recommend that you drop Apple, skip SPY, and add BlackBerry and Nokia on the dips. In the discussion to follow, SPY will be used as an anchor and benchmark for comparisons with the 3 tech stocks.
What the Charts Show
If you purchased Apple at $85 in late 2008 and sold it in the $700s, you made a pile of money. If you still hold Apple, consider closing out your position. There is a better place for your money.
Below is a 5 year chart. The stock showing the steepest incline and the steepest decline is Apple. The SPY makes a slow and steady chug upwards. Nokia and BlackBerry is in a slump.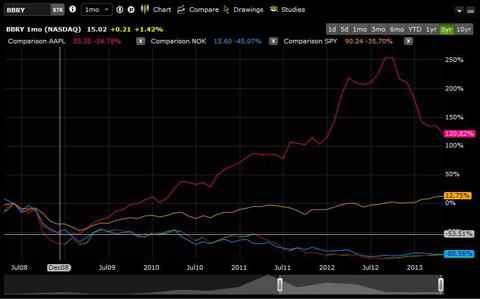 Below is a 6 month chart. The situation is quite the reverse. BlackBerry shows the most volatile price action and the greatest return; Nokia is at a distant #2; and Apple is flailing and still spiraling downwards, performing worse than the SPY.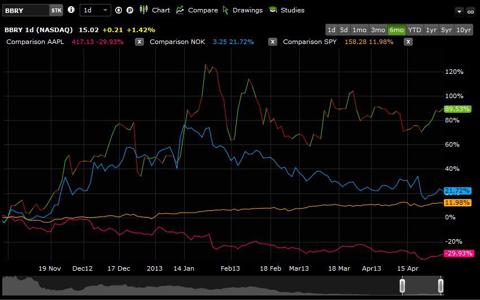 While bad news alternated with good news, good news outweighed bad news for both BlackBerry and Nokia.
6 Month Performance Comparisons

| Stock | % Increase or Decrease |
| --- | --- |
| Apple | -29.93 |
| BlackBerry * | +89.53 |
| Nokia | +21.72 |
| SPDR S&P 500 ETF | +11.98 |
* For the sake of clear comparisons, US dollar denominated BlackBerry trading on the NASDAQ is used for the analysis above. Not the Canadian dollar BlackBerry trading on the Toronto.
At this point, for AAPL to outperform BBRY by year end, it will first have to outperform the SPY. Hypothetically, if the other tickers remain constant in their uptrend, for Apple to even stand a chance, its share price needs to climb over 41.91% (29.93+11.98) and close rank with the SPY. Alternatively, BlackBerry needs to plunge over 119.46% (89.53+29.93) and Nokia needs to plunge over 51.65% (29.93+21.72), crashing through the SPY benchmark to do worse than Apple. Apple has been on a downward trending path for a very long time. I question how it is possible for Apple to suddenly grow in leaps and bounds when BlackBerry and Nokia have recovered and taken away market share from Apple.
Strategic Risk Management: Buy BBRY and NOK, not just BBRY
Those who have read my article on Nokia may ask why Nokia is still my stock pick given the 6 month chart above shows BlackBerry outperforming the pack. My primary rationale: I need both to give me peace of mind and a solid return on my portfolio:
Nokia is innovating at an incredible pace and given its wider audience and extensive product line, it stands a chance of overtaking BlackBerry from behind. The recent announcements and intensifying rumors surrounding EOS, Lumia 1000, Catwalk, and Phablet can quickly accelerate the stock price if execution follows without a glitch. Recently, Samsung (OTC:SSNLF) is having supply snags and facing problems with delivering the Galaxy S4 on time. Nokia Lumia 920 had its share of production problems which seems to have been resolved as the company has now moved on to produce the 520 and 720, and will be delivering the 928. The future of Nokia looks promising since the Vietnam plant is now up and running with expectations to produce 45 million handsets per quarter by 2014.
BlackBerry is historically a niche player with a solid base of business and government clients. The new Z10 appealed to Android and iPhone users, seeing 45% of buyers come from other platforms. It helped set new records in the company's history and breathe life back into the Canadian company. The Q10 just launched in the UK, and again set new records. For once, lineups were queuing for a non-Apple device. In the weeks and months ahead, I expect large orders for its phones to continue to make the headlines. Governments and banks are very unlikely to adopt "Bring Your Own Device" policies due to security concerns. As some of the world's largest employers, when their big orders are announced, BlackBerry stock will move up quickly. The bears are currently being stubborn and the stock still shows 33% short. When they flee in a panic, the stock will take off.
BlackBerrys are manufactured in Canada, Mexico, and Hungary. Nokia's phones are manufactured in Brazil, China, Hungary, India, Mexico, South Korea, and Vietnam.
BlackBerrys are popular in Canada, Indonesia, Venezuela, Nigeria, and South Africa. Nokia's phones are popular in Bangladesh, China, India, Finland, Italy, and Vietnam.
BlackBerry's stock trades on the NASDAQ in the US and the TSE in Canada. Nokia's stock trades on the NYSE in the US and the Helsinki in Finland. Purchasing the same company on two exchanges can mitigate exchange rate risks and also lower event specific risks. For example, while unsubstantiated bad news on Z10 returns being higher than sales causes BlackBerry to respond with larger drops on the NASDAQ, the reaction on the TSE is not as volatile. Good news such as EDC providing a loan to Telefonica causes BlackBerry to respond better on the home front where it is better understood that taxpayers are assisting the tech company and BlackBerry will not have to initiate steep discounts and cut margins to sell its flagship in a depressed European market. This allows BlackBerry's share price to make a quicker return to its former glory as better numbers can be reported on its earnings reports faster.
All companies that do business worldwide face the following 5 categories of risks and by diversifying, I hope to manage the overall performance of my portfolio and prevent a significant drop in my net worth should a wave of bad news hit a stock:
The 5 Risks Affecting Multinationals

| Risk | Details |
| --- | --- |
| Operational | Machinery can break down; factories can be destroyed by earthquakes or collapse due to poor build quality; and workers can go on strike. |
| Political/ Country | New leaders can cause political instability in a region and civil wars can erupt. |
| Financial | Inflations and devaluations can impact currency exchange rates and hurt earnings; and new taxes and tariffs can make it difficult for foreign firms to do business. |
| Environmental | Pollution to air and water can cause public outcries, and new laws to be enacted that are unfriendly to foreign firms. |
| Terrorism | Attacks from religious groups can make it next to impossible to do business in some areas; and kidnappings of employees or VPs or the destruction of factories can have an extensive impact on production and earnings. |
Common "$ense" is Not So Common
Very few stocks actually ever manage to exceed $1000.00 per share. Google (NASDAQ:GOOG) and Apple have come close. JDS Uniphase (JDSU) did pass the magic number back in 2000, but now trades as a shadow of its former self, closing at $13.44 on Friday. Berkshire Hathaway (NYSE:BRK.A) is up there on a league of its own, closing at $160,618.00 on Friday. I question the wisdom of anyone buying Apple at its current price expecting the stock to hit $1111. The beauty of the analyst's target number stands in stark contrast to what the charts above show. The trend for Apple is not good. The target number seems to have been pulled out of a magician's hat. It is magical to see but impossible to grasp. Like smoke.
Your money can disappear in a puff if invested in a company that is having trouble innovating. Traditionally, it is blue chip stocks with limited creativity, fewer unique products on the horizon, and slowing growth potential that initiate share buybacks and raise dividend payouts. I am currently fearful that Apple is now a aged dinosaur in this situation. Consider the following:
Intel (NASDAQ:INTC) has spent $89 billion to repurchase 4.3 billion shares
Microsoft (NASDAQ:MSFT) is currently on a mission to spend $40 billion on share repurchases. In the last 10 years, they have already spent $84 billion on buybacks
After their stock prices peaked in 2000, Intel and Microsoft have never reached their former highs again
Stock prices can only go up if the next person is willing to pay the higher price. Many people have not been willing to pay the higher price for Intel and Microsoft. Apple has been in a downward spiral since Steve Jobs' death and the firm lost its greatest marketeer. What reason is there for paying the higher price? The billions earmarked for share buybacks will be a waste. The demand for iPhones are down. iPads are selling well but their margins are low. The mobile giants of days past are reviving, heating up competition, forcing mobile margins down, and announcing phablets. The hybrid device may soon overtake tablet sales and then where will Apple be when it has no such device i. Lacking its own production facilities, Apple is actually in a weaker position than Samsung, BlackBerry, and Nokia. As a designer, it is dependent on others to make their phones. If, instead of buybacks, Apple had announced an intention to purchase Foxconn, I may still have a good reason to hold the stock. As things stand, I am no longer a shareholder. Furthermore, conscious that innovation, R&D, and lawsuits cost big money; and the huge glass flagship Apple stores cost more to run than a few Nokia roadshow buses, I question how long the company can continue in its squanderous ways seemingly without real concern for tomorrow.
Make Your Money Work Harder
While Apple's stock is heading down, the place for your money is in the turnarounds. For the same amount of capital outlay you would give to Apple, you can own more shares of BlackBerry or Nokia.
Consider this: With $1000, you can buy 500 shares if each share is $2. If the share price increased to $10, you can only purchase 100 shares. At a share price of $400, you can only purchase 2 shares.
To use an analogy, a factory staffed with 500 employees can produce more phones than a factory staffed with 100 employees. A factory that only has 2 employees cannot do much at all.
Your overall portfolio return is a combination of the amount of risk you take and the number of shares you hold. Hence, buying stocks at a lower price with an upward trend makes the best use of your funds. Your money is working harder to make more money.
The next time someone tries to convince you to buy a stock already with too many digits after the dollar sign and before the dot, question the move. You may never get the deal of the century and see the stock rise much further, as the stock price is too dependent on the survival of the founding CEO.
Final Words
With the US markets improving and the Japanese markets the best its been in 6 years, it is a good time to be holding individual stocks. SPY is for the armchair investor content with a 12 to 18% return in this particular bull run. For everyone else looking to top it with anything from 20% to 120% returns, growth stocks are the way to go.
Disclosure: I am long BBRY, NOK, AEO, PFE, UNXL, SNE, EGLE. I wrote this article myself, and it expresses my own opinions. I am not receiving compensation for it. I have no business relationship with any company whose stock is mentioned in this article.