For months I have been writing about complex Head and Shoulders patterns popping up across the various risk-on asset charts including copper, the grains and even the financial sector ETF. 
This week I am writing about the driving complex Head and Shoulders pattern of all of these other patterns and that is the one in the EURUSD as shown below.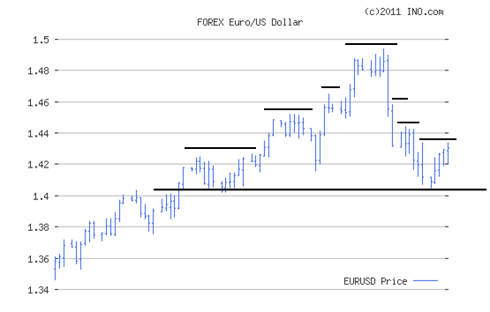 This pattern will confirm if the EURUSD passes below its neckline at $1.4046 while its target is $1.3153 and this would make for an 8% decline from current levels.

However, only 50% of these patterns meet the targets set and so there is a strong chance that this one will be stopped by strong support found around $1.35

In fact, such a scenario would be consistent with something I have been calling "EURUSD Pong" or the idea that we will see the EURUSD decline to either $1.39 or $1.35 before moving back up to about $1.50 before then declining to $1.35 or $1.30 or even lower.  The charts of the EURUSD, the dollar index and those of the various risk-on assets strongly support this volatile scheme that I have been writing about recently.

Returning to the complex Head and Shoulders pattern above, it looks set to hit $1.35 or below by late June and right around the time of the June 22 FOMC Statement and the June 30 expiration of QE2 and this could put interesting pressure on Fed Chairman Ben Bernanke to remain dovish to neutral while it may cause ECB President Jean-Claude Trichet to become a bit more hawkish at either of the press conferences following the ECB's Governing Council Meetings on June 9, but more likely on July 7. 
Irrespective of what sort of policy pong those two might play as has been the case for some time in my view, there is little doubt that any sort of decent fulfillment of that complex Head and Shoulders pattern in the EURUSD will pressure the risk-on trade.  Such pressure may show up as a 5-10% decline in equities and commodities and this will feel severe in the likely and short time frame of the next 3 to 6 weeks.

Such a decline will also serve to confirm the vicious sideways trend in the risk-on assets that's been present this entire year and for a period of time that is longer than the very vicious sideways trend of this time last year.  In fact, we will soon be looking at an intermediate-term sideways trend rather than a near-term sideways trend and this makes sense considering the tremendous degree of fundamental uncertainty that we're facing at this time.

Specifically and only to name a few causes of uncertainty: (1) the effect of the end of QE2 on the financial markets and the economy, (2) the sustainability of the fragile economic recovery without government stimulus of various sorts, (3) the still-to-be-seen effect of $100/barrel oil on a fragile economic recovery, (4) a housing market, and the asset class at the eye of the financial crisis, that remains in the gutter, and, (5) the ongoing sovereign debt crisis.

It is this last source of uncertainty that seems likely to flare up over the coming weeks considering the worst-case rumors of Greece leaving the euro, the likely-case rumors of Greece restructuring its debt forcing current bondholders, including many European banks, to record losses of some sort, while it does not help that certain Northern European countries are making Portugal's bailout a bit more tricky.

All of this comes, of course, in the always present backdrop of contagion fears that can light up instantly with the bond vigilantes pushing yields higher yet and perhaps this is exactly what the complex Head and Shoulders pattern in the EURUSD is telling us is about to happen. 
Disclosure:
I am long
UUP
,
FAZ
.