A White Pearl From A Black Sheep
Every now and again I write something that is worth pondering – I think.  Yesterday was maybe the fifth time in the last year.
Specifically, "…the S&P's chart is showing us the high degree of fundamental uncertainty that we can all agree exists in the real world.  Put otherwise, the uncertainty around Europe and all of the other macro-fundamentals is not telling us that the S&P is going to be dropping in neat little increments that can be supported by intraday lows or any lows for that matter."
In other words, the chart's confirming the story and the story's confirming the chart and both are saying it's going to get worse before it gets better.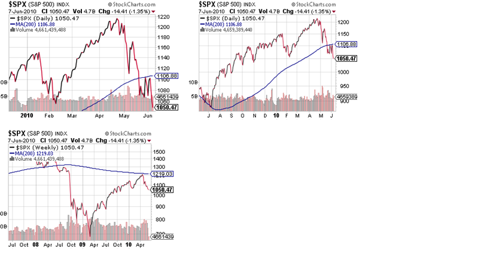 Now I've looked at these charts via other services and also using different styles, I just prefer the close, and some look a little better and some look a little worse.  Either way, each of these charts is telling us about the degree of uncertainty out there just as the degree of uncertainty is telling us about what lies ahead for the S&P.
The Fastball Has Been Thrown
The S&P 500 finally closed through the level I have been talking about as critical support or 1,057.  Even more, I have been writing about how once the index closes through this level there's going to be little to hold it between its current level and the next area of support or 880.  The closing supports found at 1,036, 1,030, 995 and 980 are inconsequential relative to 1,057 and 880 due to the greater declines supported by the latter two.  In my most extreme pronouncement, but not my final proclamation due to intraday trading, I said that I thought a close through 1,057 would result in panic selling. 
Panic selling or not, we now get to see how accurate my "read" will be.
Just to be perfectly clear about my expectations, I think after a few days of possible waffling, or not, the S&P will fall.  No flags, megaphones or anything else, just a steady, could be slow, decline of at least 10% made over days or weeks with maybe a few breathers.  There's only the most minor of support between 980 and 880 at 975 and then 954, and I do mean minor, so we might find ourselves at 880 rather quickly.  In fact, and truly a coincidence whether mathematical or not, the type of decline I am envisioning is the type of decline we've been warned of by the bear flag and its target is now at about 950 due to today's close and well below 980.  Again, let's hope I'm wrong.
Disclosure:
Sell Equities, Bear Flag