I first wrote about a potential minor double top setting up within a major double top in GLD back in June. 

Yesterday the minor double top confirmed.  It carries a technical target of about $108.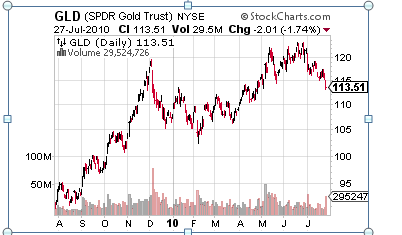 The minor double top is represented by the four small peaks toward the chart's top right-hand corner. Its breakpoint is the "V" down to $115 following the first peak made in early May. Its technical target is derived by taking the length of the first leg down and extending it from the trough, and thus a level of about $108. 
This double top in GLD confirmed when it moved down through its breakpoint of $115.
The major double top consists of the solitary peak at about $120 made in December 2009 and the first peak of the minor double top. Its breakpoint is at about $102 (conservative estimation) while its technical target calls for a decline to about $90.
It should be noted, however, even if GLD should correct back to that $90 level, its primary trend is still up as shown by the 3-year chart below.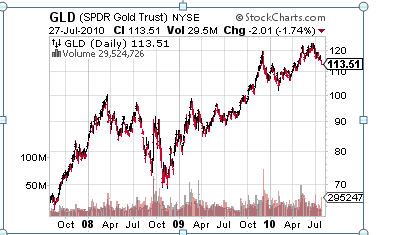 This primary trend in GLD – up – most likely reflects what I call the gold thesis or the idea that gold is the transferrable store of value and especially in the case of a currency collapse.
Disclosure:
Disclosure: No Positions