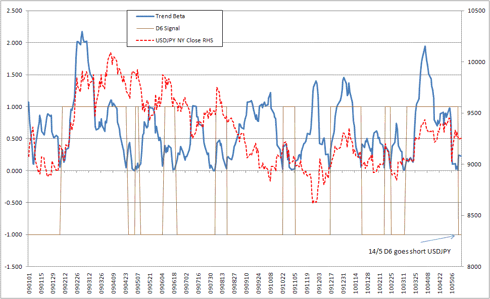 The Detma model trend Beta chart for USDJPY above shows that as the trend Beta descends to zero, the D6 model's signal has reversed from LONG to SHORT.  As I have previously discussed regarding the JPY, the chart also shows a large number of spurious signals for the JPY over this period.  The JPY has been the bane of systematic models over the last 14 months or so since it is the representation of the risk trade - risk on sell JPY, risk off buy JPY.  As we have seen, the market has swung between these two views often since March 09.
The following chart shows the trend Beta from September 1995.  The point I want to make is that all the "accidents" in the JPY tend to be on the upside, or downside for everything else versus the JPY.  As a consequence I pay a lot more attention when Detma turns LONG JPY (SHORT) USD. 
With all the excitement in Europe, the JPY has actually been quite stable.  I wouldn't take my eyes of JPY right now however.  If it follows through on the upside versus the USD, it will mean that the other JPY crosses such as EURJPY and AUDJPY will fall further.
Elsewhere, the Detma model is LONG USD virtually across the board.  Since it systematically processes the price action to determine whether it buys or sells, the Detma model's positioning is a reflection of the market sentiment at any point in time. 
In yesterday's post I discussed the rationale for USD strength in the face of huge twin deficits and its status of being the world's largest debtor nation.  With this in mind, in the absence of concerted action to break this USD hegemony, the dollar will continue to suck in the world's wealth as the rest of the world struggles to find enough dollars to repay it debt.
Frank
Disclosure:
Short EURUSD