I've always had a few bucks invested in the stock market over the years however up until recently, it's never been anything more than a hobby.  This changed for me personally ~ 2 years ago when the economy began to experience the first signs of the meltdown and I was introduced to the BioTech industry.
You could say it was the perfect storm for me.  First, seeing the signs that things just weren't right in the housing industry I decided to take on a cash only position thus liquidating all the stocks I owned at that time.  Second, with this new cash position I was able to begin digging into the BioTech industry and this is when I developed what I call the BioRunUp method of trading these stocks.  So far, the process has gone VERY well.  Would you like to hear about the process?  
First, let's review "BioTech Industry" and how they generally do business
These are companies that dedicate massive amounts of time and money to developing new drugs.  It is estimated that it costs an average of $1,200,000,000, yes 1.2 BILLION dollars to get a new drug from development to distribution.  There are over 5 years of clinical studies and research before a company can even place the data in the hands of Uncle Sam, also known as the FDA (Food and Drug Administration), and ask for approval to market and distribute their product.  No wonder prescription drugs cost so much…
Once a company develops a drug, they do 3 phases of clinical trials, each of which have to have Uncle Sam's blessing.  Once the trials are completed and the data is analyzed they can apply for a NDA (New Drug Application).  If accepted the FDA gives them a PDUFA (Prescription Drug User Fee Act) date.  This date usually 10 months out, and is announced as a semi-firm date (ie: October 30th, 2010).  This date is the foundation for what I call the "Run-Up" method, and how I have been very successful trading these stocks over the past year and a half.
I define the "Run-Up" method as this:
"Buying a stock months before a catalyst (FDA) date and selling before the catalyst (FDA) date."
In the world of stocks, most investors would hardly consider holding a position for only 3-5 months 'long'.  But as most traders know, this may seem like an eternity.
Holding your position through an FDA decision is a VERY risky maneuver.  On rejection (or a CRL "Complete Response Letter") the stock will certainly plummet, and any gains and initial investment will be lost.  On the other hand, if the FDA approves the drug the stock price will rise.  As great as this sounds, often this still causes a sell-off as traders quickly take their profits so they can move on to another run-up which is why after a day or so, the stock price can close well below the peaks of the anticipatory run-up.
Analyzing past examples I have found that the most profit can be gained by selling the stock before the actual catalyst.  What determines when to sell?  That is the tricky part, as these stocks are often erratic.  It is important to set target goals and not get greedy.
Example
Here is a recent example of a run-up play and it's prices leading up to the catalyst date:
POZN- FDA date for PDUFA (Trexime)
PPS 4 months out- $5.93
PPS 3 months out- $5.88
PPS 2 months out- $6.14
PPS 1 month out-  $9.55
Run-up peak: $12.68
For a visual, here's what that chart looks like: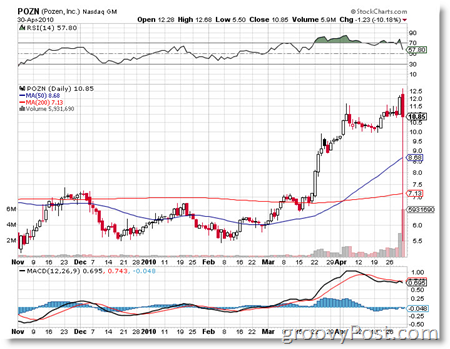 This is just 1 example that shows the potential profits of the run-up method i've been working to master these last 2 years.  There are several other examples similar to POZN which you can take a look at: CTIC, NEPH, BDSI, SOMX, ISTA, DDSS, SPPI, and SVNT.
For more information visit my blog at http://www.BioRunUp.com.  My site is 100% free and no registration is required, however I do have a FeedBurner email list for updates.  On my blog I have an FDA Calendar, which I use to update upcoming drug catalysts as well.  Feel free to drop over and check things out.  Hopefully you will like what you see and start riding the waves of BioTech!
Disclosure:
none