As we all know, the earnings season is upon us, and everyone is waiting for the big guns to release all the valuable data that we need to make our investments and see who was right about what. In light of the upcoming earnings reports, I would like to present my views on some of the key players in the technology sector (especially those with a focus on mobile tech, tablets, consumer electronics, data, online services and operating systems).
Chart 1: Nokia VS Apple VS Technology Sector 3-month Performance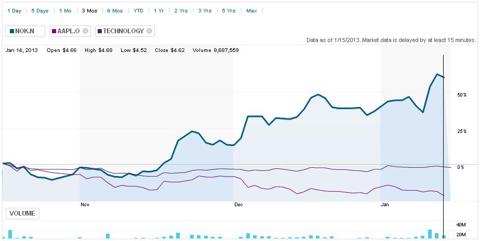 One can clearly see that Nokia has outperformed Apple in the last three months of trading. On January 14, 2013, Nokia stock closed at $4.62, while three months ago it closed at $2.94. If you cashed in your stock on January 14th, 2013, after holding it for three months, you received $1.68 of a gain. A return of 57.14%
Of course, we have to be objective - and admit that going /long on Nokia and /short on Apple was an educated gamble. But, the key word here is "educated." One has to accept that there was an abundance of arguments in support of the described trades. Yet, a Beta of 1.62 against the Industry's 1.13 and the sector's 0.92 shows that Nokia is still a risky investment, and is prone to volatility, no matter how you slice it.
Before going further, there are three important events to consider when trading Nokia, Apple and Microsoft stocks: Microsoft Q2 2013 Earnings Release on January 17, 2013; Apple Q1 2013 Earnings Conference Call on January 23, 2013 (with an Earnings Release one day earlier on January 22); Nokia Q4 2012 Earnings Release on January 24, 2013.
Now - the four questions that everyone wants answered are the following: (1) Should I /sell or /hold Nokia right now? (2) Should I go /short or /long on AAPL? (3) Should I /buy and /hold Microsoft? (4) What are some of the alternative value investments out there, is there a Dark Horse?
Tackling the First Question on Nokia
I believe that if you are in for a short-term gain, adhere to speculative trading and need to unlock your position, then I would suggest selling off your Nokia stocks right now. If you are a value investor, then I believe that Nokia has a very strong prospect of growth for the next year. With the current rumors of a new "aluminum" Lumia 920 in the works, and with a voracious demand for Nokia Lumia smartphones in China and in Europe, it is a very good stock to have for 2013. Nokia is still very undervalued. Its partnership with Microsoft can prove to be a tipping point for the Finnish mobile giant, because they can leverage the possibility of deep integration with the X-Box brand and technology. With a new console in the makings, this is a tremendous opportunity for growth. At the same time, rumors are running wild about a possible Nokia tablet. If this is true, then we can expect more sales for Nokia thanks to the tablet market.
Why is this partnership with Microsoft so important? Because Nokia can use five important MSFT advantages to generate very hefty sales:
(1) Microsoft's gargantuan marketing budget and global presence, (2) indirect benefits from Microsoft's stockpile of cash, (3) Microsoft's leading positions in computer gaming and virtual entertainment, (4) Almost-exclusive access to the best productivity package in the world with MS Office, (5) Integration across all MS platforms and programs like Skype, Outlook, Exchange Server and Sky Drive.
If everything goes as planned, the author's target price for Nokia in three months is $5.50-6.0$ and $6.20-6.50 in six months (with the six months prediction being subject to revision). In a best case scenario, and if Nokia can keep its sales figure growing while expanding its Lumia presence in smartphones and tablets, we could expect Nokia stock to bounce back to $7.0-$8.50 towards the very end of 2013. So my final verdict for most value investors who are not in it for speculative gains and day-trading is the following: /hold Nokia for the next 3m.
On to the second question - what awaits Apple and its stock?
Everyone knows that I was always very skeptical of Apple and its tremendous growth. There are objective arguments for Apple's awe-inspiring rise: it makes good quality products, their actual build quality was always held to very high standards, the company was a "trendsetter" and a market leader for a number of years (when it comes to the iPhone, iPod and iPad), it practically opened up the tablet market globally, it has a mind-blowing stockpile of cash, it had one of the most notorious business leaders at the helm, and it attracted the love of many leading hedge funds in the US.
Chart 2: Apple 3-month Performance against the S&P 500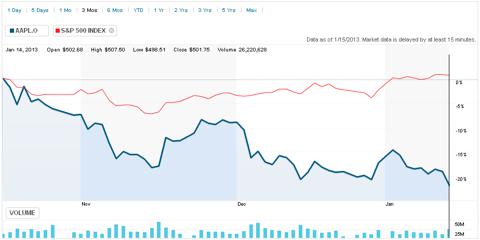 At the same time, Apple has been an overvalued "brand" driven heavily upwards by marketing, market momentum and Steve Jobs' amazing talents. No shame in that, but one must objectively understand that trading based on rumors, speculation and hype do not always bode well for the long-term growth prospects of a company. One can argue right now that stock price of AAPL is correcting itself, with the market establishing some sort of a fair value. And the chart above, the one that depicts the "rampage" against Apple shares, shows how the stock fell from $648.87 on October 17, 2012 to $501.75 on January 14, 2013. And this is not counting that in September, Apple incredibly peaked slightly above $700 per share.
We have to take a few things into account: Apple is still the leading smartphone manufacturer in United States, and is still the leading tablet manufacturer in the world. The iTunes store is a dominant virtual distribution platform that can survive easily as a standalone business. With rumors of a possible Apple TV and a new smartphone in the making it still has very healthy future market positions. And Apple's laptops are currently some of the best on the market (a subjective opinion on this one). Yet, Apple has made a number of blunders in the last couple of months - with the Apple Maps fiasco amongst the leading mistakes the company ever made. At the same time, iCloud and Siri did not prove to be revolutionary and provided no real edge in the user's experience.
Apple showed that it cannot compete with Google in terms of data and software. Yes, Apple is a top class physical hardware and product company, and its general OS is quick, intuitive, and easy to use. The problem lies with its desire to do everything and lock the consumer in a software cage. Well, that didn't work. In the end, we all saw the return of Google Maps and Youtube to the iPad and the iPhone, and the people only cheered for it.
And now, lets look at two important financial health indicators - Net Operating Cash Flow and Cash & ST Investments. Operating Cash Flow is essential to the health of any company because it is a very good indicator of the company's possibility to grow and maintain its operations. A constantly growing Operating Cash Flow shows that the company can rely less on external finance to fund its business activities. This indicator shows a clearer picture than many other financial statements. For example, a corporation like Amazon relies heavily on Operating Cash Flow, and to Jeff Bezos it is one of the most important financial indicators. At the same time, the Cash on Hand measure is a very strong indicator of a company's reserves for a gloomy day like an economic crisis or a difficulty in financing a new venture through external means.
Chart 3: Apple's Net Operating Cash Flow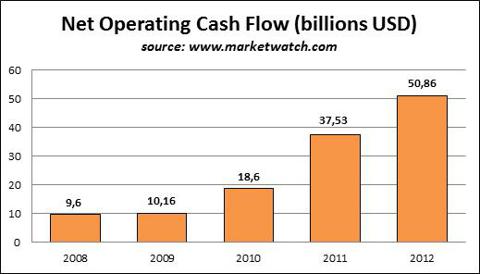 Chart 4: Apple's Cash and ST Investments on September 30, 2012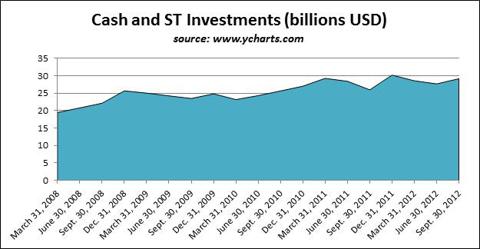 Ahead of Earnings Report by Apple, all the analysts are wondering how these two indicators are going to change. If the rumor mill is to be believed and Apple is planning to enter the television market, it will need growing Net Operating Cash Flow to finance this new venture. A decline to 2008 and 2009 standards can prove to be too dangerous for the company. Everyone is also wondering how did the iPhone 5 compete in the smartphone market and how much profit did it generate. The sales figures are going to be highly anticipated, and if indeed Apple orders to its manufacturing partners have declined on lower iPhone 5 sales than expected then Apple might be hammered once more by the markets.
According to Reuters the P/E ratio on AAPL is currently at 11.36, which means it's lower than the industry's 18.54 and the sector's 21.16. This is not a very good thing for the company, but it's not the end of the world either. Earnings per share have increased, which has been good news for the investors. Indeed, there has to be a certain disappointment with Apple in the markets.
It is also important to understand that the P/E ratio is not everything, and a smart investor must consider all aspects of the company and of the market in analyzing the financials and the fundamentals. It is vital to be able to interpret subjective and psychological market factors. Apple is a healthy company, but its price per share is still distorted.
So, what is the final verdict on AAPL?
This time around, I have two suggestions: first, to the value investor - I would not really advise shorting AAPL (unless you have a strong appetite for risk and nerves of steel), but I wouldn't advise buying it /long either, because in my opinion the stock is close to its logical price point. Second, to the speculator at heart - short AAPL until it reaches something around $460-475 per share (but make sure to put a stop loss in place).
In my own calculations and predictions, I had a target price for AAPL set at around $450-480 per share:
Because Apple has made no real moves to build upon the cloud computing trend, its iCloud did not bring anything realistically good to the table, the company has delivered very poor apps like Siri and Apple Maps, and the iPhone 5 failed to take into account the constantly-evolving needs of the consumers. The fact is that Apple has always been a very good trendsetter, and its effective marketing strategy proved to be very successful in swaying consumers into paying a premium for an Apple product. With rising competition in the market and with the competitors bringing in some "A-game" products to the table, Apple is suddenly looking much frailer. I think that 2013 might see some problems with smartphone sales for Apple, especially with Google, Microsoft, Samsung, Sony, Nokia and HTC breathing down Apple's neck.
What is vital to understand is that Apple is facing very tough competition from Amazon (see the Amazon article on this blog for more information on the online giant), who is a leading cloud services company and who happens to be leading online distributor of media and literature. That means that the iTunes will have to continue finding new ways to grow in the face of Amazon's rapid expansion. Amazon's recent decision to offer MP3 songs of already-purchased CDs at no cost has shown that the company is determined to go on a collision course with the likes of iTunes.
At the same time, if Apple is considering building and selling a TV, then it should hurry, because Google, Sony, Samsung and LG have been wasting no time, and have delivered some very, very promising products (as we have seen during the CES expo). And Google will remain the dominant data company in the world due to the wealth of information collected over the many years and superior experience in the industry, so it would be very unwise for Apple to re-attempt doing something along the lines of the "Apple Maps Fiasco."
With that in mind, I do not think that Apple can keep growing in the smartphone and tablet markets. I think it has already peaked, and now the competition will be taking a slice of the pie. I think that $450-$460 per share would have be a very good opportunity to go /long and /hold on AAPL. I do not think that Apple will return to the $700 per share territory, unless it can deliver very impressive results in four areas:
(1) Bring in a fresh product in the television market, (2) make better and more flexible software / apps with more integration with its laptops / desktop computers, (3) redesign and re-invent the iPhone to the specific new needs of the consumers, and (4) take a larger share of the PC market.
[P.S. As this article was being written - AAPL stock price fell to 489.0 at 12:31 PM ET]
Microsoft - its dilemmas and its prospects
And now we reach the software giant Microsoft Corporation. There is no doubt about it - Microsoft has recently been to some dark places market-wise. Its performance over the last three months can only be described as disappointing. Yet, with all the doom and gloom surrounding Microsoft's attempts to become a meaningful competitor in the smartphone and tablet markets while facing a mid-age crisis due to losing its once Olympic positions to Apple and Google, Microsoft cannot be written off as a retired competitor. Yes, some blunders have been made over the last couple of years, and some poor decision-making at the very top prevented the company from entering the mobile market at the right time, and some Windows OS products were utter disasters, but the overall the company still managed to retain some very strong positions in various markets.
Microsoft's current foray into the mobile market shows that the company is willing to correct its mistakes and compete in a very difficult market. That means the company is ready to take risks. What is very important is that Microsoft still holds the definitive leading positions in the OS and software markets with its Windows OS and its MS Office. It's also a crucial player in the corporate market with its Server Exchange software. At the same time, Microsoft has hit a home run with its X-Box consoles and reached the peak of the gaming industry Olympus Mountain. All of this provides fertile ground for cross-product integration, something that we saw in the recent efforts of launching a meaningful tablet and smartphone in the mobile market.
Chart 5: Microsoft's 3-month Performance VS the S&P 500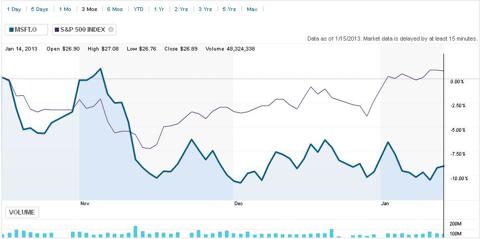 The chart above shows that MSFT has taken a severe beating in the last three months. And perhaps, rightfully so - the recent CES expo showed that Microsoft had poorly promoted its products.
Yet, despite all the negative press and the negative performance in certain areas, the partnership with Nokia has paid off. With a strong hype around the smartphone, global shortages, and some very innovative characteristics, both companies brought a strong "gamechanger" to the market.
Chart 6: Microsoft's Cash and ST Investments on September 30, 2012
Now, on to the cash hoarding that Microsoft has been doing over the last three years. The chart above perfectly depicts the fact that Microsoft has been accumulating a very substantial cash reserve that can serve as an effective shield against economic crises and turmoil in the debt markets. Such a reserve allows MS to comfortably tackle brand new projects (with more risks) without relying on external finance. This cash pile also allows the company to guarantee its short-term debts quite nicely if it has to.
Personally, I think that Microsoft has a lot of room to grow. It is my personal opinion that most corporate clients will continue to stand by the corporation, something that we have seen with the latest renewal of Federal and municipal contracts in the US. With MS Office facing no real challenger and with X-Box firmly planted as a leading console in the gaming market (with highly acclaimed titles like Halo, Forza and Gears of War), and with a very strong start of the Nokia Lumia line, Microsoft is holding its fate in its own hands. The final verdict - MSFT is a /buy right now.
The Dark Horse - Sony Corporation
You are probably seeing Sony Corporation in the title of this section and /facepalming yourself right now. That's right - Sony has been the poster boy for a once-glorious giant falling from grace. But, there are some very interesting macroeconomic factors at play here that could change the game for Sony and other Japanese companies. And to start, I would like to talk about something that has recently happened in Japan - it had an election. The new Japanese government, led by PM Shinzo Abe, has been on a mission to provide as much stimulus to the export-oriented economy as possible. On Monday, the Yen fell to record lows against the US Dollar (a 30-month record low), the level of 89.67 Yen per $1.
Last month, the Bank of Japan raised the ceiling on its asset purchase program, with the overall increase clocking in at 10 trillion Yen. With a pledge to keep the inflation at around 2%, the government of Japan is set on a path to make Japanese exports competitive once again, and keep the national economy in a stable state. And although, these measures will not be enough to amount to a complete makeover of the Japanese stagnating situation, they might be just what is needed to pave the way for new systemic measures on a national level and drive Japanese exports to new highs.
Chart 7: The USD-JPY and EUR-JPY 6-month Exchange Rates Comparison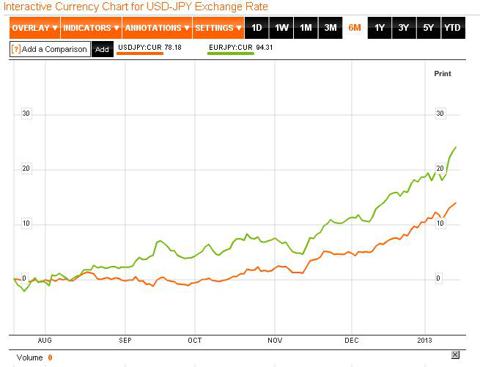 As we can see from the above chart, apparently Japan got the memo. After a number of years of disappointing measures and failed attempts to reignite the economy, we might be seeing a fresh cycle of growth for Japan (which only further supports the author's ideas of cyclicality and adherence to the thesis and anti-thesis relationship in economic growth).
Chart 8: Sony Corporation 3-month Performance VS the S&P 500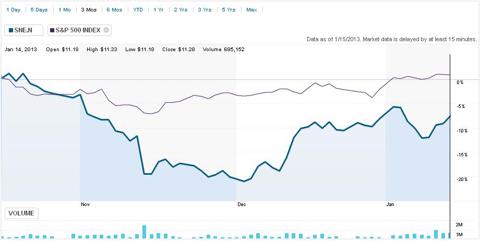 The SNE stock took a severe beating in the last three months. But glimmers of hope are not lost. Apart from the beneficial economic stimulus in Japan, Sony is positioned for some positive changes for a number of reasons:
(1) Sony has recently become the #2 Android mobile phone manufacturer; (2) As of January 2013, Sony's latest James Bond movie "Skyfall" surpassed $1 billion in earnings, proving that Sony can deliver very profitable cinema entertainment; (3) As of September 2012, Sony sold 70.2 million of PlayStation 3 consoles; (4) Sony has a number of strong PS game titles to generate a cult following (examples: God of War, Killzone, Resistance, Gran Turismo); (5) Sony's bet on Blu-ray technology has paid off and came out victorious in the "war of the standards;" (6) Sony's new Bravia TVs have vastly improved in quality and are poised to benefit on a weaker Japanese Yen, with CES 2013 being a testament to this; (7) The year 2013 will see a new Sony PlayStation console, which will ignite a fresh round of strong sales for Sony; (8) Sony's new Xperia Z and ZX are expected in March 2013 and so far have been getting rave reviews; (9) Sony's integration with Google's Android has been a very smart move for the company and is something that the Japanese tech giant should capitalize upon.
Of course, Sony is facing some very serious challenges and needs to address the following areas:
(1) Sony's TVs need to dealt with, as the Bravia line has really lost its positions against the competition from South Korea - Sony needs to reinvent the Bravia and continue its integration of the TV technology with its communication devices, its laptops, its consoles and its other video entertainment products;
(2) Sony Mobile division has to capitalize on its Xperia line and on the current integration with Google's Android and Sony's ecosystem of devices. Sony needs to consider working harder on a better tablet (and yes, screen resolution matters).
(3) Sony needs to restructure and reinvent unprofitable divisions. Perhaps it should sell off some of its businesses.
Sony's businesses generate roughly $76-$80 billion in sales. A very good figure for a revenue stream, especially if you consider that the EPS (Earnings per Share) has been firmly improving. With sales projected to increase, and profits to continue digging their way out of the slump, Sony is trading at an undervalued level at the moment. If you consider the fact that the SNE stock's 52-week high has been $22.34 (and even this figure can be subjectively considered undervalued), then a lot of questions are rapidly arising.
In comparison to Apple, Sony has a couple aces up its sleeve:
(1) Sony has a very strong entertainment division (both cinema and gaming), something that Apple lacks; (2) Sony doesn't need to create TVs from scratch, it just needs to reinvent the business, the marketing and the cross-product integration behind the Bravia line, while Apple has to work from scratch if it wants to enter the TV market; (3) Sony has delivered very strong Blu-ray products and hardware; (4) Sony and Android are a very strong tag-team and their market share can only grow if everything is done right. (5) Sony has seen bottom, just like Apple in the 1990s.
Chart 9: Sony VS Apple P/S Ratio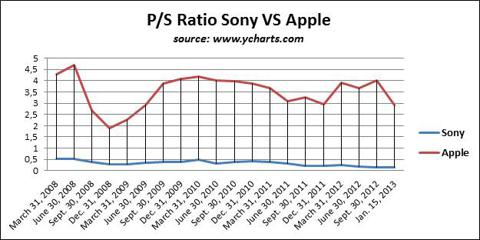 And a final point of comparison - the Price to Sales Ratio of both companies. It's quite often that the two are being compared, so it is logical to look at the two competitors in terms the P/S ratio. The absolutely evident picture is that Sony Corporation is ridiculously underpriced. The lower this financial indicator is, the more underpriced the company in question (though, this is not always true).
Final verdict - SNE is a definite /buy and /hold.
Conclusion
With everything written so far - we can conclude that MSFT, SNE, NOK are a buy, while AAPL is best left untouched or sold short for now. In light of everything said and written, I would also like to add that, in my personal opinion, AMZN (Amazon) and GOOG (Google) are also a /buy or a /hold at the moment.
Although, the last two corporations are not addressed in the article above, they are unquestioned market leaders and trendsetters in their specific domains. Both Google and Amazon have strong financial results, and both happen untapped potential remaining (with new markets to conquer). Google has a bright future with its Android OS - especially in a global integration scenario (consumer electronics, home appliances and cloud services) and Amazon still has virtual media markets it can conquer (music and movies, going VS Apple iTunes and Netflix) and cloud services. Both companies might eventually collide, but at the moment, this will not affect their 3-month to 6-month growth prospects.
Yegor Perelygin
January 15, 2013
Kyiv, Ukraine
Disclaimer: what is written in this article is the author's personal opinion derived from research and professional experience. This article aims to generate new investment ideas. This article is not meant to be used as a definitive guide to investing. The author holds no responsibility over any trades made by the readers. The author of this article also owns a Sony Xperia TX mobile phone, a Nokia mobile phone, a Sony VAIO laptop computer, and an Apple MacAir laptop computer. The author of this article uses both Google and Microsoft accounts for email and social networking.