After almost 2 years, the 10Y U.S. Real Interest Real are in Positive Territory again. Very Interesting is that the Inflation Expectations implied by the Bond Market have decrease for the 10Y horizon from 2.50% p.a. to 1.99% p.a. The reason for this diverging movement can be found in the fact that the 10Y Real Interest Rates Increase was caused exclusively by Mr. Bernanke Speech and speculations of an early scaling back of the QE program. It clearly signals that markets believe such a FED move would cause the U.S. growth to slow. Had investors seen Ben's speech as a sign of an improving economic landscape, the implied inflation would not have sunk by 20% (it would have gone in the 2.75% - 3.00% region). Positive real Interest Rates are bad for Gold!
A good trading Idea would to take an exposure to increasing Inflation Expectations (Short 10Y Tips, Long 10Y Treasury)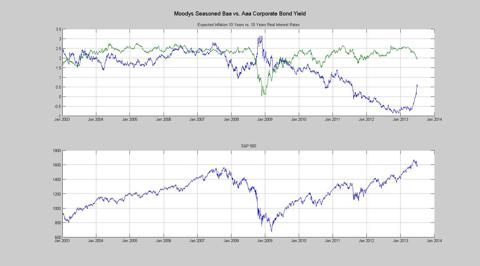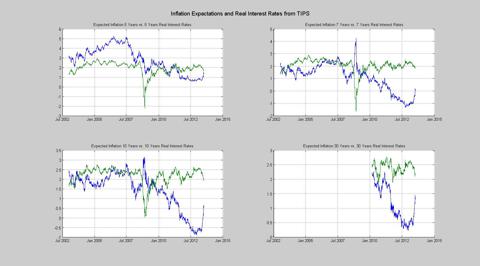 Unfortunately we are also seeing an increase in the Baa vs. AAA rated bonds Spread. A spread above 1% in previous occasions (10y) has harmed the economy and the stock market. A less expensive way to protect Stocks Portfolios would be to buy / build insurance against an increasing Spread between these two Bonds Categories.