CBOE Trader, to one of my comments to his Article about LLEN (link here), replied the following way: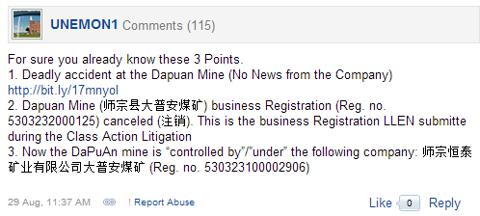 CBOE Trader Reply: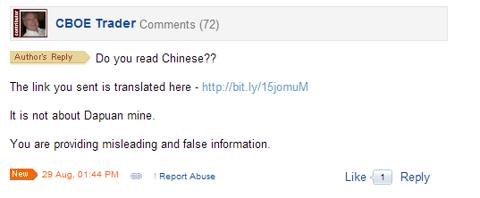 In this Instantblog I will shot how wrong CBOE trader is. Obviously his reply to my message shows how poor his DD abilities on Chinese Listed Companies are.
A SECOND RESPONSE TO CBOE TRADER:
THE REAL NAME OF THE DAPUAND MINE:
Unfortunately, the Company (NASDAQ:LLEN) has never provided to its investors the real names of its Operations in China. The Chinese Names have never been mentioned in any of the SEC Filings. This lack of Transparency is unacceptable.
Fortunately enough, LLEN had to file the real names of "its" operating subsidiaries in China during the Class Action Litigation (Case 2:11-cv-01423-RSL).
Fortunately, from Document 41-1 (Filed 04/23/12) in the case Case 2:11-cv-01423-RSL we are able to get the real name of the DaPuAn Coal Mine (师宗县大普安煤矿):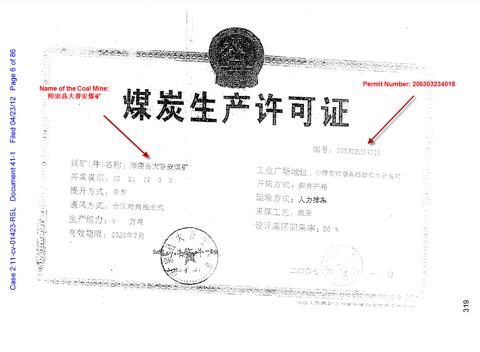 Source: Document 41-1 in the Case 2:11-cv-01423-RSL, page 6 (filed 04/24/2012)
In the Documents LLEN give to the Court, we were also able to get the Business License Number of the DaPuAn Coal Mine:
So, that's how we know the real name about the DaPuAn Coal Mine:
DaPuAn Mine Real Name: 师宗县大普安煤矿 (or, Short Name:普安煤矿)
DaPuAn Mining License Number: 205303234018
Operating License Number: 5303232000125
If you perform A search of the following Name: 师宗县大普安煤矿 (DaPuAn Coal Mine), you will came across this result: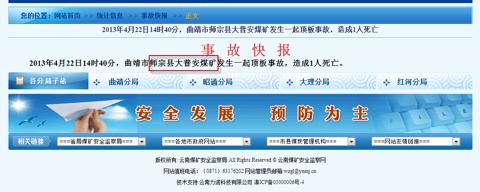 Link: http://www.ynmj.gov.cn/Pages_30_715.aspx
"Translation: On april 22 2013 at 14:30 a roof accident occurred at the师宗县大普安煤矿, resulting in one death"
As you can see, the name (师宗县大普安煤矿) matches exactly the name of the DaPuAn mine as reported in Court Filing (师宗县大普安煤矿 )
I suggest CBOE Trader to learn how to perform DD on Chinese Companies, before accusing someone of making false statements!
On The following Page, You can find the result of the Investigation:
http://www.ynmj.gov.cn/Pages_146_818.aspx
Disclosure: I am short LLEN.