- Don't follow me, I could be wrong !! -
As a potential ORGANOVO investors you are probably already aware of my opinion about this Company.
Various Bloggers and Posters (such as Motley) highlight the uniqueness of 3D biopritings and its future potential as the main reason for justifying ORGANOVO unbelievable high Valuation.
HERE IS SOME NEWS FOR YOU: 3D bioprinting is an overcrowded Market.
IMO, the major difference between ONVO and the Other Companies consists in ONVO being a Listed Company and having therefore gained most of the media attention! (Let's welcome the wolves of Japan)
Look at a list of Commercial Developers of In Vitro Models and Applications. As you can see, Organovo is just one of many (37 companies).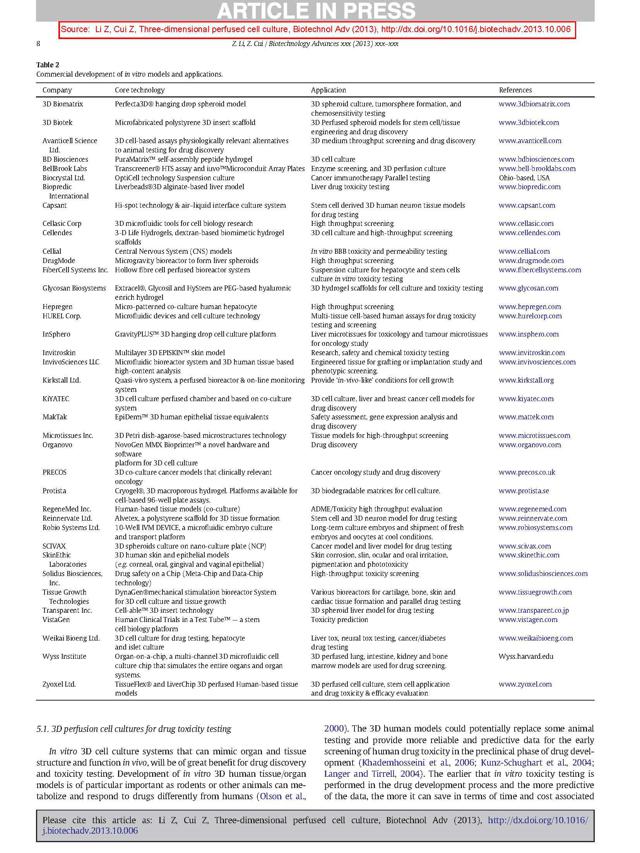 For a higher quality view ... I uploaded the printed PDF page here:
http://unemon.com/ResearchEasy/20140205_ONVO_COMPETITORS_LIST.html
The article was made abailable online on October 29, 2012 and will be pulished in Biotechnology Advances (a review journal which considers all aspects of the multidisciplinary fiels. The scope includes biotechnology principles and applications in ... )
Authors:
Zhaohui Li, Zhanfeng Cui
Institute of Biomedical Engineering, Department of Engineering Science, Oxford University, Oxford, UK

This article also offers a nice overview on the 3D cultures preprinting space. You can purchase it at the following link:
http://www.sciencedirect.com/science/article/pii/S0734975013001833
So... are you ready to pay ... ... USD 700m for the privilege of being an investors in a "publicly traded Company" ... with no proven track record ... with insignificant revenue ... and ... with a history of failing to meet generated expectations*? ... (Please see my notes on Valuations issues /link below/)
Sorry ... but I would rather pass! Actually ... I am shorting this madness!
I would not be surprised to see some other "PRICE SUPPORTING" PRs or Comments coming out in the coming weeks. All that will do ... is giving me an opportunity to gain more short exposure in a Company which I believe to be highly overvalued and misunderstood.
A very good article on ONVO (November 2013):
https://seekingalpha.com/article/1848361-a-very-detailed-look-at-organovo
My View on Organovo Over Valuation
http://www.scribd.com/doc/191911338/My-View-on-Organovo-Over-Valuation
My thoughts on Organovo + Pfizer Partnership
http://www.scribd.com/doc/192086736/Organovo-PfizerMy-thoughts-on-Organovo-Inc-NYSE-ONVO-%E2%80%93-Pfizer-NYSE-PFE-partnership
*pls, note that in the S-1 filings ... the core business activity cited was the sale of their 3D printers for commercial applications. Well, the way I see it ... it did not work out ... and so a change in strategy occurred. Now they are branding themselves as a "SERVICE PROVIDER" ... providing big Pharma Companies with 3D tissues models... for their (drug) testing. Apparently, ppl haven't yet realized how over-crowded such a market is. I bet my $$$ ... ONVO will once again fail to meet the gigantic expectations investors have!
Disclosure: I am short ONVO.