Endeavour International Corporation (Endeavour) is an independent energy company. The company operates in one industry segment, which is oil and gas exploration and production.
March 05, 2014 ... END management gave investors some additional details about the problems the company encountered during Q4 2013 ... causing the PPS to lose as much as 30% during the days following the CC.
From the Call:
"As you can tell, there's been a lot that's happened since our third quarter call last November. I think we would have all preferred to spend our time today discussing the fourth quarter results, which were positively impacted by the startup of production at Rochelle, and our plans for 2014. But, as you know, we had an unexpected event occur in January during the restart of production at Rochelle.
Fortunately, we were able to resolve the stuck valve situation last week, and we're now back on production. Ramp up production at Rochelle is going very well, as Derek will explain shortly.
The situation at Rochelle was serious. Not because we did not believe it could be fixed, but rather our concern over the time it might take to find a vessel and dive crew to do the work."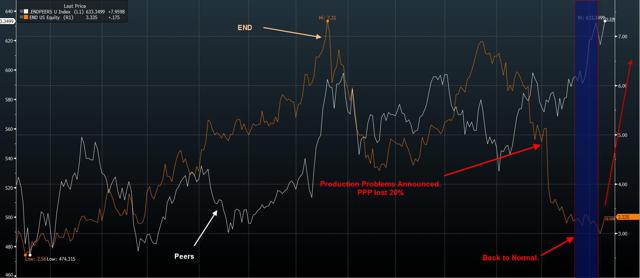 TIME TO CLOSE THE GAP? Since March 2014, END peers have gained approximately 8.20% (outperforming END by >42%)
April 08, 2014 ... Bill Transier ... President, and CEO of END held a pretty enthusiastic presentation at the IPAA Oil & Gas Investment Symposium. Some Quotes:
"... now, we have our three core development assets that are on production and are leveraged to commodity prices both to Brent and European natural gas ..."
"... 2013, we were able to increase our production by 126%, and we increased our EBITDA almost to 157% ..."
"... At fourth quarter of last year, we were producing over 12,000 BOE a day. ... ... Our production will naturally grow this year by pretty significant effect just because the assets are on production now ..."
" ... having everybody in one office and not the least of which we save about $15 million a year."
"... One of the things that set us apart from other companies, kind of small and midcap companies is our exposure to both Brent crude oil prices that come at kind of a nice premium to WTI, as well as natural gas ..."
" ... at Rochelle, we identified a very large upside, which we call the Rossini project, which I'll talk about later. This may be bigger [P2 40 MMBOE] than Rochelle ... "
--> Rossini: probably some place in between kind of 40 million BOE and 80 million BOE of reserves (P50).
"We are working now to find a partner with kind of a similar concept to us to move this forward and we expect to drill this with the way the equipment situation is in the North Sea, probably not till sometime in the first half of 2015."
"And the other thing is that the capital requirements that have been heavy since 2011 and 2012 and 2013 we expect that number to kind go in half of that number in 2014" ($100-$120m)
"We will find ways to de-leverage the balance sheet and refinance the cost of capital going forward. And with the appropriate partners that we know we can attract out there for the assets, both in the North Sea as well as the U.S., we will move those assets along and try to capture that value for investors as we go forward."
Disclosure: I am long END.