Last quarter (Q1) SWHC communicated to its investors Full Year Revenue Guidance (EX. BTI Acquisition) for 2015 at $530m-$540m, only to lower it to $504M-$508m yesterday after market close (Q2 results release). SWHC also provided guidance for Q3 at $113m-$118m.
SWHC management implied therefore a Q4 (Feb-Apr 2015) Revenue guidance ranging from $145.7m to $154.7m.
The table below shows that SWHC in its GUIDANCE SWHC assumes Q4 revenues YoY change to be between -9% and -15%.
Given the trends in the previous Qs of the year ... it makes little sense (Especially if you also consider that analysts expect STURM RUGER (NYSE:RGR) revenue for the same period to drop by 28% YoY and be up only 7.67% from the previous quarter).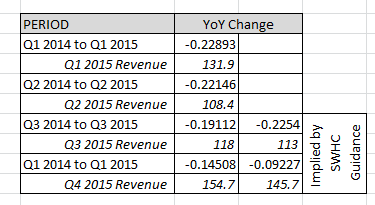 ARE WE REALLY SURE SWHC will be able to contain Q4 YoY revenue drop to just 9-14% ... and increase it by 24.47%-36.90% from the previous period (Q3 2015)?
In its guidance SWHC forgets that the Gun industry isn't booming anymore ... by still utilizing the historic Q3-Q4 revenue growth rate (which was at around 30%). Are you sure you can still expect this Q3-Q4 growth rates in a SRHINKING Industry? ... NO WAY!

INVESTORS SHOULD EXPECT SWHC to guide down again … next Quarter and FY 2015 revenue to be likely below $500m ($480-490m IMO) ...
I would not be surprised to see a Q4 loss ... ... but do not worry ... Management won't tell you ... until the results are published. Had the management any respect for shareholders ... it would have never come out with an Implied Q4 revenue forecast of about $150m. Of course ... they could get there ... if they were to depress huge times Gross Margin ...
In any case ... seems to be a Lose-Lose situation for shareholders!