PhotoMedex, Inc. (NasdaqGS: PHMD) is a Global Health products and services company providing integrated disease management and aesthetic solutions to dermatologists, professional aestheticians, ophthalmologists, optometrists, consumers and patients.
PHMD is currently trading at BK Prices … yet … noticing management injecting Capital into the Company at Premium prices … should signal the market that they think BK can be averted.
If BK is off the table, I only see two viable options:
1. Restructuring the Debt and letting the Management trying to turn around the Company (Not sure PHMD does have an adequate Management team for this task).
2. Putting the Company up for sale!
Even at a 40% discount to the EV/FY1 Sales multiple for its comparables PHMD shares have a 150%++ upside potential
My Notes on PHMD: http://unemon.com/ResearchEasy/20141223_PHMD.html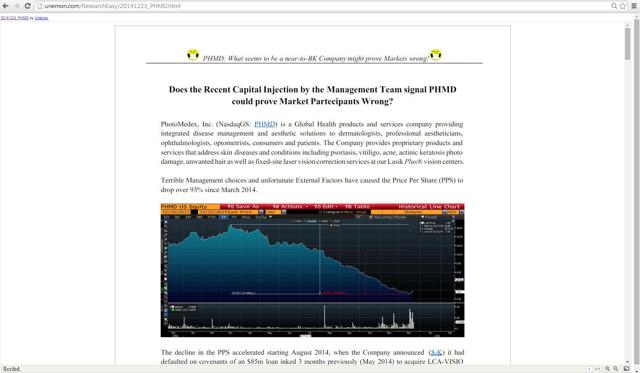 Disclosure: The author is long PHMD.