6D GLOBAL TECHNOLOGIES, INC.
An easy 90% Drop in the Cards
6D GLOBAL TECHNOLOGIES, INC. (NASDAQ: SIXD)became listed in September 2014 by mean of a Reverse Merger Transaction with CleanTech Innovations Inc. (NYSEMKT:CTEK)
People Familiar with the China RTOs Fraud space do surely remember CTEK:
"Nasdaq approved CleanTech's listing in December 2010 and issued a delisting notice a month later, saying the company intentionally failed to disclose material information about bridge financing of $20 million that it received in December, just after the listing"
http://www.bloomberg.com/news/articles/2011-12-30/nasdaq-delisting-of-chinese-wind-tower-maker-authorized-by-federal-judge
What people probably do not know, is that the current Main Shareholder (ROGER MING LI) of SIXD, is an affiliated person of the New York Global Group (NYGG) … the very same CTEK advisor that was instrumental to the 2010 Nasdaq Listing:
"The wind-power vendor CleanTech Innovations (ticker: CTEK.Pink Sheets) went to court in December complaining that Nasdaq delisted the company after CleanTech's financial advisor was mentioned in a purportedly "anti-China" story in Barron's ("Beware This Chinese Export," Aug. 28, 2010). A LiaoNing Province agency wrote the U.S. Commerce Department early this month and said CleanTech's delisting was "racially motivated," a charge Nasdaq has denied. Then, on Wednesday, Federal Bureau of Investigation agents raided the home and Wall Street office of CleanTech's advisor, Benjamin Wey, and carted away boxes of evidence for an investigation that federal prosecutors won't discuss. Barron's couldn't reach Wey or his firm, New York Global Group"
http://online.barrons.com/articles/SB50001424052748703512004577182970380129522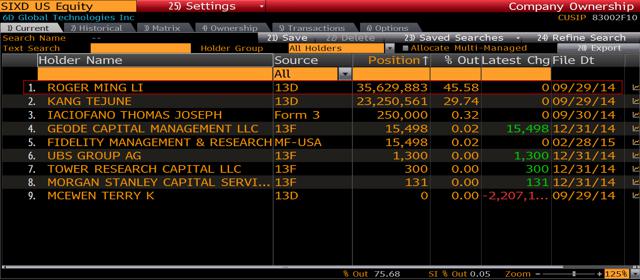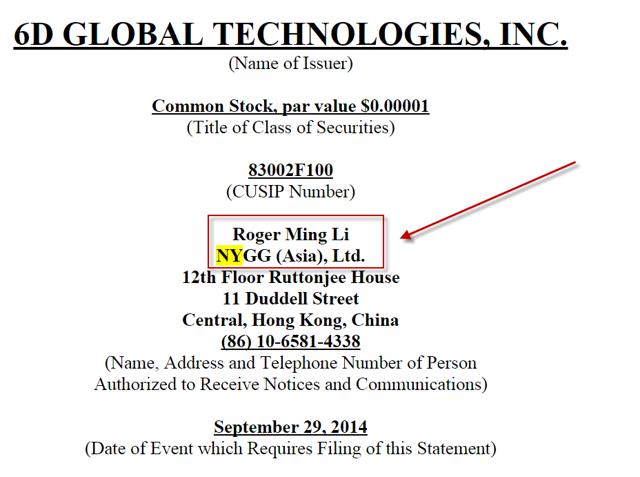 http://www.sec.gov/Archives/edgar/data/1382219/000118518514002719/sixdglobal-sc13d_nygg101014.htm
Roger Ming Li Stake is currently valued at >$300m and was obtained in Exchange of NYGG Asia Cancellation of a $16m CleanTech's indebtedness to NYGG Asia:
"On September 29, 2014, in connection with the Exchange, NYGG (Asia) Ltd. ("NYGG Asia"), CleanTech's largest creditor, pursuant to a Debt Conversion Agreement ("Debt Conversion Agreement"), converted all of CleanTech's indebtedness to NYGG Asia, in the aggregate approximate amount of $16,000,000, in exchange for the issuance of 35,149,883 shares of Common Stock to NYGG Asia and the cancellation of CleanTech's indebtedness to NYGG Asia"
http://www.sec.gov/Archives/edgar/data/1382219/000118518515000643/sixdglobal10k123114.htm
NYGG Asia value SIXD shares at $0.45 in the September 29, 2014 debt to equity swap transaction.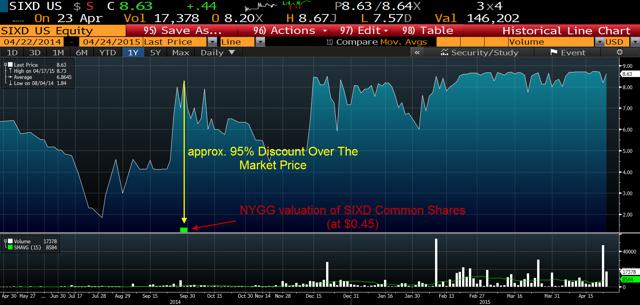 The current PPS of $8.63 multiplies with the Number of common shares outstanding at March 19, 2015: 78,175,617.
Implies for SIXD a valuation
$674,655,574.71
Minimal Revenue, not justifying such an outrageous valuation:
"Our revenue increased by approximately 22% to $11,797,813 during the year ended December 31, 2014, from $9,640,286 during the year ended December 31, 2013. The increase in revenue was primarily due to an increase in the number of professional service projects and contracts that we had with our current clients as well as with newly added clients."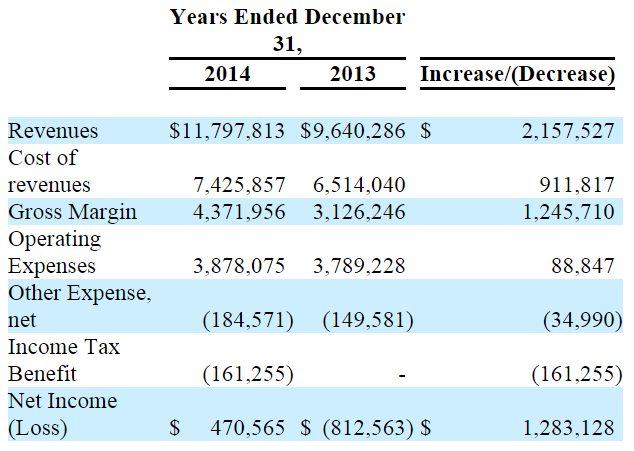 Six Dimension has likely been an empty shell till 2010, given the fact that his CEO and Founder was too busy getting crashed in the Real Estate Bubble:
"Mr. Kang is an American technology executive with more than 16 years of experience leading global enterprise technology application implementations. Mr. Kang has been Six Dimensions' Chief Executive Officer since founding Six Dimensions in 2004. An innovative technology entrepreneur born in Silicon Valley, California, he is instrumental to the continued growth of Six Dimensions. Before launching Six Dimensions, Mr. Kang was a principal of Kang Management Group, a commercial real estate developer in Nevada, until 2009 when it was closed down due to the global financial crisis that negatively affected the real estate markets in the West Coast. In early 2010, Mr. Kang filed a bankruptcy petition under Chapter 7 of Title 11 of the United States Code in connection with his personal guarantee of land projects and the inability to refinance related indebtedness. Since then, Mr. Kang has devoted full time to growing Six Dimensions."
http://www.sec.gov/Archives/edgar/data/1382219/000119312514245690/d748872dsc14f1.htm
Mr. Kang currently owns 29.74% of SIDX (23,250,261 shares)
No real Value in SIXD Balance Sheet, Total assets of $6.9m with total Equity of $4.6m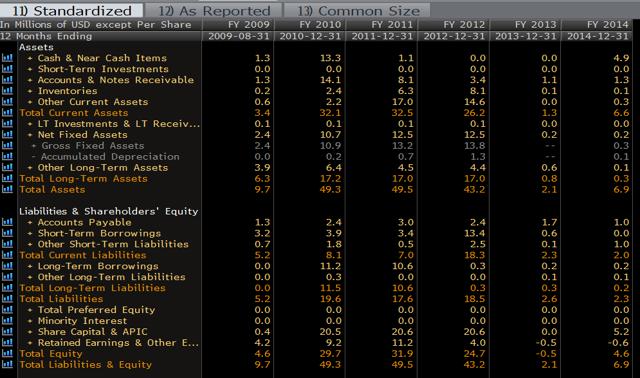 Starting December, The Company has started the PRs machine (touting acquisitions) causing a 75% rise in the PPS … as the FOLLOWING Chart illustrates: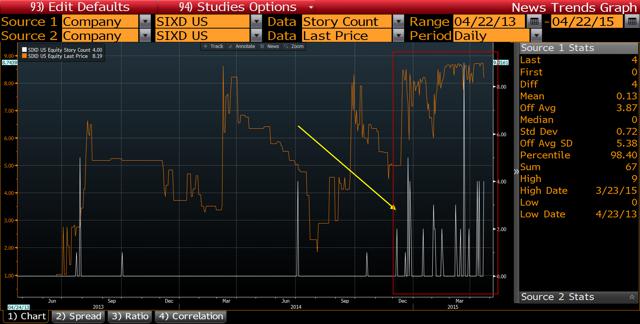 Even if we are in a bubble, this Little NASDAQ gem … is not worth more than $50,000,000.
FASTEN YOUR SEATBELTS
AND ENJOY
THE COMING
-90% ++
RIDE
Disclosure: The author is short SIDX.