Hansen Medical (NASDAQ:HNSN) develops, manufactures, and sells medical robotics designed for the positioning, manipulation, and control of catheters and catheter-based technologies.
SO FAR THIS COMPANY HAS BEEN A COMPLETE FAILURE AND NOW ALL MAJOR SHAREHOLDER ARE GETTING READY TO EXIT THE DOOR?
ULTIMATELY THIS COMPANY WILL BE A NEAR $0m (from current 170m MCAP). With About $45m in cash left by now ... Company is likely to last till Q1 2016. BTW ... do not forget the $30M++ in debt on the balance sheet.
"The fair value of the Company's long-term debt was estimated to be $34.6 million as of March 31, 2015"
Presence of Debt brings Equity value to 0.
"The loan is collateralized by substantially all of the Company's assets then owned or thereafter acquired, other than its intellectual property, and all proceeds and products thereof "
Despite having been FDA and CE approved for more than 3 years, the company is failing to sell its Devices/Products. Only about 12 Units sold each year (at around nil Gross Margins). Furthermore, by reading Employees reviews on glassdoor.com it appear evident that the Management is not incontrol of the situation and does likely not have the qualities required to successfully run a Company.
-----------------------------------------------------------------------------------------------------
UNSUCCESSFUL PRODUCTS + AMATEURISH MANAGEMENT TEAM
=
GUARANTEED FAILURE
-----------------------------------------------------------------------------------------------------
Price per Share near all-time lows … while Market Capitalization near all-time highs.
Say thank you DILUTION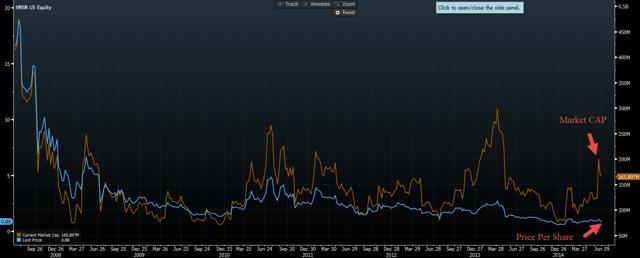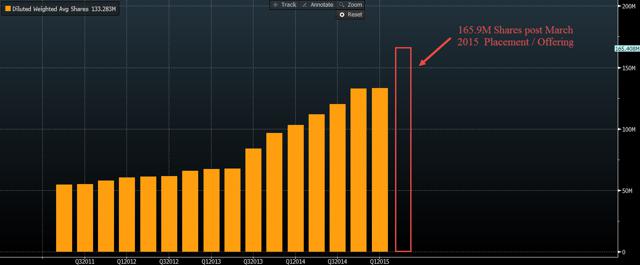 NOW INSIDERS ARE EXPECTED TO UNLOAD MORE THAN 108M SHRES (per June 19, 2015 - S-3 Filing)
Compare the 2 columns … Shares of Common Stock Beneficially Owned Prior to Offering … vs. … Shares of Common Stock Beneficially Owned Following Offering.
Selling off babe … Selling off.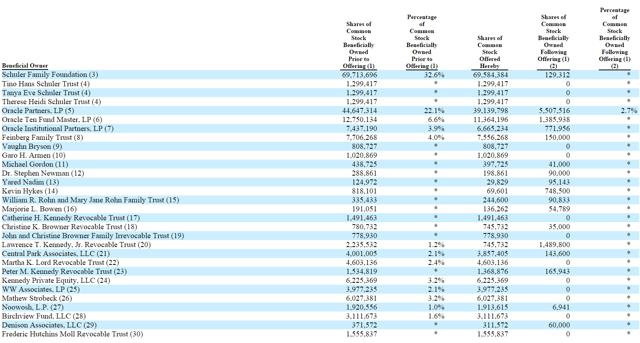 COMPANY PRODUCTS SIMPLY HAVE MISERABELY FAILED TO GAIN ANY MARKET TRACTION … Despite having its products on the market for over 3 years now.
"Our product revenues were $13.8 million in 2014 compared to $11.8 million in 2013, an increase of $2.0 million or 17%, compared to 2013. Product revenue in 2014 included the sale of nine Magellan robotic systems and three Sensei systems compared to seven Magellan systems and five Sensei systems in 2013".
We can interpolate a $1.48m selling Price for each Magellan Unit and a $0.158m selling Price of each Sensei System Unit.
Seems not much demand for the Products:
"In the third quarter of 2009, we introduced Sensei X, our next generation Sensei system. We received CE Mark for our Lynx® catheter in July 2010. In July 2011, we received CE Mark for our Magellan Robotic System and in October 2011 received a CE Mark for the Magellan Robotic Catheter and related accessories designed for use with the Magellan Robotic System. We received FDA clearance for the marketing of our Magellan Robotic System including the catheter and accessories in June 2012 and we received FDA clearance for the marketing of our Magellan 6Fr Robotic Catheter in February 2014."
Despite the Magellan Robotic Systems being approved since 2011 in EU and 2012 in US, the Sensei being approved since 2009 in EU and the Magellan 6Fr being approved since February 2014 in the U.S. ….
… HNSN only sold a total of 12 Units in 2014 and 12 Units in 2013.
2012 product revenue included the recognition of revenue on 13 robotic systems, including four Magellan and nine Sensei systems
2013 included the recognition of revenue on a total of 12 robotic systems, including seven Magellan and five Sensei systems
2014 (product revenue included the recognition of revenue on 12 robotic systems), including the sale of nine Magellan robotic systems and three Sensei systems
To attract buyers the Company is basically selling the Robotic Systems at Cost (5% markup / only 5% Operating Margins)

Service Revenue, High Margin (41%) … but limited.
Our service revenue primarily consists of system service and customer training, which are typically entered into at the time systems are sold. These service contracts have been generally renewed at the end of the service period.
Even assuming the Service Revenue was generated on the Products of the last 12 months (12 robotic systems) … we have an Average of $0.28m in service Revenue per year for Product Sold.
Unbelievably SIZABLE SGA Expenses + Research Development … of about $50m per year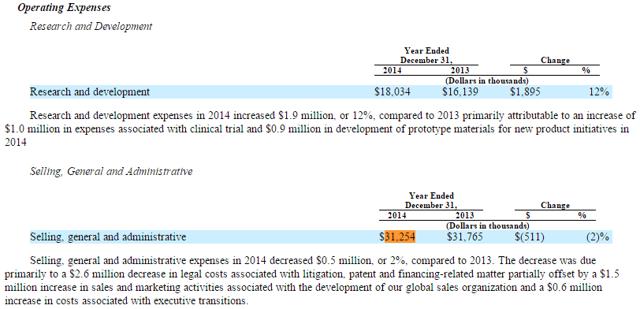 I expect the Company will never be able to yield an operating Profit.
COMPANY WOULD NEED TO GENERATE $333m in at current Margin Structure to be able to cover Operating Expenses. This represents a 2,019% Increase over Current Levels.
Even if Products have been approved in the main markets since 2012 … sales are stagnant. I doubt something will change.
The Company is a Cash Burning Machine, consistently burning about $40m a year.
Operating Cash Flow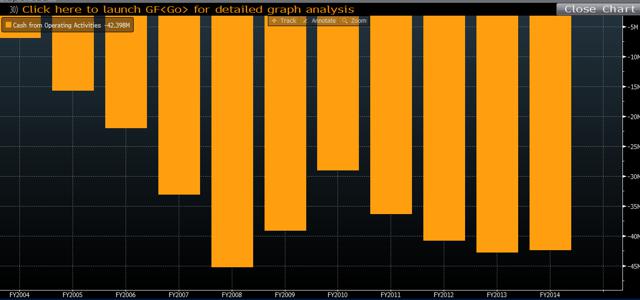 The Company is a Cash Sucking Machine, consistently Sucking in about $40m a year.
Financing Cash Flow ... When will people stop putting money into a lost cause?
Operating and Financing Cash Flow Combined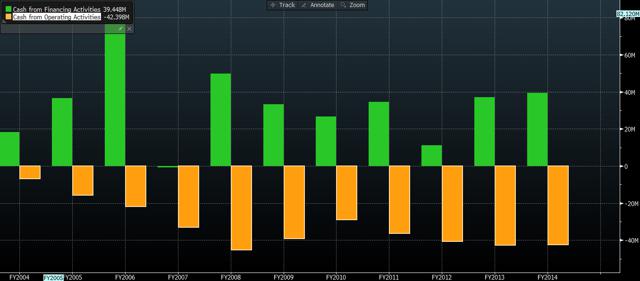 Just terrible Reviews about Management and Company's Strategic Direction (A few Cons): Glassdoor / Saved Copy
Most start ups are lean, and try to do minimal amount of work to get product out the door, Hansen takes that to the next level. Compliance and quality are definitely iffy here.

The company is lacking direction, projects change and get canceled/started on a whim, senior management and engineering departments generally do not agree

- Poor senior management with a lack of transparency
-"Good ol' boys club" mentality
- High turnover
- Not a great place for career development
- Strict time-off policies with little to no flexibility for work/life balance

still searching for the "can't live without this tool' market niche

High turnover creates lack of knowledge within the company (all departments). Depressing stock price and with a good portion of your compensation tied to equity, you can watch your compensation decrease before it is vested and any action can be taken. It takes a long time to gain upward mobility.

Low morale among the teams and a lot of employee turnover, resulting in a lack of corporate knowledge staying in house.
Disclosure: I am/we are short HNSN.