… but only after significant dilution.
Bottom line is, in 2016 unless a reverse split is performed price >$1 is highly unlikely.
My base scenario:
No Fuel Cells ITC extension under a trump Presidency!
Deteriorating Business Environment for PLUG + Cash starts to become a scarce resource.
PLUG Balance Sheet is incredibly weak while the sales-leased back model used by the Company is extremely Capital Intensive and requires Strong Balance Sheet. We have a Problem Houston!
Stok Price will trend lower and decline will be accelerated by Issuance of New Shares (S-3 filed Nov 2013)
Reverse Split (which will just make the stock a more appealing short)
Eventually investors will stop to throw money at this bad cause (Company already lost 1b USD / And not in R&D. Plug is not discovering the next blog buster drug)
BK
PLUG BUSINESS IS JUST NOT VIABLE!!
Under current law, the ITC for most non-solar technologies will expire at the end of 2016 ( page 1). This is also true for the Federal Fuel Cell Tax incentives (the 30% credit) which was set forth in section 103 of the Emergency Economic Stabiliza tion Act of 2008 ( Link).
Even under Obama,"fuel cells -- unlike solar and wind -- weren't included in the latest extension of renewable energy tax credits" ( Article Link - Aug 2016). This does not pose well for Fuel Cells Technology. Does it?
Under a Trump administration, given the new people in Charge, a renewal is highly unlikely:
12/2016 Per NPR and PV Magazine : " Late last week, a document emerged in which transition team of President Elect Donald Trump seeks the names of federal employees who worked on issues related to Climate Change, as well as suggesting preparations for a dismantling of clean energy programs at DOE "
New EPA head, Scott Pruitt, is clearly ant‐ EPA and anit‐ clean energy ( here): "Mr Pruitt's record is not only that of being a climate change denier, but also someone who has worked closely with the fossil fuel industry to make this country more dependent, not less, on fossil fuels," said Vermont Senator Bernie Sanders". Pruitt is backed by big oil ( here) and may push back on renewing the Fuel Cell ITC.
Per 2015 10K the ITC is listed as a key risk, which most investors are not paying attention to:
" We believe that the near-term growth of alternative energy technologies is affected by the availability and size of government and economic incentives. Many of these government incentives expire, phase out over time, may exhaust the allocated funding, or require renewal by the applicable authority. In addition, these incentive programs could be reduced or discontinued for other reasons. For example, the investment tax credit is currently scheduled to expire on December 31, 2016. The reduction, elimination, or expiration of the investment tax credit or other government subsidies and economic incentives may result in the diminished economic competitiveness of our products to our customers and could materially and adversely affect the growth of alternative energy technologies, including our products, as well as our future operating results and liquidity".
Per Andy March regarding the ITC on the last Earnings Conference Call on November 7th, 2016 (before the elections) :" I think the answer to your question is that, it's created uncertainty and uncertainty creates complications for customers. So, I think the fact that it creates uncertainty for customers and also quite honestly creates uncertainty for finance years. I believe and what this says from discussions, our bookings would be higher year to date if the tax credit was in place, and that's necessarily associated with the fact whether the customers will be deploying units, but actually makes the financial considerations a bit more complicated, trying to understand the credit will be in place or not".
Management keeps postponing expectations for ITC renewal. To me It lost its credibility and I would not trust anymore what they say.
Even under Obama,"fuel cells -- unlike solar and wind -- weren't included in the latest extension of renewable energy tax credits" ( Article Link - Aug 2016). This does not pose well for Fuel Cells Technology. Does it?
"Claiming that the lack of inclusion was due to an oversight, management has spent months, maintaining that the renewal of the investment tax credit (ITC) for fuel cells is just around the corner"( Article Link - Aug 2016). Yet, as of now, nothing did happen!
"In fact, on the company's previous conference call, Marsh suggested the renewal could be attached to the FAA reauthorization bill scheduled for this summer. But the Senate sent the bill excluding mention of the ITC renewal to the president in July"( Article Link - Aug 2016). WRONG AGAIN! EhEhEh
I am pretty much sure that even the commends at the latest Conference Call will turn out to be just smoke:
"We're working closely and continually with Congress and our coalition partners to make the extension a priority in Congress when members return after the November election."
Expect Analysts to Reduce Revenue Estimates in the coming month … and by a lot I would say!
Despite TRUMP Election, and the fact that Fuel Cell ITC Renewal has become more and more unlikely, Revenue Estimates have not yet been significantly trimmed by analysts.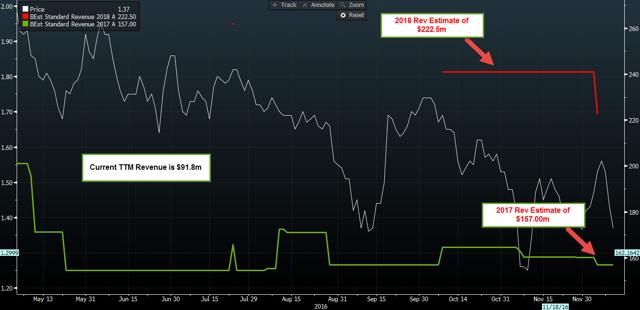 Past 12m revenue was just 91.8m and Analysts forecast Next Year Revenue to be $157m? Mhh .. in the absence of ITC renewal? … good luck with that … longs really need it!

PLUG Balance Sheet is incredibly weak while the sales-leased back model used by the Company is extremely Capital Intensive and requires Strong Balance Sheet.
Balance sheet is incredibly weak. Over 50% of the cash is restricted cash (3Q16 10Q). The company's business is based on sale/leaseback agreements with M&T Bank to facilitate Commercial transactions with customers. Basically, customers want to make sure PLUG has enough liquidity so they don't face a liquidity situation. Business is growing thru leaseback, which is not very scalable. PLUG is no GE Capital
During 2014 and 2015, the Company signed sale/leaseback agreements with Manufacturers and Traders Trust Company (M&T Bank or the Bank) to facilitate the Company's commercial transactions with key customers. The Company then sold certain fuel cell systems and hydrogen infrastructure to the Bank, and leased the equipment back from the Bank to support certain customer locations and to fulfill its varied Power Purchase Agreements (PPAs). In connection with these operating leases, the Bank requires the Company to maintain cash balances in restricted accounts securing its lease obligations to the Bank. Cash added to these restricted accounts was $14.2 million during 2015. (No additional cash was
added during the three and nine months ended September 30, 2016, other than interest earned on restricted cash balances.) Cash received from customers under the PPAs is used to make lease payments to the Bank. As the Company performs under these agreements, the required restricted cash balances are released, according to a set schedule. At September 30, 2016, the Company had seven PPA deployments related to these sale/leaseback agreements. At September 30, 2016, the total remaining lease payments to the Bank under these agreements were $22.3 million which
has been fully secured with restricted cash and pledged service escrows.
In addition to the financing activities described above, we have historically funded our operations primarily through public and private offerings of common and preferred stock, as well as short-term
borrowings, long-term debt and project financing, as described in Notes 7 and 8. The Company believes that its current working capital and cash anticipated to be generated from future operations, as well as borrowings from lending and project financing sources that are currently being evaluated, will provide sufficient liquidity to fund operations for at least the next twelve months. There is no guarantee that such funding will be available if and when required or at terms acceptable to the Company.
$200m S-3 Filed on Nov 21, 2016 means new dilution to come for Shareholders. See you sub $1/sh?
I would assume PLUG Management knows how ugly their situation is … and this is why on Nov 21, 2016 they filed a $200m S-3 (SHELF). I Think they will likely used it in the coming 6 months if Cash balance continues to erode at the current pace.

2013-2014 PLUG Was issuing shares in a bull market for Renwable Energy Companies and this bought the company a few additional years of life. Nevertheless, price came down 80% from Peak. In coming Coming month PLUG will be issued shares in a Declining Price Environment. This is a classic receipt to disaster for Current Shareholders!

PLUG has never generated any positive Operating Cash Flow since 2002:

PLUG Has lost about $1,000,000,000 ($1b) over the past 15 years. Time to let this Value Destroyer go for good!

Other than burn cash, the only thing this company is good at … is paying exorbitant salaries to the management team! After Burning $1,000,000,000 in the past 15 years, management should be fired … not paid $7-10m a year

Disclosure: I am/we are short PLUG.